African American Soul Food Recipes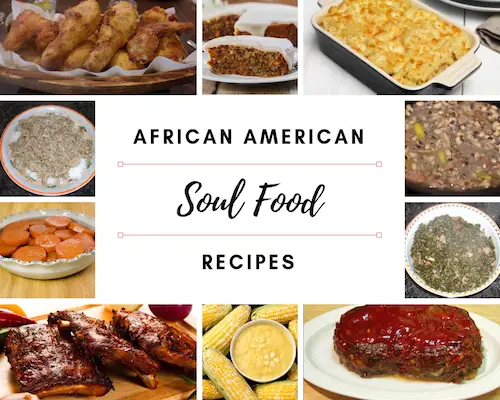 African American Soul Food Recipes
With so many African American soul food recipes to choose from, what's your favorite? There's fried chicken, collard greens, macaroni and cheese, and banana pudding.  Some folks prefer eating chitterlings, with white rice, cornbread and black eyed peas.  
While still other people, like to eat smothered pork chops, cabbage, and lima beans. Oh don't forget pigs feet, pinto beans and rice with corn bread.
Or maybe you like to get out on the grill and barbecue yourself some chicken and ribs to eat with your side dish of baked beans and potato salad? As you can easily see there is enough variety of soul food to go around.
After eating, be sure to finish off your meal with a cold drink or beverage of your choice.  You could wash your meal down with some iced tea or freshly squeezed lemonade or orange juice.
Below you will photos and links to some of our most popular soul food recipes.  Pick and choose your favorites until you have yourself a meal. With recipes in hand, you only need to do a little grocery shopping to get all the ingredients you need to cook a mouthwatering meal just like Grandmama. Enjoy!
African American Soul Food Recipes - Our Favorites
Well after looking at our favorites list above you might be thinking, everything looks and sounds so good so what should I eat? 
If you ask me, I like them all.
I don't have just one African American soul food recipe favorite. I like to say, I enjoy eating and feasting on them all.  You don't have to try them all in one weekend.  We recommend that you pass yourself.  At least give yourself a month or two to work you way through the list of African American soul food recipes you see below.
There are some awesome African American cooks all around the country who love to get in the kitchen and whip up delicious meals.  Are you one of these cooks?  If so, look below for a few African American recipe favorites. 
More Soul Food Recipe Favorites
Well that should be enough soul food recipes to keep you busy in the kitchen for a little while.  Be sure visit us again because we add new southern cooking recipes all the time.
Also don't forget to join the African American Cookbook Club.
---