Our All Time Favorite Side Dishes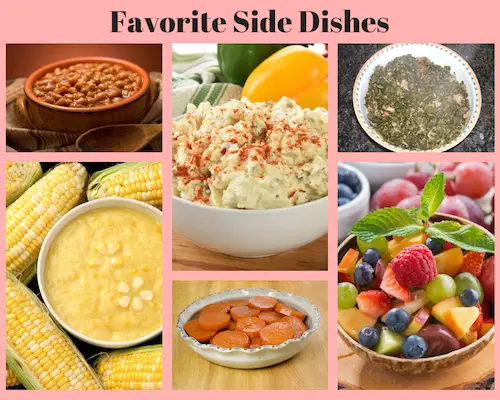 Our Favorite Side Dishes
Side Dishes For Special Occasions
Hey there, food lovers! 🍽️ Let's talk about the unsung heroes of any meal—side dishes. Sure, the main course usually steals the spotlight, but let's be real, it's the side dishes that can make or break your dining experience. I mean, what's a juicy steak without some garlic mashed potatoes, or a grilled chicken without some zesty coleslaw on the side?
Side dishes are like the supporting actors in a blockbuster movie; they may not have the leading role, but they sure do add depth and character to the whole production. Whether it's the creamy texture of mac and cheese, the sweet crunch of roasted carrots, or the spicy kick of a jalapeño cornbread, side dishes elevate a meal from "just okay" to "oh wow!"
Ever find yourself scratching your head, wondering what to serve alongside that main dish for your upcoming special occasion? Trust me, you're not alone. We've all been there—staring at the fridge or scrolling through Pinterest, completely stumped. But fret not, my culinary comrades, I've got your back!
I'm here to sprinkle some inspiration into your kitchen with a curated list of side dish recipes that are sure to be crowd-pleasers. Whether you're hosting a laid-back backyard barbecue, a swanky office party, or a cozy family gathering, I've got something for everyone.
And let's not forget those quintessential Southern gatherings—oh yes, I'm talking about barbecues, picnics, and fish fries. Down here, side dishes are practically a religion. So, buckle up, because you're about to discover our all-time favorites that have been gracing Southern tables for generations.
So go ahead, scroll down and let your taste buds do the talking. Because no meal, whether it's a casual cookout or an elegant dinner, is truly complete without the perfect side dishes to round it out.
Bon appétit!
---
---
Barbecue Side Dishes
You can't have a barbecue without grilled chicken, hot links and ribs.
Once the weather becomes hot it's time to entertain friends and family in the backyard. You can become the hit of the BBQ by serving up some barbecue side dish favorites like the ones listed below.
You can reduce your workload by having some of your guest prepare these side dishes and bring them to the barbecue.
---
Picnic Side Dishes
What's a picnic without fried chicken? This is ideal because fried chicken also taste great served cold.
If you're going to be outside in warm weather it's best to pack side dishes that don't require constant refrigeration. Pack plenty of side dishes that keep well over ice such as:
If you have some way of keeping your side dishes warm or re-heating them, try these picnic favorites:
Last but not least don't forget your paper plates, plastic eating utensils, napkins, cups, condiments and your blanket.
---
Fish Fry Side Dishes
What fried fish do you prefer? Catfish, Perch, Red Snapper?
Serving up some tasty battered fish is only half of the equation, when it comes to planning a fish fry. You also have to be sure to serve the following food favorites.
Don't forget to grill or bake additional fish for those who prefer not to eat fried fish.
Like chicken and dumplings? If so, check out our the side dishes we recommend for an extraordinary chicken and dumplings dinner.
My all time favorite side dishes
My all time favorite sides are collard greens, creamed corn, baked beans and potato salad for sure. Here is my i love these so much...
Collard greens are a staple side dish in Southern cuisine, and they happen to be my favorite! I love the way they're cooked down with ham hock and onions until they're tender and flavorful. The slightly bitter taste of the collards pairs perfectly with the smoky, salty flavor of the ham hock. It's a dish that's both hearty and healthy, packed with vitamins and nutrients that make it a great addition to any meal.
Creamed corn is another one of my all-time favorite side dishes. It's rich, creamy, and full of sweet corn flavor. I love how it can be served hot or cold, making it a versatile option for any time of year. Whether you're serving it alongside grilled chicken in the summer or roasted pork in the winter, creamed corn is always a hit at my dinner table.
Baked beans are a classic BBQ side dish that I just can't resist. They're sweet, tangy, and loaded with protein thanks to the addition of bacon or ham hocks. I love how versatile baked beans can be - you can add different types of meat or spices to create your own unique twist on this classic dish. Plus, they're easy to make ahead of time and reheat when you're ready to serve them.
Finally, no cookout or picnic would be complete without potato salad! This creamy side dish is made with boiled potatoes that are mixed with mayo, mustard, pickles, onions and celery which adds crunchiness & tanginess. I love how it's both filling and refreshing at the same time - perfect for pairing with grilled burgers or hot dogs on a warm summer day. Potato salad is also incredibly customizable - you can add hard-boiled eggs, bacon bits or even jalapenos for an extra kick!