Our All Time Favorite Side Dishes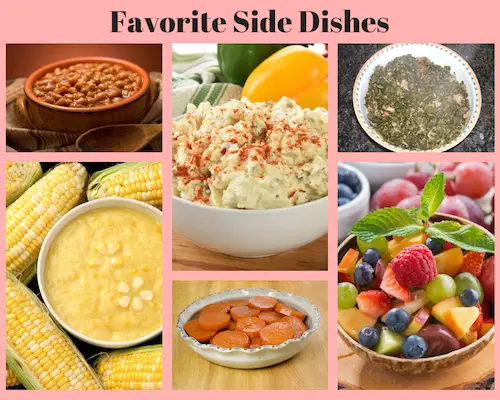 Side Dishes For Special Occasions
Are you wondering what the favorite side dishes are for that special occasion? If you're like most people you are currently short of ideas and outright stumped trying to determine what side dish to serve. Don't worry I have just what you're looking for.
I'll help you out by providing some menu ideas and side dish recipes for your next big event or dinner. That way you can please all party goers by serving what most people enjoy eating most often.
No backyard barbecue, picnic, office party, potluck, cookout, or family gather is complete with serving up your favorite side dishes. Below you will find our favorite and most popular side dishes for southern barbecues, picnics, and fish fries.

---
---
Barbecue Side Dishes
You can't have a barbecue without grilled chicken, hot links and ribs.
Once the weather becomes hot it's time to entertain friends and family in the backyard. You can become the hit of the BBQ by serving up some barbecue side dish favorites like the ones listed below.
You can reduce your workload by having some of your guest prepare these side dishes and bring them to the barbecue.
---
Picnic Side Dishes
What's a picnic without fried chicken? This is ideal because fried chicken also taste great served cold.
If you're going to be outside in warm weather it's best to pack side dishes that don't require constant refrigeration. Pack plenty of side dishes that keep well over ice such as:
If you have some way of keeping your side dishes warm or re-heating them, try these picnic favorites:
Last but not least don't forget your paper plates, plastic eating utensils, napkins, cups, condiments and your blanket.
---
Fish Fry Side Dishes
What fried fish do you prefer? Catfish, Perch, Red Snapper?
Serving up some tasty battered fish is only half of the equation, when it comes to planning a fish fry. You also have to be sure to serve the following food favorites.
Don't forget to grill or bake additional fish for those who prefer not to eat fried fish.
---