Too Easy Baked Bean Recipe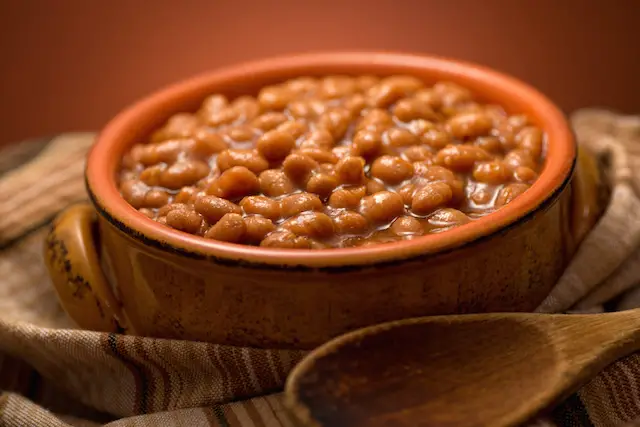 Baked Beans
For a side dish that's both tasty and healthy, nothing beats baked beans at the barbecue! Not only do they have a unique flavor that pairs perfectly with grilled foods, but they also provide essential nutrients like protein and fiber.
Plus, they can be cooked ahead of time if needed - meaning less stress for the host or hostess on BBQ day. So whatever the occasion, don't forget to serve up some tasty baked beans as part of your meal – your guests will thank you!
This baked bean recipe is the simplest of all bean recipes.  If you're going to have a cookout or backyard barbecue the following recipe is one you don't want to forget to cook up.  
Baked beans are so popular in our family that we cook these each time we're outside grilling. I often prepare these for potluck lunches, at work as well. 
Over the years I have found that 350 degrees Fahrenheit is the ideal temperature for baking beans.  I have also found that the addition of grounded beef or pork really makes the baked beans taste extra special.  
For this recipe I decided to include ground beef instead of pork since beef is my most preferred meat.  

You don't have to get all fancy and buy expensive pork and beans.  I always use the store brand and to this date no one can tell the difference.  Cooking time calls for 1 hour, but be sure to cook the beans long enough so that the sauce thickens.  You'll find most people prefer beans with thick sauce compared to sauce that runs all over the plate.

Oven Baked Beans
Recipe Ingredients:
1 pound ground beef
2 large cans pork and beans
1/4 teaspoon dry mustard
brown sugar to taste
cooking spray
salt and pepperto taste
Recipe Instructions:
Preheat oven to 350 degrees Fahrenheit.
Cook and stir ground beef over medium-high heat until beef is browned. Drain cooked beef and set aside.
Pour pork and beans into oven safe dish that has been lightly sprayed with cooking oil. Gentle mix in cooked ground beef and dry mustard. Next add in brown sugar to taste, mixing thoroughly.
Bake beans at 350 degrees Fahrenheit for about 1 hour. Until nice and bubbly. Remove from oven and sauce will thicken as the baked beans cool.
This recipe provided courtesy of https://www.soulfoodandsoutherncooking.com/
If you're in search of the perfect side dish to accompany your next barbecue, look no further than baked beans! With their savory and sweet flavor and a punch of protein and fiber, they'll be sure to satisfy even the pickiest of eaters. Plus, they pair wonderfully with grilled meats and veggies - making them an ideal choice for any outdoor gathering. So what are you waiting for? Serve up some delicious and nutritious baked beans at your next barbecue and watch everybody come back for seconds!
Baked beans are always a great choice for any outdoor gathering - especially barbecues! Not only is this classic dish delicious, but it's also packed full of nutrition – offering essential proteins, vitamins, minerals and fiber. Plus, its savory taste is sure to please even the pickiest eaters – making it an ideal option for any cookout or picnic. Regardless of how you prepare it, just remember one thing: always make room in your menu for delicious baked beans!