Our All Time Favorite Pork Recipes
Cooking pork is one of my favorite things do in the kitchen. I especially love the way pork takes on flavorful marinades, and when it's cooked just right, it becomes juicy and tender. Pork is also very versatile - you can roast it, grill it, fry it or stew it.
What really makes pork unique is that different cuts offer different textures, ranging from succulent to crunchy. And whatever method of cooking you use, you can count on the end result being a juicy and delicious treat!
The collection of pork recipes present here today will surely satisfy all of your pork cravings.
Over the years meat from the pig has gotten a bad name, but when eaten in moderation pork can be eaten by most meat eaters.
My mouth always seems to water when I think about cooking up smothered pork chops, chitterlings, pork barbecue ribs, pickled, barbecued or boiled pigs feet and pork neck bones.
Our Favorite Recipes
I must admit, I just can't seem to get enough of the all mighty pork.
Pork is the one meat staple I turn to when I want some good eating. Pork is also one of the most flavorful and tasty meats to cook outside on the grill.
I like cooking pork most during the summer months, during my backyard barbecues and cookouts.
Enough about my infatuation with pork. Here are some of my most delicious and also favorite recipes for pork.
Pork Rib Recipes
Pork Baby Back Ribs
Did you know baby back ribs are the simplest of all ribs to cook? Learn how to cook baby back ribs with this quick and easy rib recipe.
Barbecued Pork Ribs
Oven baked ribs are tender and delicious. With this baked barbecue rib recipe there is no need to leave the house. You can prepare great tasting barbecue ribs in your oven with this recipe, without ever leaving your house.
Country Style Ribs
A must try country style ribs recipe. This recipe produces pork ribs so tender the meat falls off the bones.
---
Pulled Pork Recipes
BBQ Pulled Pork Sandwiches

Eat some delicious bbq pulled pork served on a toasted bun. This recipe results in a pulled pork sandwich that will melt in your mouth.
---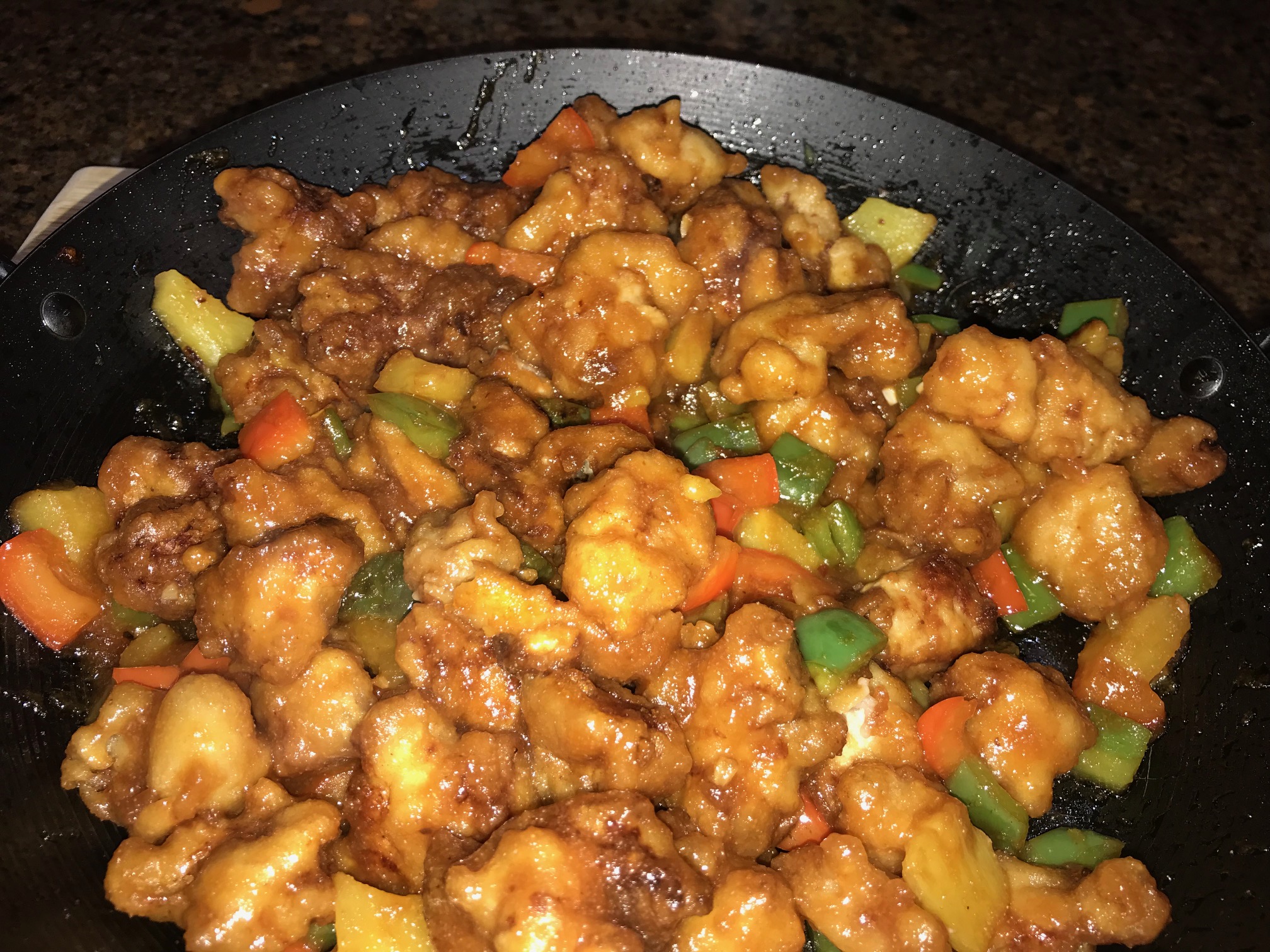 Sweet and Sour Pork
Pork Recipes
Easy Spaghetti Recipe
This quick and easy spaghetti recipe cooks up in just 20 minutes allowing you to put a delicious on the dinner table.
Honey Baked Ham
This is a fancy honey baked ham recipe for holidays and special events like Easter, Christmas, and Thanksgiving.
Chitterlings and Hog Maws
This chitterlings and hog maws recipe has long been a southern favorite. Give this southern recipe favorite a try if you can stand the smell.
Fried Chitterlings Recipe
Who said chitterlings don't make good appetizers? If you don't think so give this chitlins recipe a try and see for yourself.
Collard Greens and Ham Hocks
This southern favorite will complete your meal. Go ahead and give this collard greens and ham hocks recipe a try.
Neck Bones
For an inexpensive meal try southern neck bones and rice for a flavorful, great tasting meal.
Pork Sausage
A homemade pork sausage recipe. Use this recipe to prepare delicious pork sausage patties with simple ingredients you already have on-hand in your kitchen.
Pork Breakfast Taco
For a change, spice up your morning breakfast with this pork breakfast taco recipe.
Red Beans and Rice
This red beans and rice recipe uses pork sausage. Easily create this New Orleans favorite in your kitchen as a main dish or served as a side item.
Bacon Wrapped Stuffed Sausage Fatty
Anything wrapped in bacon is a favorite of mine. You have to try this smoked fatty recipe.
Sweet and Sour Pork
An real and authentic recipe for sweet and sour pork that you can prepare at home. Taste better than what you can buy at the local Chinese restaurant. Another one of my favorite pork recipes.
---
Pork Chops
Baked Pork Chops
Want a delicious pork chop meal in minutes? This quick and easy 3 step baked pork chops recipe cooks up in about 20 minutes
Easy Baked Pork Chops
Another quick and easy oven baked pork chop recipe with delicious poultry stuffing. Ready for you to try today!
Honey glazed Pork Chop Recipe
This honey glazed pork chop can be grilled on a barbecue or broiled in your oven.
Fried Southern Pork Chops
Try this quick and easy recipe for some deliciously prepared southern style pork chops.
Smothered Pork Chops
Smothered pork chops with onions and gravy is so delicious. Serve these smothered pork chops over cooked rice with your favorite sides and cornbread
---
Pork Tenderloin Recipes
Barbecue Pulled Pork Tenderloin
Here is a quick and easy crock pot recipes with a main ingredient of pork tenderloin. Set you crock pot switch to on and return for some delicious pulled pork that melts in your mouth.
---
Pigs Feet Recipes
Barbecued Pigs Feet
If you think boiled pigs feet are delicious, this recipe is for you. Experience the best of both worlds, that's deliciously cooked meat topped with BBQ sauce.
Boiled Pigs Feet
Pigs feet is an old fashioned soul food favorite. Believe it our not, if cooked right pigs feet can be a delicious meat, less fatty than country style pork ribs.
Pickled Pigs Feet
Taste pickled pigs feet once and you'll be hooked. If you are feeling adventurous this recipe can be used to produce pickling eggs, sausage or pigs knuckles to.
---
Roast Pork Recipes
Crock Pot Pork Roast
A really simple crockpot pork roast recipe that your family is going to enjoy eating for many years to come.