Quick and Easy Homemade Potato Salad Recipes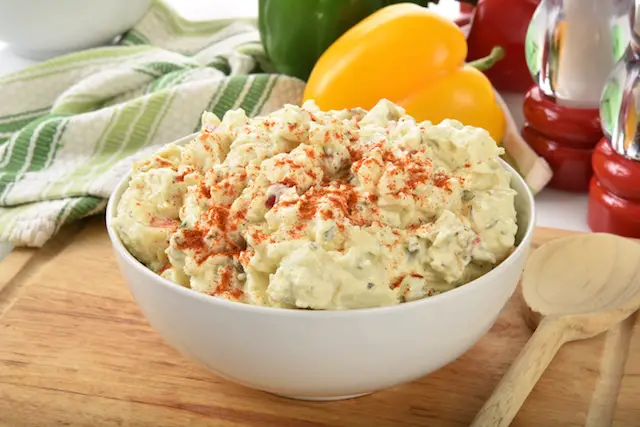 Easy Potato Salad
Southern Potato Salad
Potato salad is an essential side dish that can be served alongside a variety of meals. From traditional Southern picnics to casual backyard BBQs, potato salad is the quintessential side for many events. Its creamy texture and flavor make it the perfect accompaniment to grilled meats like burgers and steak, as well as fried favorites like chicken strips.
Classic potato salad is usually made with white potatoes, celery, onions, sweet and dill pickles, and mayonnaise or Miracle Whip dressing. Generally served cold, it's easy to prepare ahead of time so you don't have to worry about making it when your guests arrive.
The great thing about this dish is that you can customize it to fit any taste - add some hard-boiled eggs or chopped ham for protein; swap out regular mayo for light or another type of yogurt-based dressing; use red-skinned potatoes instead of white for more color; throw in some fresh herbs like parsley or chives for extra flavor; or top with crumbled bacon for crunch!
If you're looking for a creative way to switch up your potato salad recipe, try adding ingredients like roasted red or poblano peppers, capers or olives for a Mediterranean twist; jalapeños and cilantro for a spicy Southwestern version; apples and walnuts for unique sweetness; sour cream and horseradish instead of mayonnaise; bacon bits with cheese cubes to give it a smoky kick; diced avocado instead of hard-boiled eggs...the possibilities are endless!
No matter what combination of ingredients you use, one thing remains the same: potato salad can easily transform a meal into something special thanks to its delicious flavors and unbeatable versatility!
Who else wants recipes for potato salad?
These great tasting potato salad recipes will definitely complement your main dishes. When served as a side dish, potato salads also works well for picnics, barbecues, birthday parties, fish fry's, and much more. 
We really like and recommend potato salads for a few reasons.  
Potato salads can be prepared with the simplest of ingredients.  Salads made from potatoes are also very inexpensive which means you can feed large crowds of people very cheaply.  
Below you'll find recipes for our most favorite potato salads. If you're wondering, by far the German potato salad is my favorite and something I prepare often for my family and friends when the occasion arises.
Recipes for Potato Salad
Picnic Potato Salad - This southern potato salad is great for barbecues and picnics or to serve as a side item with your next soul food meal. This Recipe is real easy to prepare.
Southern Potato Salad - Are you interested in learning how to make potato salad? Great, here is an easy to make southern potato salad. The recipe calls for red potatoes, eggs, onions, celery and mayonnaise.
German Potato Salad - I learned how to prepare this Bavarian German potato salad while living abroad in Germany for five years. This potato salad was a party and barbecue favorite. Likewise the Germans loved my southern potato salad.
Beginner's Basic Potatoe Salad - This recipe is great for a beginning cook who is looking to impress family and friends by showing them how well they can cook.
Pennsylvania Dutch Potato Salad - This recipe was given to me by my mother-in-law who was a fantastic cook and a wonderful mother to me.
Red Potato Salad - This is another simply, yet easy potato salad for your next family gathering, Sunday dinner, or special event.