Hot and Cold Homemade Pie Recipes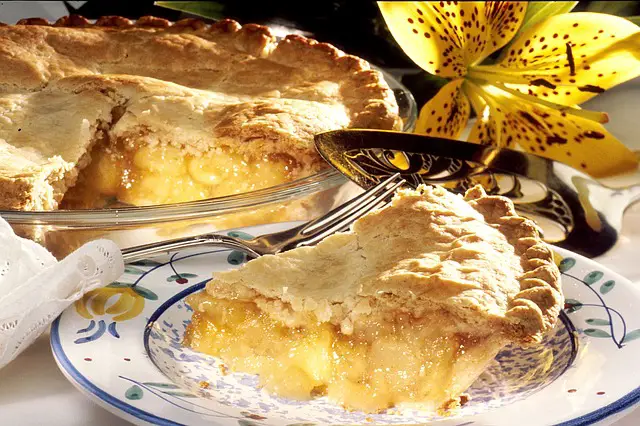 Try our delicious homemade apple pie recipes!
I love pie! Nothing beats the warm, sweet smell of a freshly baked apple pie or the comforting taste of a peach cobbler. Pie is the perfect dessert because it's so versatile - there are endless varieties, from savory pies to classic cherry pies. Plus, every slice of pie offers something unique and exciting!
No matter what type of pie you choose, you can always count on it being rich and delicious.
Do you love to eat pie too?  If so, get ready to enjoy preparing our sweet and delicious pies for lemon pie,  pecan pie, pumpkin pie, lemon meringue pie, and sweet potato pie. Yes, these are all soul food and southern cooking favorites. 
Any respectable southern cook, chef, or housewife has at one time or another prepared or eaten one of these delicious soul food desserts. With these delicious recipes you get a familiar taste of home cooking so there's no need to spend your hard earned money on store bought pies. Besides we all know homemade taste better than any store bought dessert you can buy.
Don't worry it you can't or have never cooked a great dessert. We'll show and teach you how. That said, no more having to secretly remove store bought desserts from there packaging and having to pass them off as your own homemade dessert.
Trust us when we say, a homemade pie will always win the taste test when compared to a store bought pie.  
Okay...
My advice to you now is to put on your apron. Head over to your kitchen warm up that oven and then bake yourself one the great tasting recipes that follow. Enjoy!!!
Our Favorite Recipes
Best Homemade Pie Recipes
After cooking up these delicious pies, I imagine you'll also want to try out some of our other sweet soul food desserts.  You can just try one and not all the others can you?
Although I must warn you about something.
Be ready if your friends and family have a sweet tooth, they'll be begging for seconds, even thirds, until no dessert is left.  I learned this hard lesson early on.  I would sit my desserts out in front of my hungry dinner guest, turn my back and the desserts would magically disappear without me tasting a single bite.
That said, be sure to put a few pieces of dessert aside for yourself.