Simple and Delicious Lemon Meringue Pie Recipe
Wondering What Dessert To Cook? Try This Lemon Meringue Pie Recipe.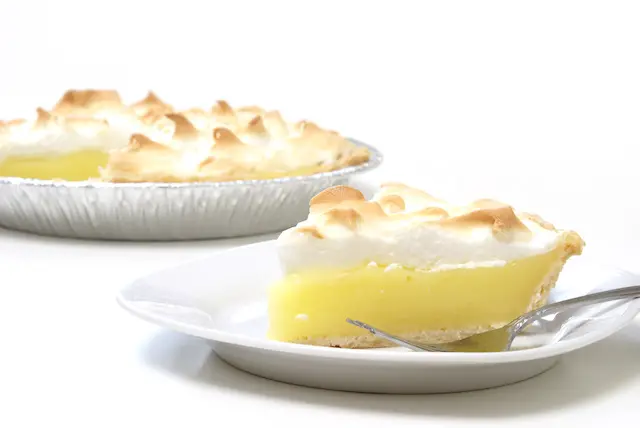 Lemon Meringue Pie
If you're looking for a showstopper of a dessert, look no further than my delicious lemon meringue pie. This classic treat starts with a buttery crust filled with tart, creamy lemon curd and topped with a billowy cloud of sweet meringue. It's an impressive dish that's sure to leave a lasting impression on anyone who tastes it!
This version of lemon meringue pie comes with easy-to-follow instructions, making it the perfect recipe for both experienced bakers and those just starting out in the kitchen. With its balance of sweet and tart flavors, this wonderful dessert will be sure to satisfy any craving. Try my lemon meringue pie recipe today for an unforgettable finish to your next meal!
Let me share this simple but delicious lemon meringue pie recipe with you. Whether you already love meringue pie or are just looking for a new pie dessert recipe to try, this lemon pie dessert is a must try.
Lemon Meringue is one of those special dessert recipes you can make for holidays such as Easter and Fourth of July.
Lemon Meringue Pie
Recipe Ingredients:
1 x 9-inch frozen pie shell
Lemon Filling:
1-1/4 cups granulated sugar
6 tablespoons cornstarch
1/8 teaspoon salt
grated rind of 1 lemon
2 cups boiling water
4 tablespoons butter
3 egg yolks
1/2 cup fresh lemon juice
Meringue:
3 egg whites
pinch of salt
1 teaspoon lemon juice
6 tablespoons granulated sugar
Recipe Instructions:
Bake pie shell according to package directions until pie crust is lightly brown. Remove baked pie shell from oven and cool on a rack. Raise oven temperature to 400 degree Fahrenheit.
First let's prepare the lemon filling. Combine sugar, cornstarch, salt, grated lemon rind and water in heavy bottom saucepan. Cook, stirring constantly over medium heat until mixture comes to a boil. Once mixture begins to boil continue to stir for another minute. Remove from heat and add butter to sugar mixture, but do not stir.
Separate egg whites from yolks and place in different bowls.
Add lemon juice to egg yolks and whisk together using a wire whisk or fork. Pour this mixture into hot sugar mixture and blend thoroughly. Lemon filling is complete.
Pour lemon filling into lightly browned pie shell and bake at 400°F for 10 minutes.
As soon as you place pie in oven it's time to prepare the meringue. Add salt to bowl containing egg whites and beat until soft peaks form. Next add lemon juice, then gradually mix in sugar until meringue is stiff.
Remove pie from oven and spoon meringue over the lemon pie filling after it has baked for 10 minutes. For best results form a mound with the meringue in the center of the pie, then spread out evenly to the outer edges.
Set oven temperature to 350 degree Fahrenheit. Place pie back into oven and continue baking until meringue is lightly browned.
Cool your lemon meringue pie on a rack at room temperature, then refrigerate for at least 3 hours before serving.
I'm sure you'll enjoy this lemon meringue pie for many years to come.
This recipe provided courtesy of https://www.soulfoodandsoutherncooking.com/