Our Most Popular Soup Recipes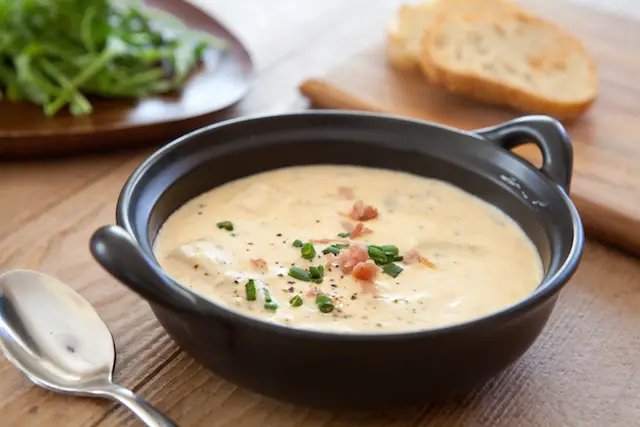 Soup Recipes - Creamy Potato Soup
Soup is incredibly nutritious and easy to make.
Not only does soup provide a great source of vitamins and minerals, but it can also fill you up without adding too many calories. Soup can be made with whatever ingredients you have on hand, allowing for endless innovative variations.
Preparing soup is also an ideal way to make use of leftovers or fresh ingredients that are wilting away in the refrigerator.
What's more comforting, easy to eat, and perfect for any occasion? 
Soup!!!
By trying the recipes below, you can learn everything you ever wanted to know about how to prepare homemade soup recipes.  
Have you heard the old saying, "Once you go homemade, you'll never go back to canned soups"?  
It's true, even the best gourmet soups, canned soups, and soup mixes can't compare to the quality, taste, and healthiness of homemade prepared soups.
Look here if you need to prepare soup for a crowd.
Our Favorite Recipes

Yes, even YOU can cook soup from scratch with the right recipes for homemade soup.  
I know what you're thinking right now.  Cooking homemade soup is so time consuming.  
Yes this may be true, but we believe the finished product will be well worth your efforts.  
The time you spend in the kitchen will not go unrewarded.
Depending on your taste there is a wide variety of soups to choose from including Broths, Chili, Chowders, Cream Soups and Gumbos.
Whatever your taste you can cook soups that keep you lean and trim or cook soups that will stick to your stomach.  There are even healthy  soups that taste delicious you can prepare.
If you're still concerned that cooking homemade soup is not worth your effort consider this.  Soups make great leftovers.  You can easily cook up a pot of your favorite soup and freeze the leftovers. That way you'd have a prepared meal the next time you get the urge for some wholesome soup.

I have compiled a collection of recipes for making soup that you will enjoy.  I'm sure these recipes will provide you with warmth on those cold winter days or lift you up anytime you are feeling down and a little under the weather.
Chicken Soup Recipes
Cabbage and Chicken Soup
This quick and easy soup recipe combines two southern favorites, cabbage and chicken to create a wholesome and healthy cabbage and chicken soup.
Old Fashioned Chicken Noodle Soup
This old fashioned chicken noodle soup will help bring comfort to your mind and body.  Give this hearty soup with vegetables a try today.
Homemade Chicken and Dumplings Recipe
Try this old fashioned chicken and dumplings recipe. That way you can learn to cook from scratch if you follow these easy to follow instruction.  Give this recipe a try today for free.
Potato Soups
Potato Soup Recipe
This is a simply but tasty recipe for potato soup that you will enjoy.  Recipe calls for potatoes, onion, evaporated milk, and grated cheese.
Cowboy Stew Soup
This ground beef and potato recipe was created by young farmers during the depression.
Southwest Style Double Potato Soup
This South West Soyrizo double potato soup is almost sweet, definitely savory and a bit spicy resulting in a mouthful of flavor.
Vegetable Soups
Oxtail Soup
A delicious, cheap and easy to cook oxtail soup recipe, featuring a tomato base with oxtails and mixed vegetables.
Flo's Hearty Vegetable Soup
Vegetable Soup Has Long Been A Southern Favorite. It's Healthy And Sticks To Your Stomach. Try this Soup Made From Frozen Vegetables.
Pumpkin Soup
We've gotten nothing but rave reviews for this popular Haitian pumpkin soup recipe, a favorite dish served during Haiti's Independence Day.
Homemade Vegetable Beef Soup
A visitor submitted recipe which teaches you how to prepare a delicious and hearty pot of homemade vegetable soup.
Classic Soups
Creamy Tomato Soup
This is a free quick and easy tomato soup recipe that uses fresh tomatoes, celery, onion, basil, honey, butter, flour and milk as the main ingredients.
French Onion Soup
Who said southerners don't have class? This simple, yet rich and elegant soup recipe dispels the myth.
Creamy Asparagus Soup
Homemade asparagus soup using fresh ingredients to produce a delicious heart warming dish.
Stew Recipes
Beef Stew Recipe
This simple beef stew recipe is so easy to prepare, it practically cooks itself. Treat your family to a hearty bowl of this soup today.
Brunswick Stew Recipe
This hearty Brunswick stew makes for an excellent dish to be served alongside other side items at a barbecue cookout.
Stewed Chicken and Dumplings Recipe
This hearty one dish meal is crowd pleaser. Your family and friends will surely leave the dinner table with full stomachs.
Catfish Stew
You want find this quick and easy catfish stew recipe often, so print it out now for some good eating. An alternative to fried catfish.
Crock Pot Beef Stew
The recipe to try for some delicious slow cooked beef stew. A very easy to make and tasty recipe.
Stewed Tomatoes Recipe
Some detailed instructions which will teach you how to stew tomatoes using canned tomatoes.
Gumbo Recipes
Crawdad Gumbo Seafood Recipe
Grandma's cooking Crawdad Gumbo a long time Southern Favorite. This recipe was submitted by Grandma at Penny Pinching Grandma.com. Check out all of Grandma's great penny pinching ideas.
Hearty Soup
Have a hearty bowl of Soup in a pinch, a soup recipe that features Italian and Kielbasi sausage for a unique taste.
Chili Recipes
Homemade Beef Chili Recipe
A simple and easy homemade chili recipe that's packed with awesome flavor. Put away the package mix, because this recipe calls for fresh ingredients.
Homemade White Chicken Chili Recipe
Here is a very tasty hot and spicy white chicken chili recipe. This chili taste even better when served as leftovers.
Red Chili Recipe
If you've never made chili before try our Beginners special. We teach you how to make chili the right way!
Crock Pot Chili Recipe
A chili recipe for your crock pot that is quick and easy to prepare, with outstanding results, producing a delicious meal.
Old Fashion Chili
A homemade slow cooking chili with a cook time of 8 to 9 hours. The kids and everyone else will love this cold day chili.
Chili Bean Bake
This is a healthy vegetable chili bean wrap bake meal loaded with everything to satisfy you food lovers.
Quick and Easy Sausage Spaghetti
 Anyone else want to prepare some homemade sausage spaghetti? If so, try this quick and easy recipe to make a simply amazing and tasty spaghetti meal