Easy Crock Pot Chili Recipe For A Busy Cook Like YOU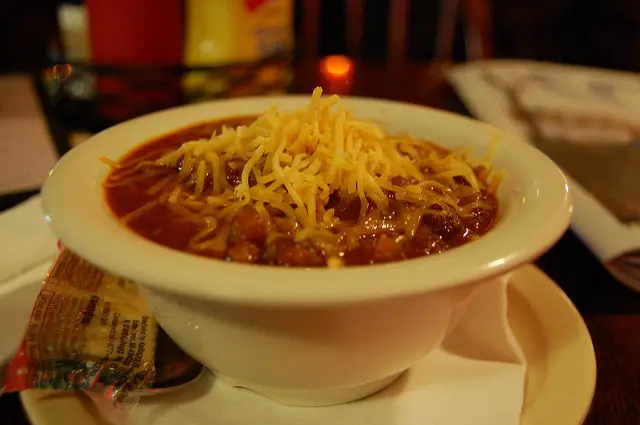 Image via Flickr/stu_spivack
The beef crock pot chili recipe that follows is not only reserved for chilly winter days. Nowadays chili is an all season meal that can be enjoyed year round.  In my case, I like chili any time of the year, it really doesn't matter. 
In fact you can find me eating chili in the middle of the summer, just as often as, during the winter months.
This chili recipe is just one of the many crock pot recipes that I enjoying cooking in my slow cooker and once you've tried the homemade beef chili recipe below you will probably feel the same way I do.
Like most other crock pot recipes this one is simple, quick, and easy to follow.  
And best of all you can cook this delicious meal on autopilot without all the fuss that normally comes with cooking when you have to watch over your meal while it is being prepared.
Slow Cooker Crock Pot Chili Recipe
Recipe Ingredients:
2 pounds ground round beef
2 cups chopped onion
2 crushed garlic cloves
2 tablespoons chili powder
1 teaspoon ground cumin
1 teaspoon paprika
1 teaspoon oregano
1 teaspoon salt
1/2 teaspoon cayenne pepper
1/2 cup beef stock
1 can tomatoes (28 ounces, drained & mashed)
3 cans kidney beans (drained)
Recipe Instructions:
You're probably wondering why I chose ground round over ground beef. If this is the case, the reason I chose ground round is because it's leaner and contains less fat. That being said, if you prefer, you can easily substitute ground beef, chuck or sirloin in this recipe.
In a medium skillet over medium heat, brown the ground round. Once browned, drain the fat from the meat and return to skillet. Add onions & Galilean and continue to cook and stir over medium heat until onions are transparent.
Next transfer meat mixture to a lightly greased crock pot. Add the remaining ingredients consisting of chili powder, cumin, paprika, oregano, salt, cayenne pepper, beef stock, tomatoes and kidney beans. Mix all ingredients well with the meat mixture.
Cover your crock pot with a lid, setting the temperature to low and cook for 5 to 7 hours.
This recipe provided courtesy of https://www.soulfoodandsoutherncooking.com/
Serve your delicious and wholesome chili with your favorite toppings (i like cheese) and crackers or corn bread.