Easy To Prepare Crock Pot Baked Beans Recipe For A Busy Cook Like YOU!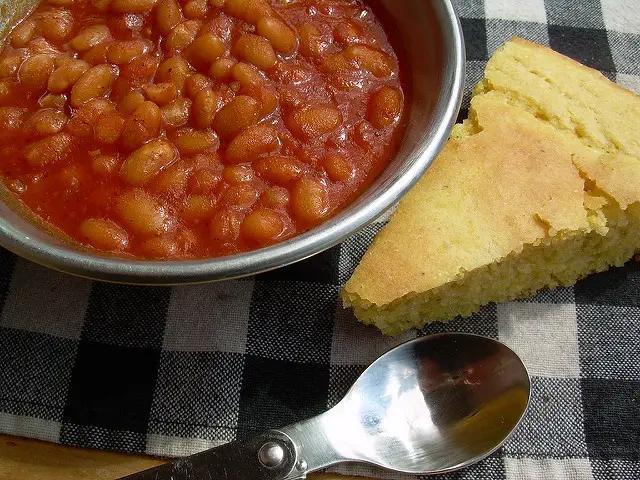 Image via Flickr/di.wineanddine
Get ready to prepare this very easy crock pot baked beans recipe.
Using the simplest of ingredients you can cook up a pot of baked bean perfection, that will keep your family begging for more.  And did I mention this recipe works great for the busy cook?
What I like to do is put on these baked beans and let them slow cook for a while, when I'm outside grilling up some mouthwatering barbecue ribs.
From time-to-time, I'll also grill up a few plump and juicy chicken breast, which are always eaten up by my family.  If you're like me baked beans are a must have side dish for any outdoor barbecue when I'm the host.  
I think you will be pleasantly surprised at the sweet and savory taste you will get from this dish.
Slow Cooker Crock Pot Baked Beans
Recipe Ingredients:
6 strips bacon (cut in 1-inch pieces)
2 teaspoons bacon drippings (from cooked bacon)
3 cans baked pork and beans (16 ounces each)
1/2 teaspoon dry mustard
1/2 cup ketchup (or favorite barbecue sauce)
1/4 cup light brown sugar, packed
Recipe Instructions:
In a medium frying pan, fry bacon until browned, remove from heat and place on paper towels to drain. Reserve about 2 teaspoons of bacon drippings to be added to your crock pot.
In a lightly greased crock pot, add all ingredients consisting of bacon, pork and beans, mustard, ketchup, brown sugar and bacon dripping. Stir baked bean mixture gently until all ingredients are well mixed.
Cover your crock pot with a lid, set the temperature to a low setting and allow the baked beans to cook for 4 to 5 hours.
This recipe provided courtesy of https://www.soulfoodandsoutherncooking.com/
This continues to be one of our most favorite recipes and is something we turn to when we want to put out a great tasting dish.
We believe you're going to continue to prepare this baked beans recipe for many years to come like many of the other visitors to this site.  The dish is truly versatile and can be used as a side dish for many occasions including family reunions, church gatherings, and potlucks just to name a few.
Do let us know who much you enjoyed the recipe when you have time.