Crock Pot Chicken and Dumplings Recipe For The Busy Cook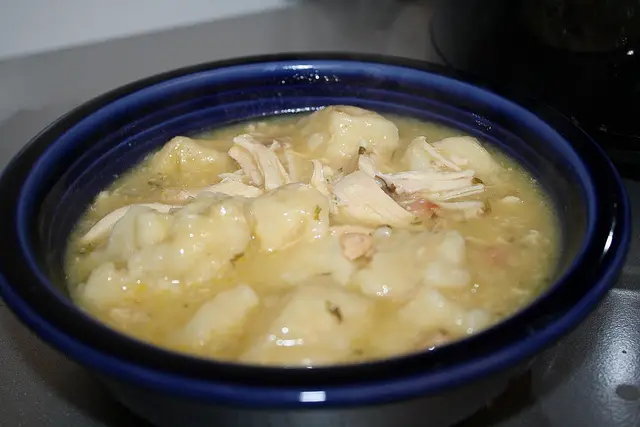 Image via Flickr/Kara
This crock pot chicken and dumplings recipe is made especially for busy cooks like you, who despite not having much time to cook, would still love to put a nutritious meal on the table, that the family will enjoy.
For the working mom or dad who cooks, it can be very difficult to get dinner ready in order to feed the kids before it gets too late.  No worries, we have a solution that might work for you.
Get ready to enjoy the benefits of using your slow cooker to prepare a tasty meal that'll be ready to go when you get home.  This is a meal which all you have to do is add the ingredients, set the timer and return home later for meal you and the rest of the family will enjoy eating.

Everybody knows there's nothing as satisfying as chicken and dumplings on a cold winter day when you need a warm and hearty meal.  
But for me it doesn't have to be winter time or in fact cold at all to enjoy a bowl of piping hot chicken and dumplings.
Slow Cooker Crock Pot Chicken and Dumpling Recipe
Recipe Ingredients:
4 boneless, skinless chicken breast
2 tablespoons butter
2 small cans cream of chicken soup
1 medium onion, finely diced
1 can chicken broth
water
1 package refrigerated biscuit dough (about 10 ounces)
Recipe Instructions:
Cut chicken breast into bit sized pieces and set aside.
In a slightly greased crock pot or slow cooker, add ingredients consisting of chopped chicken, butter, cream of chicken soup and onion. Next pour chicken broth and water into crock pot to cover the ingredients. Cover the crockpot and cook 5 hours on low heat.
To make dumplings, just roll your refrigerator biscuit dough out into small pancake sizes and cut into strips. Add dumplings to your crock pot, stir in well, turn heat to high and cook for an additional hour or until dumplings are tender and ready to eat.
This recipe provided courtesy of https://www.soulfoodandsoutherncooking.com/
This recipe really does sound appealing.  I bet you'd love the idea of returning home to a delicious bowl of chicken and dumplings after a long tiring day at work?  Best of all you can have this meal prepared and ready to go without all the hassle you'd expect.