Easy Crock Pot Corned Beef Recipe For A Busy Cook Like YOU!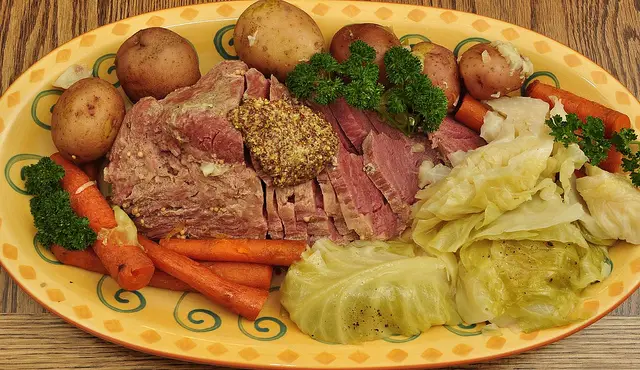 Image via Flickr/jeffreyww
This crock pot corned beef dish is oh so Yummy!  Get ready for the best corned beef and cabbage you'll ever taste.  The corn beef is so tender it literally falls apart, not to mention the taste of cabbage cooked alongside corned beef is tremendous, even people who dislike cabbage will be lining up for more of this.
Okay go ahead and pull out your slow cooker and get ready to slow cook a delicious meal.  
My mouth is beginning to water right now, as I remember the last time I prepared this corned beef recipe.  Like yesterday I recall having to trick my son in order to get him not to eat the last bite of mouthwatering beef. I had to convince my son to eat his dessert first and not have seconds, so that I could clean out the crock pot and get the very last bite of corned beef.
Slow Cooker & Crock Pot Corned Beef
Recipe Ingredients:
4-1/2 pound corned beef brisket
1 cup water
3 tablespoons apple cider vinegar
3 tablespoons sugar
1/2 teaspoon pepper
2 medium onions (quartered)
2 large new potatoes (cubed)
2 carrots (cubed)
1 head cabbage, cut into small wedges
Recipe Instructions:
In a lightly greased crock pot, add your corned beef brisket.
In a small bowl mix together, water, vinegar, sugar and pepper. Pour the mixture on top of the corn beef brisket.
Cover the crock pot with a lid and cook on low heat for 10 to 12 hours
Add onions, potatoes, and carrots about 1-1/2 hours before the corned beef is done.
Add cabbage 45 minutes before the corned beef is done.
This recipe provided courtesy of https://www.soulfoodandsoutherncooking.com/
Just to explain the process. If you're cooking for 12 hours, you'd add the onions, potatoes and carrots at the 10-1/2 hour mark. The cabbage should be added 45 minutes later.
It takes a little bit of time to prep this meal for the crock pot, you'll be rewarded for your time with a delicious meal.  This is the perfect dish to prepare for a Sunday dinner, just invite some of your other family members over to help you eat all of this delicious meal up.
After they finish eating with a full stomach they will surely thank you for the meal and praise you for being such an excellent cook.