Quick & Easy Fish Recipes - Grilled, Baked, Blackened and Fried Fish Recipes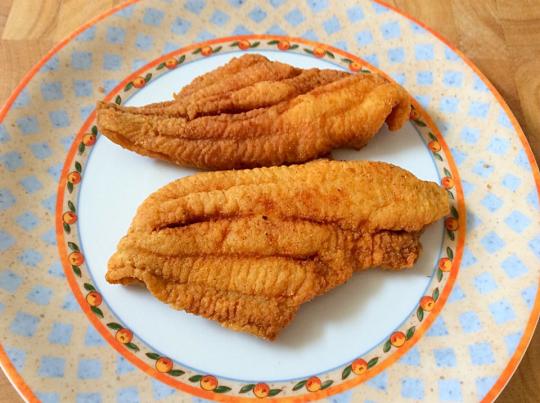 Southern Fried Catfish
We're compiling a list of easy fish recipes here and would love for you to try our fish recipes and also post your favorite recipes here too.  I sure do love eating fish. How about you? I bet you do love eating fish as much as me too.
What I love most about cooking fish is that it's fun and easy.  Also, did I mention fish is some of the healthiest meat you can eat?
Our Favorite Fish Recipes
By now, I'm sure you already know all the health benefits that come from eating fishing...especially when it is grilled or baked.  I still eat my fried fish from time to time though.
Below, I'd like to share links to some easy pickings when it comes to preparing fish.  We call these "eazy fish recipes" for a good reason. You'll be able to fry, bake, and grill fish in no time with our simple recipes.

However, I must warn you that the fish dishes you'll prepare from these recipes below will taste so good--so don't expect any leftovers, friend. To get started just read over the recipe descriptions and the click over to the recipe that interest you must. The print out the fish recipe and give it a try.
Easy Fish Recipes
Baked Fish

Baked Blackened Catfish
Baked blackened catfish is easy to prepare and a much healthier alternative to pan fried catfish. Recipe comes with homemade blackened seasoning for the best taste.

Blackened Fish

Blackened Salmon
I won't be able to get enough of this blackened salmon recipe. Another one of my personal favorites.
Blackened Tilapia
Have you ever tried blackened Tilapia? Once you do you will not want it prepared any other way. Trust me on this one, this is some good eating.
Blackened Catfish
This Cajun style blackened catfish dish has just the right amount of herbs and spices to give your taste buds a flavorful workout.
Blackened Tuna
Are you a fan of tuna steaks? If so, try preparing your tuna blackened style. You are going to love the taste of blackened tuna.
Grilled Fish

Grilled Salmon Recipe
Grilled salmon is one of my favorite fish dishes. So I turn to this quick and easy salmon recipe often. Serve with some grilled vegetables, pasta, or rice pilaf.
Spicy Grilled Catfish
Here is another way to cook yourself some flavorful, delicious, hot, and spicy catfish. This fish is prepared straight on the barbecue grill.
Fried Fish

Fried Trout Recipe
This is the one recipe I turn to whenever I find fresh trout. Although this is a simple trout recipe you'll get outstanding results. Serve trout with your favorite sides.
Southern Style Fried Catfish
Fix yourself some mouthwatering southern fried Catfish using this easy fish recipe. Serve your catfish with coleslaw, hush puppies, macaroni and cheese and French fries.
Salmon Croquette Recipe
Try this easy salmon patty recipe using canned salmon fish. Learn how to prepare tasty and delicious salmon patties the old school way.
Fried Red Snapper
A quick and easy fish recipe that shows you how to cook up some delicious red snapper, the right way. Your hungry dinner quest will love eating this fish.