Quick and Easy Grilled Salmon Recipe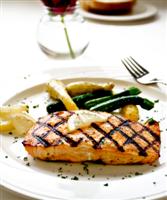 This grilled salmon recipe is my personal favorite grilled seafood recipe. What I find most appealing about grilling salmon is that unlike most fish, salmon fillets or steaks hold up well when you are grilling them. 
Salmon really does not break apart like most fish when it's grilled. Also, since salmon is usually cut just as thick as steak you don't have to worry about the fillets or salmon steaks drying out.
The process of grilling salmon steak or fillet is very simple. Just throw the salmon fillets or steaks on the grill and sear the outside of the fish to lock in the natural juices.  A little browning on each side to ensure the salmon is done and dinner is almost ready to be served. You can't eat the grilled salmon alone, without adding your favorite side dishes to make a complete meal.

Grilled Salmon Recipe
Recipe Ingredients:
6

salmon fillets

, without skin (about 4 ounces each)

1 tablespoon

minced

garlic

3 teaspoons

parsley

, flakes

6 teaspoons

butter

1 large

lemon

, squeezed and juiced

vegetable spray
Recipe Instructions:
I usually wrap my salmon fillets or steaks in aluminum foil before placing them on the grill. The easiest and my preferred method is to place the salmon into a homemade aluminum foil container. The container can be made by simply piecing together two layers of heavy duty foil paper. Fold the foil on three sides in a manner that will restrict juices and steam from escaping and leave the fourth side open.
Spray the inner lining of the foil generously with cooking or vegetable spray and then add your salmon. Next evenly add minced garlic, parsley flakes and butter to each piece of fish. Next pour lemon juice on each salmon fillet and seal the fourth side of your foil container.
Place the aluminum foil container filled with salmon on a hot grill. Cook salmon in a covered grilled for about 10 minutes per inch thickness of fillet. As an example you would cook a 1 inch fillet about 10 minutes.
Turn the foil containing the with salmon steaks once or twice throughout cooking to prevent overcooking on one side. The salmon is done when it turns pink throughout and flakes easily with a fork. To avoid dryness do not overcook.
This recipe is courtesy of https://www.soulfoodandsoutherncooking.com/