Potato Recipes For All Occasions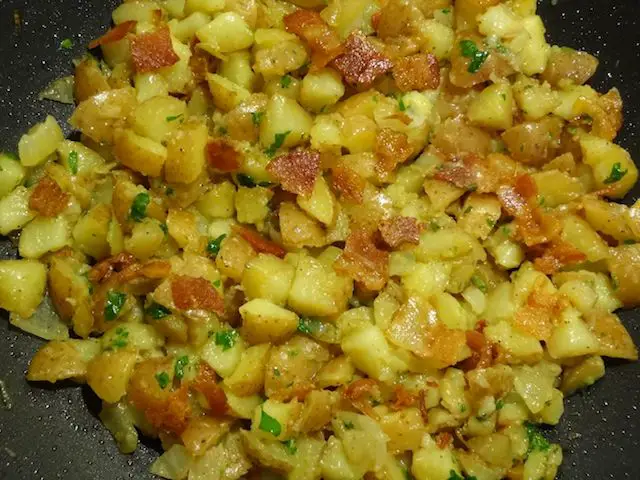 Fried Lyonnaise Potatoes
If you're like most folks, potatoes are an essential staple in your kitchen because they are incredibly versatile and nutritious.  They can be boiled, steamed, baked, fried, mashed, or even made into chips. I love to experiment with different flavor combinations like rosemary roasted potatoes or curried potato wedges.
Potatoes are also a great source of vitamins and minerals like vitamin C and potassium. With all these qualities combined, it's no wonder potatoes are one of the most popular meals around the world!
Are you looking for a variety of potato recipes to serve with your weekly meals? If you answered yes, look no further because here you will find some of the best recipes here along with GREAT tips for preparing and cooking potatoes.
We like to eat potatoes prepared many different ways.
We like our potatoes fried, baked, mashed, or roasted.
We like potatoes in our salads and soups.
We even like our potatoes loaded with butter and brown sugar.
If you like potatoes, you will enjoy this assortment of recipes for potatoes, all of which are available for you to print off immediately.
Here you will find nutritious recipes for potato soup, potato salad, sweet potato, baked potato, mashed potato, potato pancake, boiled potato, fried potato, garlic potato and roasted potatoes recipes.
Fried Potato Recipes
Potato Salad Recipes
Baked Potato Recipes
Mashed Potato Recipes
Potato Soup Recipes
Candied Yams Recipes
Over the years potatoes have gotten a bad reputation for being high in fat and calories. This simply is not true. Potatoes can be a welcomed healthy low calorie and high fiber addition to your meals.
The high fat and calories of today's potato dishes stem from the fact that they are cooked in grease and/or loaded with toppings such as bacon bits, butter, cheese, chili, and sour cream. If you just cut back a little you can still enjoy deliciously prepared potatoes.
I'm well versed in how to prepare and cook potatoes, since potatoes have long been a southern staple. So, before you go running off and cooking up some delicious potatoes, please review some tips on preparing and cooking potatoes.
What Type of Potato Should You Use?
Based on your cooking method there are several varieties of potatoes to choose from. Some potatoes are more suitable than others for a given cooking method (i.e. baking, boiling, frying, roasting, steaming, etc)
Because russet potatoes are low in moisture, they're the best for baking. Russet potatoes are also an excellent choice for frying, and boiling.
The best potatoes for boiling include new potatoes, round red potatoes and round white potatoes. Since these potatoes hold their shape after cooking they're ideal for potato salad and scalloped potato dishes.
New potatoes are by far the best potatoes for steaming and roasting.
The best potatoes for chowder and soup recipes are round red potatoes, round white potatoes and Yukon golds.
Picking and Cleaning Your Potatoes
Before you can prepare your potatoes for cooking you must run over to your local grocery store or farmers market and select suitable potatoes. As previous discussed you want to select the best potatoes for your given recipe and cooking task.
Since potatoes are available year round you always have a fresh selection. When you make your selection, avoid potatoes that: have areas of green skin or are shriveled, sprouting or wrinkled. Bottom line, you should forgo any potatoes that are not pleasing in appearance. I prefer picking from a bin as opposed to prepackaged potatoes in a bag. This way I can control which potatoes I buy.
Now with potatoes in hand, you're ready to give your potatoes a good scrubbing to remove dirt, germs and bacteria before cooking. Simply scrub potato skins thoroughly under cold running water. Then potatoes pat dry with paper towels before cooking.