Homemade Lyonnaise Potatoes
Homemade Lyonnaise Potatoes

I recently enjoyed homemade Lyonnaise potatoes while dinning at an upscale steak house restaurant. After eating the satisfying dish I thought to myself I can do a whole lot better at home in my own kitchen.
I already knew that the basic Lyonnaise ingredients are potatoes, onions, butter, and parsley. Always the creative one looking to experiment, I decided to swap out the butter for bacon fat. I also decided to add in some fresh oven-baked bacon pieces, to create my version of the recipe.  
I hate to toot my own horn, however, the potatoes turned out just right. The whole family loved this side dish so much. You can continue reading below to see how my recipe turned out.
Recipe Ingredients:
4 cups diced potatoes, boiled
1 medium onion, chopped
2 tablespoons bacon fat
2 tablespoons parsley, chopped
salt and pepper, to taste
Recipe Instructions: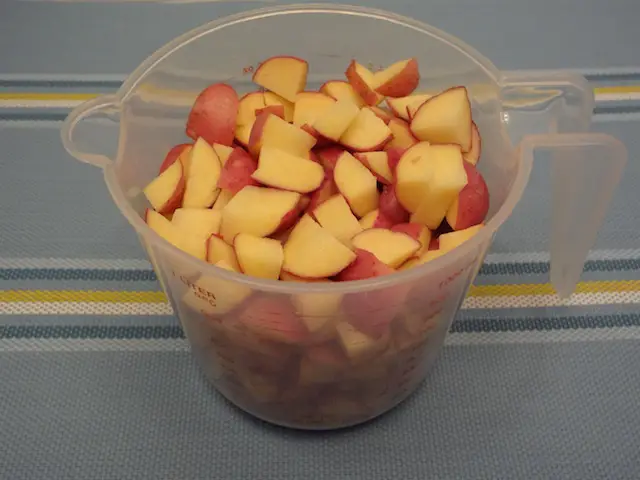 Start off by dicing your potatoes. As I dice the potatoes I add them to my measuring cup so that I can stop dicing as soon as I have enough for the recipe.
Here I diced a medium sweet onion. After dicing I sautéed the onions in a little bacon fat until they turned light brown.
| | |
| --- | --- |
| | |
| Pictured above are potatoes all diced up and ready to  boil over medium-high heat. | Here is a picture of lightly under-cooked boiled potatoes that were boiled over medium-high heat. |
While the potatoes are boiling go ahead and prepare your bacon pieces.  I cut the bacon into little pieces like you see above and then baked them in the oven for 10-15 minutes at 350 degrees Fahrenheit.  You don't want the bacon too crispy since the bacon will still cook some when you add them to the potatoes.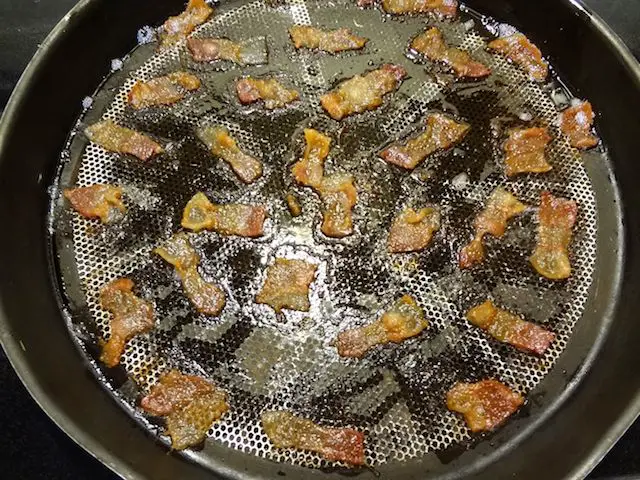 Here is what the bacon looks like straight out of the oven.  The bacon is done, but not so crispy that the bacon crumbs when touched.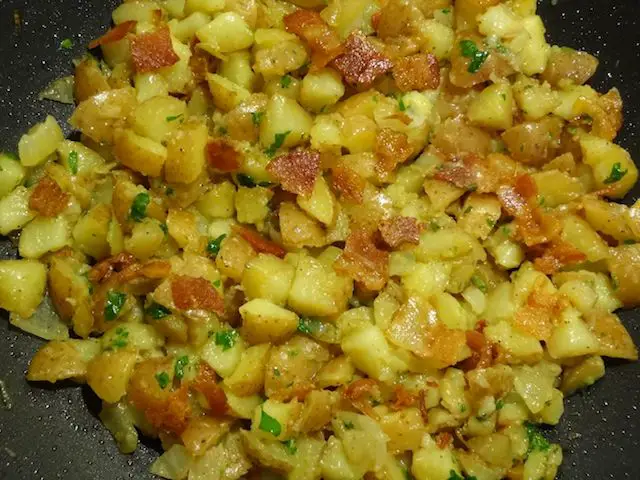 Now that the potatoes have boiled and the bacon is ready it's time to created the completed dish.  To a frying pan, first add bacon grease, then the cooked diced potatoes.  Gently stir the potatoes until they are browned on all sides.  Once the potatoes brown add in your oven baked bacon pieces.  Stir a few times and then finish the dish with fresh parsely.
You can serve the  Lyonnaise potatoes straight from the frying pan or transfer them to a warm serving dish before serving.