Easy Salmon Croquette Recipe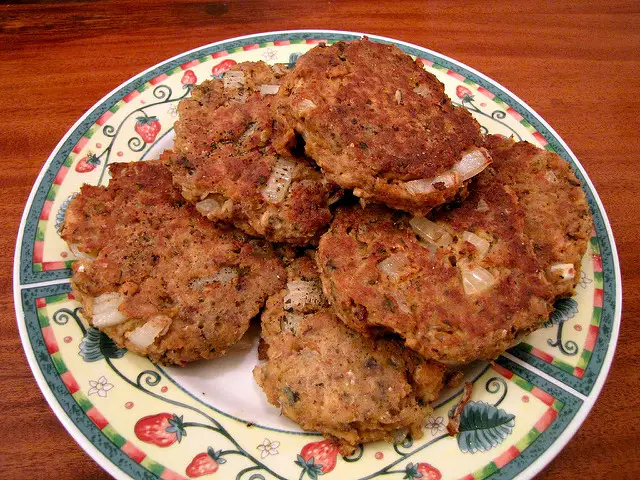 Image via Flickr/Scott Teresi
This Salmon Croquette Recipe, an African American and southern food favorite is simple and easy to prepare. Depending on your family history, salmon croquettes have several other names including salmon patties, salmon cakes and salmon patty. The names may be slightly different but one thing remains the same they're delicious.
In my opinion this is an old school recipe, as such, this is not something my other family members eat because they have not acquired the taste like me.

This entree is popular among southern families because canned salmon is inexpensive. You could find salmon croquettes on southern tables during breakfast and dinner meals.
Native In-Artice Ad
Let me introduce you to a very quick and easy croquette recipe that uses the simplest of ingredient including canned salmon, onions, eggs, corn meal, and fresh ground pepper. This is one of those recipe that you can find yourself eating anytime during the day. I've had this recipe for breakfast on a few occasions, but for the most part this is something I would eat for dinner.  

Salmon Croquette Recipe
Recipe Ingredients:
1 can (15-1/2 ounce) pink or red salmon
1 medium onion, finely chopped
2 large eggs, beaten
1/2 cup yellow cornmeal
salt and freshly ground pepper to taste
2 tablespoons butter or extra virgin olive oil
Cookware and Utensils:
medium skillet
measuring cup
medium mixing bowl
Recipe Instructions:
As always, the key to great cooking is to be prepared and to use quality ingredients.
Drain juice from salmon. Pour salmon into a medium bowl and using a fork break salmon apart into small pieces.
Add onions, beaten eggs, cornmeal, salt and pepper to taste, mix thoroughly. Shape the mixture evenly into four cakes or patties.
Heat the butter or oil over medium heat in a medium skillet. Brown salmon croquette patties on both sides, 3-5 minutes on each side. Serve your salmon croquettes hot.
This recipe provided courtesy of https://www.soulfoodandsoutherncooking.com/
Look for some serving suggestions for your salmon croquettes? You can serve potato pancakes, grilled or steamed vegetables, fresh salad, or anything else you have a desire for.

Okay, get the ingredients then cook yourself a good homemade meal. And when you finish, come back here and leave us a review. Tell us what you think about the recipe..did you like it, love it, improve the recipe?
Whatever you decide, we want to know what you think.