Quick and Easy Red Snapper Recipe
This red snapper recipe was passed to me by a good friend who knows his way around the kitchen and is also well known for his fish fry events.  I remember the last time I went to his fish fry, people were standing by with plates in hand.  As soon as, a batch of fish finished frying it went straight from the deep fryer to the plates of his hungry guest.
I kinda felt sorry for my friend because he would always spend so much time preparing this fish and not enough time getting to know and enjoying his guest.  The good news, is that his friends and family would always leave the fish fry satisfied with a full stomach.
I'm sure you'll enjoy preparing this recipe for fried red snapper fish.

Fried Red Snapper Recipe
By Soul Food And Southern Cooking, June 30, 2015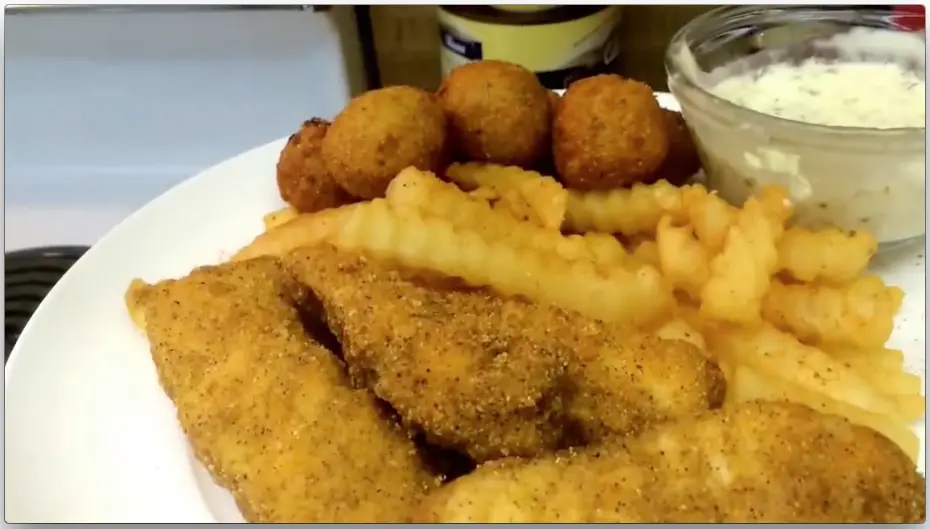 Delicious fried red snapper fillets can be served with some other soul food and southern favorites like: fried hush puppies, coleslaw, baked beans, potato salad, Brunswick stew, etc.I personally like to serve my fried red snapper with hush puppies, coleslaw, and a glass of sweet tea.
Prep Time: 10 minutes
Cook time: 15 minutes
Yield: 4 Servings

Ingredients
2 pounds red snapper fillets
3/4 cup yellow corn mill
1/3 cup all purpose flour
1 teaspoon paprika
1/2 teaspoon salt
1/2 teaspoon pepper
1/3 teaspoon celery salt
1/4 teaspoon dry mustard
1/4 teaspoon onion powder
3/4 cup buttermilk
olive oil
Instructions
In a medium bowl, mix all of the dry ingredients together.
Dip the red snapper fillets in the buttermilk then coat each side with the dry mixture.
Fry the fillets in hot oil for 5 minutes on each side until fish flakes easily when tested with a fork.
Pat fillets dry with a paper towel and serve.
Red snapper is one of my most favorite seafoods, how about you?
Okay, now that you have the recipe for red snapper, all that's left for you to do is buy yourself some fresh or frozen red snapper and head to the kitchen to fry up some delicious fish. The results will be ole so good to see and taste.