Down Home Old Fashion Chili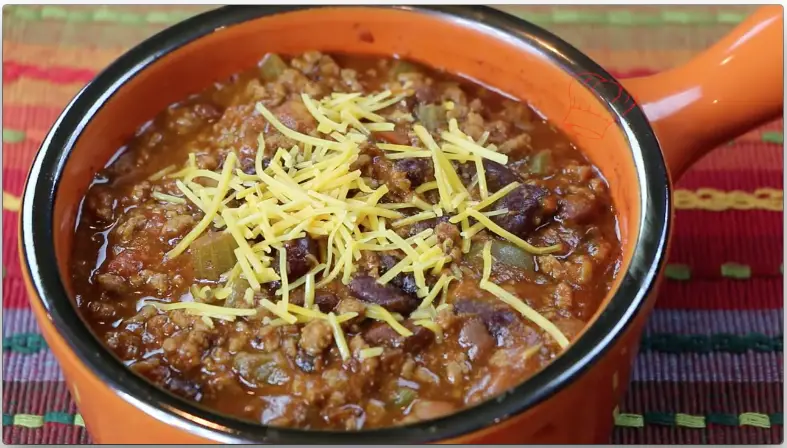 Who else wants to know who to make homemade chili?
Here is my down home old fashion chili recipe. My kids and everyone I know loves it. It does seem like a lot to do to make this chili but it takes no time when you prepare yourself to make it and having a crock pot is the best way to make it. My kids love for me to make it when it is cold outside, and I make it for almost all my potluck dinners. 

I was also told that a way to a man's heart is through his stomach and this is one way to get to his heart. I love to cook and all the time I come up with different ways on making things. I hope you enjoy this recipe for down home old fashion chili as much as we do. 

What you need to get started!

Mama's Old Fashion Chili Recipe
Recipe submitted by Nora Ledford or Oklahoma City, OK
Recipe Ingredients:

4 lbs of lean ground beef
2 lbs of ground sirloin
3 cloves of garlic minced
6 tablespoons of black pepper or peppercorn
6 tablespoons of chili powder
3 tablespoons of cumin
4 tablespoons of salt or 3 tablespoons of sea salt
1 teaspoon of cayenne pepper (adjust to more if you want it hotter or less if you want a more milder chili)
1 teaspoon red chili peppers
2 teaspoons mesa (1/2 tsp water) will use at the end of cooking
4 tablespoon Worcestershire sauce
1 tablespoon liquid smoke (really brings out flavor)
1 large yellow onion diced
1 can of tomato sauce
2 cans of Fire roasted tomatoes
1 large green bell pepper diced
1 large red bell pepper diced
2 cups of water
2 cans of dark red kidney beans rinsed and drained
(If you like it hotter than most people do you can cut up a jalapeno pepper and add it to the chili mix when you add the veggies)

Cooking Utensils:

1 large crock pot 6 to 8 quarts if you have a bigger one use it.
1 large skillet
2 wooden spoons
1 small bowl

Cooking Instructions:

1. In large skillet brown ground beef, and ground sirloin until done (don't drain) if you use lean ground beef there will not be much grease
2. While meat is cooking cut onion, garlic, and bell peppers up and place in the crock pot
3. Mix all dry ingredients together in small bowl except mesa keep that aside.
4. Open tomatoes, tomato sauce, and beans (drain and rinse beans)
5. Once meat is done pour into crock pot mix with vegetables.
6. Add dry spices to the crock pot mix well
7. Add Fire roasted tomatoes, tomato sauce, and water to the crock pot stir well. Add liquid smoke and Worcestershire sauce and mix well.
8. Cover crock pot and let cook on auto if your crock pot has this function if not med/low for 7 hours
9. At 7 hours stir and add kidney beans. Stir and cover and let cook for another 30 mins to 1 hr until kidney beans are tender.
10. Mix 2 teaspoons of mesa and 1/2 teaspoon of water in small bowl, mix well, add to the chili once mixed and stir in. Mix well let sit for about 10 to 15 minutes and serve.

Makes 10 to 12 servings
Some great toppers for the down home old fashion chili include sour cream and cheese. Serve this chili with corn bread or crackers.

This homemade chili recipe makes 10 to 12 servings
Some great toppers for the down home old fashion chili include sour cream and cheese. Serve this chili with corn bread or crackers.
This is a great chili recipe for making ahead of time. This chili freezes well for up to 6 months. Always remember the longer chili cooks the more flavors it has

Crock pot cooking time from start to finish is about 8 1/2 to 9 hours.

Reader Feedback and Comments
Sep 27, 2017
Mesa is: (by: Anonymous) 
Mesa is a Spanish (Mexican) flour used to thicken soups and stews. If your chili is too thin, use Mesa OR substitute CORNSTARCH.
Oct 20, 2016
Best chili ever (by: Jenny) 
This is this best chili I've even eaten. But I still can't figure out what mesa is. So I made it without it.
Oct 14, 2016
I think I will try (by: Anonymous) 
Maybe she meant masa? This is a thickener?
Oct 13, 2016
Masa not Mesa (by: Anonymous) 
Masada is a corn flour used to make tortillas. This was very good chili.
Aug 07, 2016
Mesa (by: Anonymous) 
Mesa is a finely ground corn flour
May 13, 2016 
Mesa means (by: Anonymous)
Probably thinking it means masa (corn flour).
Mar 31, 2016
Masa (by: Anonymous)
Masa is a flour cornmeal form usually used for tamales. It's a thinking agent for chillies and other dishes as well you can find it in most super markets with the flour and cornmeal. A little bit goes a long way. If you can not find it you can take 1 part flour and 1 part cornmeal and mix it with the q water to thicken the chili hope this helps
Feb 04, 2016
Great Chili (by: Anonymous)
I made this Chili and it was great.... I could not figure out what Mesa was.... Can someone tell me what Mesa is?
Mar 03, 2015
Thanks (by: Tod) 
Oh My God.. This was the best beef recipe I have had in recent times. It was so delicious that my children had food more than what they usually do have. It was quite an easy preparation as the description was so clearly given.
Sep 06, 2011
What is mesa? (by: Anonymous) 
I would love to make this homemade chili but was is mesa?
Jun 01, 2011
Awesome (by: Jenny Bean) 
I need to try this recipe! Thanks Nora!!!
Jun 01, 2011
Replay to Notthemom (by: Nora Ledford)
On the tomato sauce I used the small can I think they are 9 oz's and on the fire roasted tomatoes I use the 14.9oz can or what ever size the store has, sometimes they have 13 oz cans and sometimes they have the 14.9 oz cans. I hope this helps and you enjoy this chili, you can also buy one large can of tomato's to replace the 2 cans if you want
Mar 11, 2011
What size can should i use (by: Notthemom) 
I want to make this chili but I can't figure out what size tomato sauce and fire roasted tomatoes.
What size cans PLEASE!!!!!
Feb 23, 2011
Competition quality homemade chili recipe (by: Anonymous) 
My husband has been a chef for years and won many competitions and cooked for some big V.I.P's. I made this for us this weekend and he was amazed. I am not a cook and this chili sure made me seem like one. It was great!
Feb 22, 2011
Sounds like a good homemade chili recipe (by: Will) 
I will have to try out this homemade chili recipe sometime.
Feb 22, 2011
Sounds Yummy (by: Jennifer Hennigh)
Sounds amazing! I'm going to try this one for sure! Thanks for sharing!
Feb 06, 2011
I made the chili and it tasted great (by: Trina) 
I finally got to eat this chili the other day, after I left the first comment. I wanted to tell you this was one of the best chili's I have ever had, my kids and husband really loved it. I even had enough to freeze to save for later. Kudos to you. I am keeping this recipe for ever. Thanks!
Feb 04, 2011
Nice aroma from chili spices (by: Trina)
I was also looking around the internet for a chili recipe and came across this one and I started cooking it this morning and I am now adding the beans to it. I tasted it a little before I added the bean and this is a very good chili. And the aroma that is filling the house is wonderful. My husband said to me it smells great and that this needs to be added to are menu of food from now on. I can't wait to eat some here in about an hour.. So excited...
Feb 04, 2011
Making this Chili Today (by: Anonymous)
With the weather cold and snowed in I put this chili on this morning and looking forward to eating it tonight... It smells so good cooking. Thanks for the recipe.
Feb 04, 2011
Love it (by: Anonymous) 
I love this Chili it has a lot of flavor...
Feb 04, 2011
Time for some homemade chili (by: Melissa) 
Time for some homemade chili. It's a nice winters day here in Texas -- woke up to snow and ice everywhere with closed highways. Because of the weather I found your down home old fashion chili recipe while searching the internet this morning and thought I'd leave you a comment or two. What I like most about chili is the fact its a cold weather comfort food. On days like today it makes perfect sense to enjoy a hot bowl of chili with crackers or cornbread. I look forward to giving your recipe a go!