Best Recipe for Chicken and Dumplings
Best Recipe for Chicken and Dumplings Using a Crockpot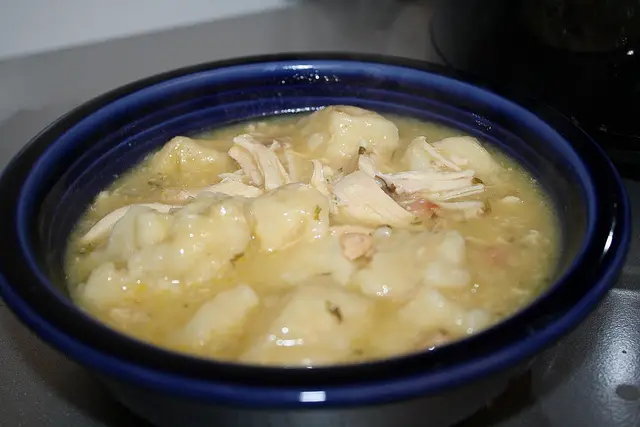 Crock Pot - Recipe for Chicken and Dumplings - Flickr - Kara
Preparing a delicious crockpot meal is easy with this recipe for chicken and dumplings. This recipe for Crock Pot Chicken and Dumplings is a comfort food classic that's full of flavor, simple to make, and tastes great. Start by using a rotisserie chicken or leftover cooked chicken, then add in your favorite vegetables and some Bisquick mix to create the dumplings.
The slow cooker does all the work for you, so dinner is ready in no time. It's perfect for busy weeknights or leisurely weekend dinners.
Enjoy this recipe for a comforting, delicious meal everyone will love.
This recipe's prep time is kept to a minimum so that you can let the slow cooker or crock pot do all the necessary work required to put delicious and nutritious home cooking on the table for your friend or family.
Recipe for Chicken and Dumplings
Ingredients:
6 shredded chicken thighs, cooked
1 onion, chopped
2 cloves garlic, minced
2 cups chicken broth
1 can cream of celery soup
1 can cream of chicken soup
1 cup frozen peas and carrots
Salt and pepper to taste
2 cups Bisquick mix
2/3 cup milk
Instructions:
Season the chicken thighs with salt and pepper, then place them in the crockpot.
Add chopped onions, minced garlic, frozen peas, and carrots on top of the chicken.
In a separate bowl, whisk together the cream of celery soup, cream of chicken soup, and chicken broth until well combined.
Pour this mixture over everything in the crockpot.
Cover and cook on low heat for about 6 hours or high heat for about 3 hours.
If needed add salt and pepper to taste.
What to serve with your recipe for chicken and dumplings
I think we both agree, chicken and dumplings are classic comfort food that is perfect for a cold winter day or whenever you're craving something hearty and filling. While the dish itself is delicious on its own, here are a few side dish recommendations to serve with chicken and dumplings to make it even more satisfying.
First, consider serving some kind of green vegetable as a side dish. Broccoli, green beans, Brussels sprouts, or asparagus would all be great choices. Not only do they add color and nutrition to your meal, but their slightly bitter flavor helps balance out the richness of the chicken and dumplings.
Another option is to serve a salad alongside your chicken and dumplings. A simple mixed greens salad with a light vinaigrette dressing would work well here. The freshness of the salad provides a nice contrast to the warm, comforting flavors of the main dish.
If you're looking for something heartier to serve with your chicken and dumplings, consider making some garlic bread or biscuits. The buttery flavor of this breads pairs perfectly with the creamy sauce in the chicken and dumplings.
Finally, don't forget about dessert! A warm apple crisp or pumpkin pie would be an excellent way to end this meal on a sweet note. The combination of cinnamon-spiced fruit and buttery crumble topping complements the savory flavors in the chicken and dumplings beautifully.
In conclusion, there are many recommendations to serve with chicken and dumplings that can take this classic dish to new heights. Whether you opt for a fresh green vegetable or something more indulgent like garlic bread or pie, adding complementary flavors will make your meal complete!
This recipe is perfect for anyone who loves classic comfort food! The combination of creamy soups with tender chunks of shredded chicken thigh meat creates a deliciously flavorful base that's perfect for soaking up fluffy Bisquick dumplings.
The addition of frozen peas & carrots adds color as well as necessary nutrients to your meal while giving it more texture. By using a slow cooker instead of the traditional stovetop method you'll save time without compromising flavor or quality!