South West Soyrizo Double Potato Soup
by Jenn Tidwell
(Fair Oaks, Ca, United States)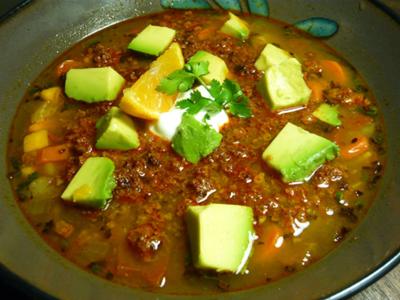 Soyrizo Double Potato Soup 1
This almost sweet, definitely savory and a bit spicy potato soup is a mouth full. Created with my boyfriend in mind, who loves soup in general, I also kept myself happy by using the soyrizo. Soyrizo is just as tasty as the real deal chorizo, however this option is a much healthier alternative. Topped with tangy sour cream, creamy avocado and a super sweet Clementine wedge this soul-satisfying comfort dish is complete!

Serves: 4
Prep: 15 minutes
Cook: 45 minutes

South West Soyrizo Double Potato Soup

Ingredients:

1 tablespoon olive oil
12 ounces soyrizo
1 medium onion, chopped
4 carrots, peeled and sliced thin
6 cups chicken broth
2 cloves garlic, minced
1 dried guajillo pepper, reconstituted and minced
1 teaspoon dried Mexican oregano
2 sweet potatoes, peeled and diced
2 yukon gold potatoes, peeled and diced
3 roma tomatoes, diced
2 tablespoons cilantro, minced, plus 4 sprigs for garnish
1/4 cup sour cream
1 avocado, pitted and diced or sliced
1 clementine orange, cut in 1/4

Directions:

1. Heat oil over medium high in a large sauce pot and add soyrizo. Cook until lightly browned about 8 to 10 minutes. Using a slotted spoon scoop soyrizo into a bowl and set aside.

2. To same pot add onion and cook 3 to 5 minutes stirring often. Add carrots and cook another 5 minutes. Deglaze pot with broth scraping bottom of pan clean.

3. Stir in garlic, dried oregano, guajillo pepper, potatoes and tomatoes. Bring to a boil, reduce heat to low and simmer about 20 to 25 minutes for potatoes to cook and flavors to meld.

4. Before serving stir in minced cilantro and browned soyrizo. Garnish each bowl of soup with 1 tablespoon of sour cream, 1/4 of an avocado, a squeeze of 1/4 of a clementine and top with a sprig of cilantro.