Homemade Chicken and Dumplings Cooked To Taste Like Grandma's
My Grandma loved to cook homemade chicken and dumplings for many reasons.  I guess her main motivation was to satisfy the craving of her grandchildren. To this very day I can still remember Grandma hurrying around the kitchen, like she always did so frequently, taking all the necessary steps to cook up some deliciously prepared soul food.
Grandma is now longer with us, so now it's my responsible to cook up all those homemade dishes just like Grandma used to.  One of my son's favorite homemade dishes in the very dumplings recipe that I'm about to introduce you to. He just can't seem to  get enough of this meal.
For most people, homemade chicken and dumplings are a winter favorite. Actually this recipe is a good dish to eat throughout the year. The dumplings are so nourishing that they'll stick to your stomach. If homemade cooking from scratch excites you, you must try this chicken and dumplings recipe.
During the winter months, this is the one recipe I turn to when I need a hearty, wholesome, and satisfying meal that stick to the stomach and nourish the bodies of my family. If it works for me and my family, then maybe it will work for you and yours.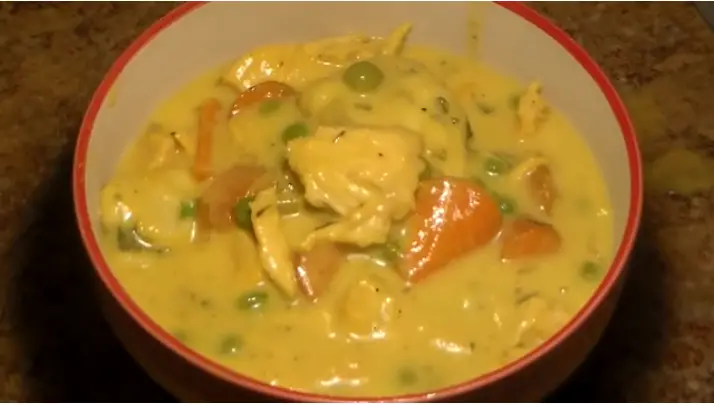 Bowl of Chicken and Dumplings
Chicken and Dumplings
Recipe Ingredients:
Chicken Broth:
2-1/2 To 3 pounds whole chicken
2 cups chicken broth
1 teaspoon butter
water
Dumplings:
2 cups all purpose flour
1/2 teaspoon salt
5 tablespoons butter
1 large egg
1/2 cup whole milk
Cookware and Utensils:
1 measuring cup
1 heavy bottom pot
1 stand mixer or mixing bowl with hand blender
1 rolling pin
1 stirring Spoon
Recipe Instructions:
As always the key to great cooking is to be prepared and to use quality ingredients.
Place the chicken into a large boiling pot. Add chicken broth and water. Make sure the chicken is covered with water. Bring to a boil and reduce heat to simmering. Throughout cooking skim away any foam that forms in your pot. Simmer for 1-1/2 hours until chicken is done and tender. Remove chicken from the broth and allow to cool.
Debone the chicken once it is cool enough to handle. While deboning the chicken discard the undesirable parts (skin, bones, etc). Cut deboned chicken into bite sized pieces.
Now it's time to prepare your dumplings. Preparing the dumplings is easy. Mix your flour, salt, egg, butter and milk in a stand mixer. If you don't have a stand mixer, a mixing bowl and hand mixer will do the job. Continue to mix until a ball forms.
Form your dumplings by rolling out the dough to about 1/8 inch on a cutting board. Use a sharp knife or pizza cutter to cut your dough into bite size pieces. If you feel creative try cutting out small circles, squares or diamond patterns.
Bring the chicken broth to a boil. Drop dumplings into boiling broth, ensuring that they submerge. Add all of your dumplings to the broth. You can keep dumplings from sticking together by adding butter and dunk dumplings one final time. Reduce heat to medium-low and cook for 8 to 10 minutes. Add chicken and simmer until chicken is heated. Your dumplings are now ready to serve.
Preparation Time = 20 minutes
Cooking Time = 2 hours

This recipe provided courtesy of https://www.soulfoodandsoutherncooking.com/
Chicken and dumplings are an iconic comfort food that have been enjoyed in households around the world for centuries. Rich in flavor and with a texture that is at once comforting, flavorful and indulgent, this classic dish is sure to bring a smile to your face.
Whether you're looking for a hearty dish on a cold winter night or a comforting midweek meal, chicken and dumplings can provide just the thing. Why not give it a try today? You won't regret it - this classic dish is sure to make your day!
FAQ About Chicken and Dumplings
Q: What are chicken and dumplings?
A: Chicken and dumplings is a classic Southern comfort food made with chicken, vegetables, broth, and fluffy dumplings.
Q: What are the ingredients needed to make chicken and dumplings?
A: The basic ingredients for making chicken and dumplings include chicken, flour, baking powder, salt, milk or buttermilk, butter or shortening, onion, celery, carrots, garlic, herbs such as thyme and parsley, chicken broth or stock.
Q: Can you freeze leftover chicken and dumplings?
A: Yes! Leftover chicken and dumplings can be stored in an airtight container in the freezer for up to 3 months. Leftovers also taste great.
Q: What variations can be made in this dish?
A: Some variations of this dish include adding different vegetables such as peas or corn. You could also try using different types of meat such as turkey instead of chicken. Vegetarians can try substituting mushrooms instead of meat.
Q: Is there any nutritional value to this meal?
A: Chicken is a good source of protein while veggies like carrots provide vitamin A & C. Dumpling dough provides carbohydrates to which is essential for energy production.