Turkey Cornbread Pot Pie
by Jennifer
(Columbia, Maryland, USA)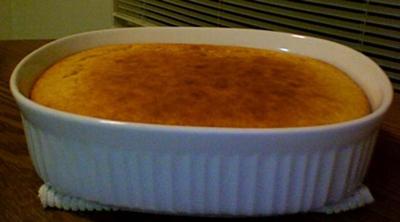 Turkey Cornbread Pot Pie
Over the past year, in an effort to eliminate wasted food, I have been experimenting with making casseroles using leftovers.

This is a foolproof recipe that is quick, easy, family pleasing, and a great way to use up any leftover turkey from the holidays!

You can also use leftover chicken in place of turkey for an equally delicious family dinner.

Turkey Ingredients:

6 Tbs butter
6 Tbs flour
1 (14.5 oz) can chicken broth
1/2 cup milk
1 tsp salt
1/2 tsp ground pepper
3 cups cooked turkey, cut in small chunks
1-1/2 cups frozen mixed vegetables

Cornbread Ingredients:

1 cup yellow corn meal
1 cup all-purpose flour
1/4 cup sugar
4 tsp baking powder
3/4 tsp salt
1/4 cup vegetable oil
1 cup milk
1 egg, beaten

1. Preheat oven to 400 degrees Fahrenheit.

2. Melt butter in saucepan over medium heat. Stir in flour and cook for 2 minutes stirring constantly. While stirring, slowly add the chicken broth, milk, salt and pepper. Cook for 2 minutes, stirring frequently, until smooth.

3. Remove from heat. Stir in turkey and vegetables until well combined. Spoon mixture into a 1-1/2 quart baking dish and spread evenly.

4. In a medium bowl, combine corn meal, flour, sugar, baking powder, and salt.

5. In a separate bowl, mix oil, egg, and milk until well blended and add to dry ingredients. Use as few strokes as necessary to blend ingredients together well without over blending.

6. Spoon batter on top of turkey mixture in baking dish. Spread evenly. Bake for 25 minutes or until top is firm and golden brown.

Serves a family of 6 generously.