Recipe for Great Tasting Neck Bones - Cook This Cheap Inexpensive Soul Food Meal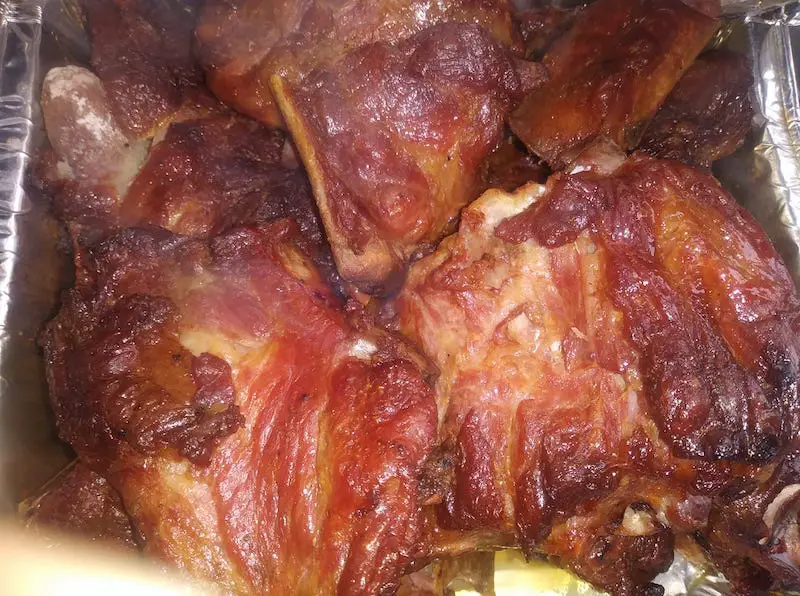 Neck Bones By R. Hurst
Neck bones are inexpensive and easy to cook. But don't be mistaken, this meat is packed with flavor and taste great. Growing up down south, this inexpensive meat and rice meal was a family favorite, both worked well on a tight budget. I ate this meat so much that I lost the taste for this dish for a while.  
But guess what?  I got my taste for neckbones back again.
Nowadays, most grocery stores and supermarket are making available smoked neckbones just like those delicious smoked ham hocks. I'll give you my ham hocks recipe later on, that is if you behave yourself.
Neck bones add a smoky, robust flavor to dishes that is unparalleled. They are perfect for creating slow-cooked soups, stews and sauces that will have your guests raving about the incredible flavor.
The generous amounts of collagen found in neck bones also give them a unique texture and adds nutrition to any meal. So if you're looking for an unusual and flavorful ingredient to spice up your cooking, look no further than neck bones!
Over the years my mother adapted the basic neckbone and rice recipe. This recipe calls for green beans and white potatoes to be cooked up with the meat and served on a bed of rice. I definitely prefer the adaptation over the basic recipe. 
Okay enough about me and the recipe. By now you probably have worked up an appetite and you are ready to try your hand at cooking this dish so you can get some food in your belly. If this is the case, here is the recipe for your enjoyment.

Neck Bones Recipe
Recipe Ingredients:
2 to 3 pounds pork or beef neckbones, small to medium sized with meat
2 cups rice
1 teaspoons salt
1 tablespoon garlic powder
1 teaspoon black Pepper
1 can italian green beans
1 can white potatoes
Cookware and Utensils:
1 Dutch Oven or large boiling pot
Recipe Instructions:
Remember, the key to great cooking is being prepared and to use quality ingredients.
You can typically find neckbones at your local grocery store in neighborhoods where blue collar workers shop. Don't expect to find them in upscale and well-established stores. Pick out neck bones that are small to medium sized with plenty of meat on the bones.
Start off by rinsing your meat under running water. Add meat to a large pot or Dutch Oven. Cover Meat with about three inches of water. Bring water to a boil. Skim the foam from the meat once foam forms. If necessary remove meat, clean pot and add fresh water.
Add cover to pot and reduce heat to simmer for about 1-1/2 hours. After simmering for 1-1/2 hours the meat should be tender. At this point add your canned green beans, white potatoes, salt, garlic powder and black pepper. Simmer for an additional 20 minutes, until beans and potatoes are tender.
Cook your rice according to the package instructions.
This recipe provided courtesy of https://www.soulfoodandsoutherncooking.com/
Serve your neckbones, green beans and potatoes on a bed of rice with corn bread. Again, this recipe will work well with pork neckbones, as well as beef neck bones.
Enjoy your NeckBones, Green Beans, Potatoes and Rice.
That was the recipe. I think we can both agree that this recipe is just too easy and simple. That being said, no excuse for you. Get in the kitchen and try this out if you want a truly authentic southern meal.
Oh there's something else I want to add.
All in all, neck bones offer an excellent culinary experience. From the smoky yet robust flavor of the meat to its affordability and ease of preparation, this dish is not just another meal but a link to our collective memory of where many of us come from: the South.
Whether it be with family or friends, bringing out an amazing savory dish of neck bones is a great way to enjoy hearty southern cooking that won't break the bank or take too much time!
So what are you waiting for?Grab some neck bones and get cooking!
And if you're like me and eating with others, be sure to tell everyone that you cooked up something extra special tonight. Let's bring it back to life—neck bones hot and ready. Bon Appetit!