Southern Corn Bread Recipe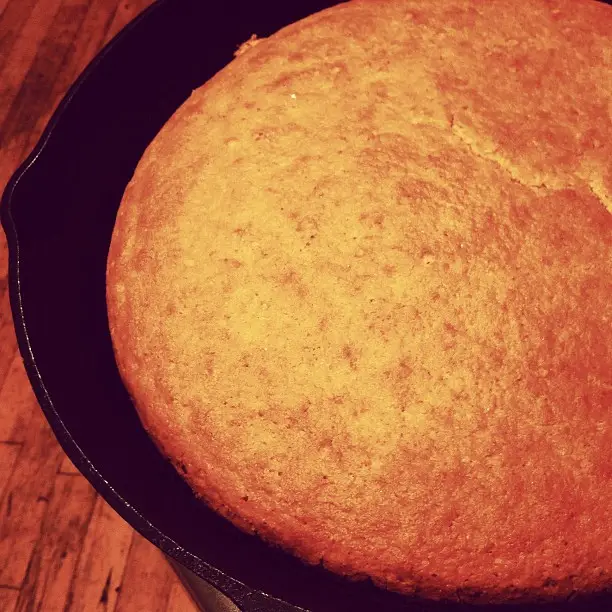 Southern Corn Bread - Image Flickr/Arnold Gatilao
Southern cornbread is one of my favorite comfort foods. It's light, slightly sweet and has a wonderfully moist texture. It pairs well with most main dishes, from roasted chicken to beans and rice.
The simplicity of the recipe makes it easy to make at home, and there are so many variations you can try—from adding in different grains or herbs like thyme or rosemary, to using different types of dairy like buttermilk or cream.
No matter how you prepare it, southern cornbread always hits the spot!
Eating corn bread with dinner has long been a southern favorite.  Don't believe me? Just visit any southern dinner table during any family gathering.  There's sure to be some good ole fashioned homemade bread sitting right their on the table for everyone to enjoy.
Cornbread is one of many comfort foods.  Add it to your meal and expect your dinner guess to leave your table satisfied and with a full stomach.  
But don't expect any leftovers. I say this because cornbread makes you want to eat more.
I'm like most southerners who have their own favorite recipe for making cornbread. Here is an easy recipe that I cook up, it's my favorite recipe. Who knows maybe it will become your favorite too.
Old Fashioned Corn Bread Recipe
Recipe Ingredients:
1-1/2 cups yellow corn meal
1-1/2 cups general all purpose flour
4 tablespoons baking powder
2 tablespoons sugar
1 teaspoon salt
1-1/2 cups milk
2 eggs
2 tablespoons vegetable oil
2 tablespoons melted butter
Cookware and Utensils:
1 cast iron skillet
2 mixing bowls
1 measuring cup
1 mixing spoon
1 kitchen basting brush
Recipe Instructions:
As always the key to great cooking is to be prepared and to use quality ingredients.
You can start off by greasing your cast iron skillet with a little vegetable oil. Set the oven to 425 degrees and heat your skillet. If you don't have the cast iron skillet go head and use a iron baking pan.
Blend corn meal, flour, baking powered and sugar in a mixing bowl. In another bowl Whisk together your milk, eggs and melted butter. Make the cornbread batter by mixing your dry and wet ingredients together thoroughly.
Next using oven mittens, carefully remove the cast iron skillet from the oven. Using a kitchen basting brush or whatever you have available coat the inside of your skillet with vegetable oil.
Pour batter into the skillet and return to oven. Bake for about half an hour or until a wooden tooth pick inserted in the center comes out clean. The finished product will be golden brown.
Enjoy your Southern Corn Bread.
This recipe provided courtesy of https://www.soulfoodandsoutherncooking.com/
I love to serve this recipe with collard greens and beans like Lima, pinto, and black eyed peas. I also enjoy eating this type of baked bread with a hot bowl of chili and sometimes soup.