Chicken, Beef, Pork, Fish, and Seafood Meat Recipes
Here are some delicious meat recipes to satisfy your cravings.  Always remember that cooking a well-rounded meal starts with the best selection of beef, chicken, fish, or pork that your money can by. For best results do not buy cheap cuts.

I must admit I really love beef, chicken, fish, seafood and pork.  Call me a carnivore, call me what you want. The simple fact is, I love eating foods that are packed with protein.  
I firmly believe that if you want to make that perfect meal, you must start with the meat.  If you're not a vegetarian you'll probably agree that chicken, fish, beef, pork, and seafood will make the meal.  They have many benefits including: being the best source of protein, provide more amino acids than plants, are an excellent source of minerals & nutrients and much more.
So you know my stance. So here are some good starters for cooking up that perfect southern meal.  Here you will find great beef, chicken, pork, or fish recipes that will get you started with preparing the meal you rightly deserve.
Prepare these delicious meat recipes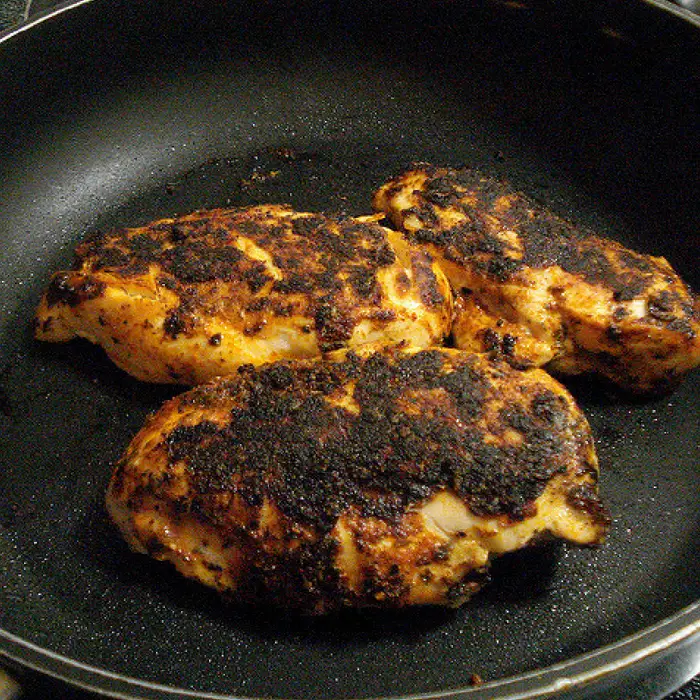 Pan Seared Blackened Chicken
Chicken Recipes
Blackened Chicken Breast
A blackened chicken recipe for the Cajun Lover in us all. For a delicious meal, try serving this Cajun food favorite with Alfredo sauce, pasta and garlic bread.
Basic Fried Chicken
Enjoy this very simple fried chicken starter recipe. This recipe is for inexperienced cooks looking to have an immediate impact making fried chicken, which continues to be an American staple.
Garlic Fried Chicken Breast
This chicken breast recipe works for lunch or dinner. For a delicious sandwich serve on toasted buns, with honey mustard, lettuce, onions and tomatoes. Oh so delicious.
Southern Deep Fried Chicken
Southern deep fried chicken has never tasted better with this crispy and crunchy chicken recipe. This chicken is packed with flavor and stays crispy. Crunch on a piece of this juicy chicken.
Southern Fried Chicken
Are you tired of crispy fried chicken? If, so try this southern fried chicken recipe and cook chicken that melts in your mouth. You truly can sink your teeth in this chicken.
More Chicken Recipes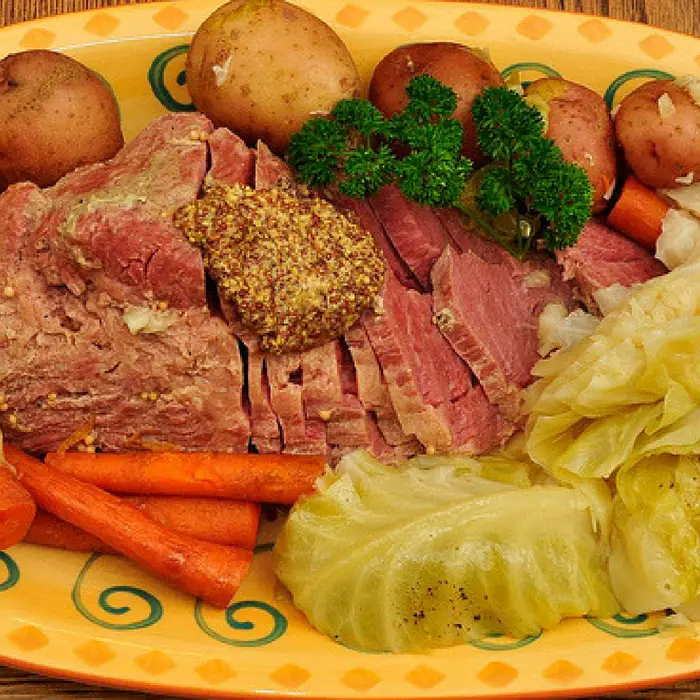 Corned Beef and Vegetables
Beef Recipes
Beef Stew
Cooking beef stew doesn't get any easier. This easy to follow recipe partially cooks itself.
Meat Loaf
A basic meat loaf recipe that taste just like Mama's old time family classic recipe. Give yourself a helping hand and you can prepare meat loaf just like Mama use to make.
Liver and Onions
Free liver and onions recipe. This is an old time country favorite served over steamed rice with vegetables and cornbread.
Shepherds Pie
This one dish casserole is a soul food and southern favorite. You can create a wholesome and tasty dish using simple ingredients like ground beef, mashed potatoes, gravy, corn, carrots, peas and cheese.
More Beef Recipes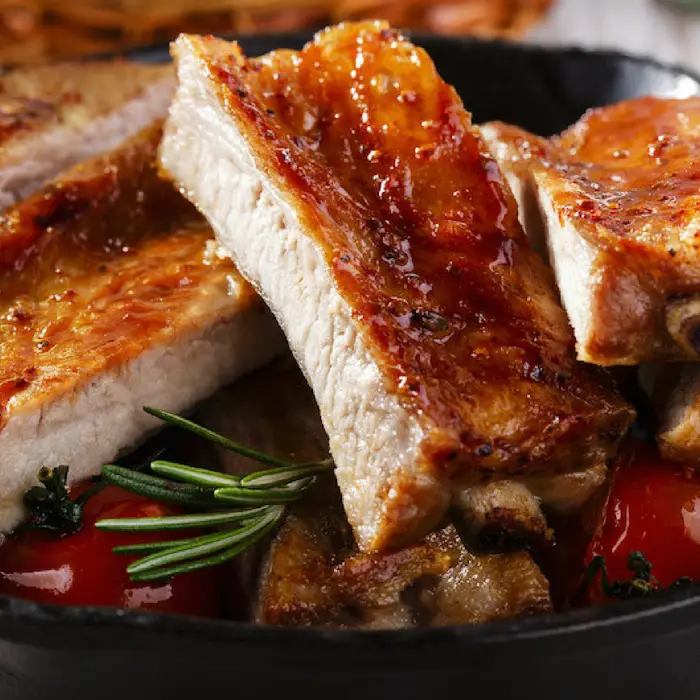 Barbecue Ribs
Pork Recipes
Barbecue Pigs Feet
If you think boiled pigs feet are delicious, this recipe is for you. Experience the best of both worlds, that's deliciously cooked pigs feet topped with BBQ sauce.
Chitterlings and Hog Maws
It doesn't get any country'er than this. Chitterlings and hog maws have long been a southern favorite. If you can stand the smell, give this southern recipe favorite a try.
Fried Chitterlings Recipe
Who said chitterlings don't make good appetizers? If you don't think so give this chitterlings recipe a try and see for yourself.
Neck Bones
Neck bones are inexpensive and easy to cook. But don't be mistaken this meat is packed with flavor and taste great.
Boiled Pigs Feet
This pigs feet recipe is an old fashioned soul food favorite. This delicious meat is not a fatty as you might expect, containing less fat and more protein than country style pork ribs.
Southern Pork Chops
Cooking southern pork chops is too easy. This recipe produces some delicious southern style pork chops.
Pickled Pigs Feet
One taste and you'll be hooked. Don't hesitate to make this tasty snack food. If you're feeling adventurous try pickling eggs, sausage or pigs knuckles.
Smothered Pork Chops If you like pork chops, onions and gravy you must try this smothered recipe. Serve your meat over cooked rice with your favorite vegetable side item and corn bread.
More Pork Recipes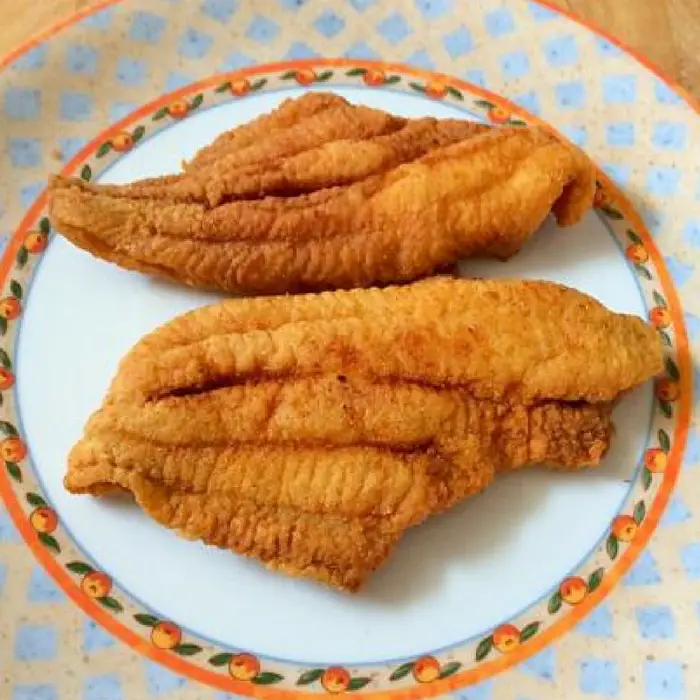 Fried Catfish
Fish Recipes
Blackened Catfish
Blackened catfish is a great alternative to fried catfish. It's easier to make and a whole lot healthier. Only catfish lovers need to apply.
Fried Catfish
I love this mouthwatering southern fried catfish recipe. You just can't serve fried catfish without hush puppies, coleslaw and French fries.
Baked Blackened Catfish
This is one of two baked catfish recipes. Try this much healthier alternative to pan fried or deep fried catfish.
Baked Catfish
This is an oven baked catfish recipe that produces crispy and crunchy catfish fillets. It doesn't get any healthier than this. But don't be deceived this fish is delicious.
Pan Fried Catfish
This pan fried recipe was designed for a person with diabetes. Diabetics don't have to sacrifice flavor and taste.
More Fish Recipes
Baked Alaskan King Crab Legs
Seafood Recipes
Grilled Salmon Recipe
This recipe is my personal favorite. Omega 3 makes this seafood meal very appealing.
Grilled Shrimp Recipe
Cooking shrimp on the grill really doesn't get any simpler with this quick and easy shrimp recipe.
Salmon Patties
This is a soul food and southern favorite. I've seen these delicious patties served for breakfast and dinner. I prefer to have salmon croquette patties for dinner.
Seafood Boil
This seafood boil recipe stars a lineup of meat and vegetable favorites including shrimp, smoked sausage, snow crab legs, sweet corn on the cob and red potatoes.
Shrimp Scampi
This is a diabetic friendly shrimp scampi recipe that still taste delicious. Enjoy this shrimp recipe today.