Diabetic Pan Fried Catfish
D
iabetic Pan Fried Catfish Recipe
Make no mistake about it, with this diabetic pan fried catfish recipe you can still enjoy eating flavorful food.  Some people with diabetes struggle to find tasty foods that will not conflict with their diabetic lifestyle.  This maybe one of those recipes that you can eat and also enjoy. After eating this dish you will realize two things.
First, you will become inspired to cook and get back your love for eating. Second, you can continue to prepare other delicious foods that do not violate your strict diet. I'm sure you'll enjoy preparing the recipe that follows for many years to come.
Diabetic Pan-Fried Catfish
Recipe Ingredients:
1/2 cup corn flake crumbs
1/4 teaspoon seasoned salt
1/4 teaspoon garlic powder
1/8 teaspoon freshly-ground black pepper
2 eggs, white, raw
1 pound catfish fillets
cooking spray, vegetable oil
Recipe Instructions:
As always, the key to great cooking is to be prepared and to use quality ingredients.
Combine corn flake crumbs, seasoned salt, garlic and pepper in small mixing bowl. Mix thoroughly and set aside.
Beat egg whites in another small mixing bowl. Dip catfish fillets in beaten egg and then coat well with corn flake mixture.
Place catfish fillets in a large nonstick skillet sprayed with low fat vegetable oil. Cook fillets over medium heat on one side, until fillets are golden brown (about 10 minutes).
Turn catfish onto other side and continue to cook until golden brown (about 10 minutes). Fish is done when it flakes easily with a fork.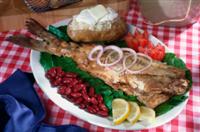 Servings: 4
Nutritional Information:
Calories 165
Calories From Fat 45
Total Fat 5g
Saturated Fat 1g
Cholesterol 158mg
Sodium 233mg
Total Carbohydrate 7g
Protein 23g
This recipe provided courtesy of https://www.soulfoodandsoutherncooking.com/
Before you leave also try our oven bake catfish recipe of diabetics. 

Since, not all recipes are appropriate for all people. This recipe is provided for informational purposes only and is not intended or should not be considered as medical or professional advice. Therefore be sure to consult your medical professionally before embarking on a new diet.