Blackened Chicken Breast Recipe
Blackened Chicken Breast Recipe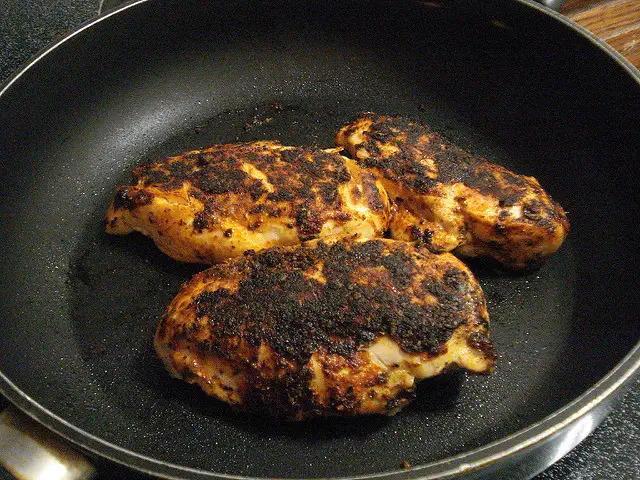 Blackened Chicken Breast Recipe - Image via Flickr/Amy Stephenson
This blackened chicken breast recipe is very appealing to the taste buds if you love Cajun flavor.  If you're looking for meal ideas, try serving this dish with Alfredo sauce, pasta, and garlic bread or with steamed vegetables and rice.  Or just go with the side items you prefer.

I prefer blackened chicken over steak for two reasons. First, chicken breasts are less expensive and more economical. Secondly, chicken breasts contain less fat and calories when compared to steak.
Chicken recipes really don't get any simpler than this. This blackened chicken recipe is easy to prepare.  For best results marinade thawed chicken breast in a sealed container overnight.
You will need an additional 10 minutes of cook time.  Here are the ingredients and cooking instructions for creating spicy and flavorful blackened chicken, in the comforts of your home.
Blackened Chicken Breast Recipe
Recipe Ingredients:
2 to 4 skinless boneless chicken breasts
1 stick butter melted
2 to 4 tablespoons vegetable oil
Blackened Seasoning:
1 tablespoon salt
2 teaspoons paprika
2 teaspoons onion powder
2 teaspoons sugar
2 teaspoon black pepper
1 teaspoon white pepper
1 teaspoon cayenne pepper
1 teaspoon ground oregano
To prepare blackened seasoning: Mix all ingredients thoroughly and place in empty shaker. Shake well before using. Leftovers should be stored in cool, dry place.
Marinade:
2 cups water
2 tablespoons lemon juice
2 tablespoons of soy sauce
1 tablespoon lime juice
1 tablespoon of Worchester sauce
Recipe Instructions:
Prepare you meat the night before you plan to cook. You can use fresh or frozen chicken as the main ingredient to this chicken breast recipe. If you use frozen allow for ample time to thaw the chicken.
Place your chicken breast between two pieces of wax paper and pound to an even thickness of 1/2 inch. This will enable you to easily cook your chicken to the desired doneness.
Rinse your chicken under running cold water and pat each chicken breast dry with paper towels and set aside.
Place chicken in container and mix well with marinade ingredients. Seal container and refrigerate. For best results its best to marinate you meat over night. Okay that was the hard part, now its time to cook the blackened chicken.
Remove chicken from marinade, pat dry with paper towels, and set aside. Melt 1 stick of butter. Moisten chicken breast with butter and then generously apply blackened seasoning mixture on both sides, set aside.
Add vegetable oil to a heavy bottom or cast iron skillet, and heat on high until skillet is sufficiently hot.
Add chicken breast to the skillet, cook for 2 minutes. Turn after two minutes and cook the other side. The chicken breast is done when its center has reached an internal temperature of 160-165 degrees. Do not overcrowd the skillet because this will cause uneven cooking.
Your blackened chicken breast recipe is not comlete without your favorites side dishes.
This recipe provided courtesy of https://www.soulfoodandsoutherncooking.com/
This blackened chicken recipe is not only a delicious and impressive dish to serve, but it also has a rich history and cultural significance. The blackening technique was popularized in the 1980s by New Orleans chef Paul Prudhomme, who used a combination of spices and high heat to create a flavorful crust on fish and meat. This recipe takes that tradition and adds its own twist with the addition of bold Cajun seasoning and fresh herbs. Whether you're looking to add some spice to your weeknight dinner routine or impress guests with a unique and flavorful entree, this blackened chicken breast recipe is sure to deliver.