Simple Fried Chicken Recipe
Simple and Easy Southern Fried Chicken Recipe - This Recipe is as Easy as 1, 2, 3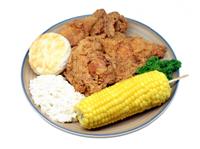 Southern Fried Chicken Recipe
Yes you can create fried chicken with this easy 3 step fried chicken recipe. It's really as simple as counting 1, 2, 3.  We like to call this our starter chicken recipes. This is my recipe of choice to give to those folks who are new to cooking, so that they can have some success in the kitchen.
There's nothing more frustrating than trying your hardest and the food just doesn't turn out as expected.  But no worries with this recipe. This chicken recipe is well suiting for someone who has never fried chicken before, someone who is looking to have an immediate impact.
Practice, practice, practice and more practice is key to cooking perfection.
Before we get into the actually chicken recipe, here are the secret tips to creating the best tasting fried chicken.
Use a black cast iron or heavy bottom skillet to do your frying
Use young fresh broiler-fryer whole chicken
Create the best flavored chicken by combining 3 simple ingredients (salt, pepper and flour)
Also, here are the steps to preparing your whole chicken for frying.
Select a fresh young broiler-fryer whole chicken
Have the butcher cut chicken into 8 pieces (2 breast, 2 legs, 2 highs, and 2 wings)
Rinse chicken under running cold water and remove any visible fat
Pat chicken dry with paper towels
Now that you have learned the secrets and selected the right chicken, you're ready to cook some southern fried chicken.
Simple and Easy Southern Fried Chicken Recipe
You will need the following ingredients, cooking utensils and supplies for this recipe.
Recipe Ingredients:
2-1/2 to 3 pounds of broiler-fryer chicken cut, cleaned and dried
1 cup all-purpose flour
1 tablespoon salt
1 teaspoon black pepper
vegetable oil
Cookware and Utensils:
brown paper or plastic bag
black iron cast skillet or heavy bottom skillet
paper towels
plate
Recipe Instructions:
Mix dry ingredients in brown paper or plastic bag. Drop 1 or 2 pieces of chicken into bag at a time and shake until meat is coated. Continue until all chicken is coated with your flour and seasoning mixture. Set chicken aside for cooking.
Over high-heat, heat about 1-1/2 inch of vegetable oil in a black cast iron skillet. Skillet is ready to cook when a drop of water added to grease snaps, crack or pops. Add chicken to skillet in a single layer, don't overcrowd. Unless you have a large skillet you'll have to do to batches.
Reduce heat to medium and cook uncovered until meat is browned on both sides. Throughout cooking turn meat using tongs to avoid burning. As a general rule, cook chicken for about 15 minutes on each side and wings and legs takes he least amount of time to cook. Before serving allow chicken to drain on paper towels.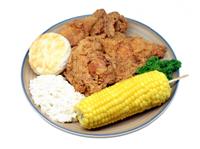 This recipe provided courtesy of https://www.soulfoodandsoutherncooking.com/
I'm sure you'll have fun experimenting with this Southern Fried Chicken Recipe. Once you have mastered these techniques, give your fried chicken recipe your own unique flavor by testing different combination of herbs and spices.