Basic Meat Loaf Recipe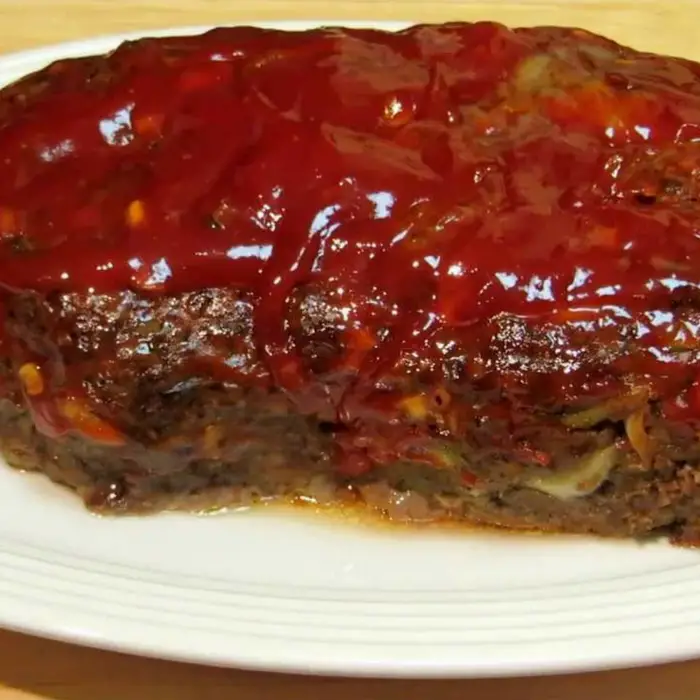 This very basic meat loaf recipe is an old family classic recipe, prepared just like Mama use to make.  This homemade meat loaf recipe contains some yummy ingredients including ground round beef, onions, tomato juice, bread crumbs, green bell pepper, seasoning blend, and ketchup. 
This is the type of homemade meat loaf you will find on the average American family dinner table. So simple to make but housing some a great taste. In many homes across the south it is a tradition to serve baked meatloaf with buttered homemade mashed potatoes.  
In addition to mashed potatoes, around my house we serve other side dishes like macaroni and cheese, green beans, or corn. Meat loaf is such a universally loved dish that we serve it at least once per month and sometimes twice.
Basic Meat Loaf Recipe
Recipe Ingredients:
1/2 cup yellow onions, finely chopped
1/2 cup green bell pepper, finely chopped
1/2 teaspoon ground black pepper
1/4 teaspoon garlic powder
1/4 teaspoon cayenne pepper
1/4 teaspoon paprika
2 eggs, beaten
1/2 cup milk
1/2 cup ketchup
1/4 cup tomato juice
1/2 cup cracker crumbs
2 pounds ground round beef
Cooking Utensils:
1 small nonstick skillet
1 small bowl
1 large mixing bowl
1 wooden spoon
1 9X5X3 in loaf pan
1 rubber spatula
Recipe Instructions:
As always, being prepared and using quality ingredients is the key to great tasting food.
Preheat oven to 350 degrees Fahrenheit.
In a small nonstick skillet, heat vegetable oil over medium high heat. Once oil is hot add onion and green peppers and sauté for about 5 minutes. Set vegetable mixture aside and allow to cool.
Make seasoning blend by combining and mixing together ground pepper, garlic powder, cayenne pepper and paprika in a small bowl.
In a large mixing bowl combine seasoning blend, eggs, milk, half of ketchup and tomato juice. Beat mixture well using a wire whisk or fork. Next form meat mixture by adding together cooled vegetable mixture, bread crumbs and ground beef. Now using your hands or a wooden spoon, mix all the ingredients together until uniform.
Form meat mixture into a loaf by lightly packing into the loaf pan. Slightly round off the top of your loaf for presentation purposes. Pour the remaining ketchup over the top of the loaf. Evenly spread the ketchup over the top using a rubber spatula or spoon.
Bake at 350 degrees Fahrenheit for about 1 hour. Don't allow meat to dry out. Let meat loaf stand for about 12 minutes before slicing.
This recipe provided courtesy of https://www.soulfoodandsoutherncooking.com/
This basic meat loaf recipe will produce mouthwatering results. Serve your meat loaf with mashed potatoes and sweet corn on the cob.