Southern Pork Chops Recipe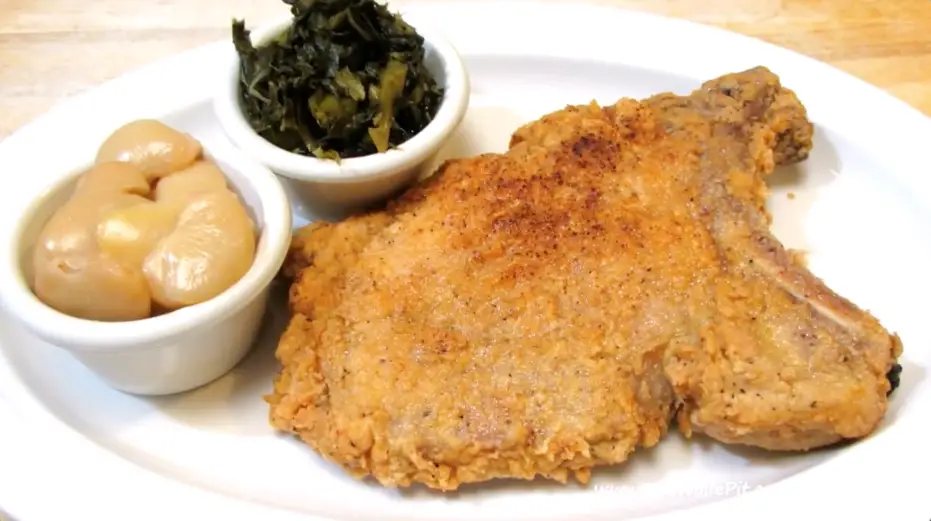 Fried Southern Pork Chops
Southern pork chops are a delicious treat.  My wife prepares this recipe for me all the time. And the pork chops are always delicious, making for a tasty and enjoyable dinner.  Funniest part of all, is my son enjoys eating these fried pork chops more than me.
My usually side dish is homemade mashed potatoes, with gravy, green beans, and warm rolls.  My son prefers you eat his pork chops with either macaroni and cheese or french fries.  You can served these fried pork chops with just about any side dish that you are craving - candied yams, collard greens, and cabbage are a few other choices.
For drinks we either have cold iced tea or homemade lemonade. We will often finish off a meal of pork chops with one of many homemade desserts we prepare at home.
Enough about me and my family. Are you ready to try your hand at preparing pork chops the southern way? If so, here is a southern pork chop recipe for you to try out. Trust me, you will be pleased at the results you get.

Southern Pork Chops
Recipe Ingredients:
6 pork chops, 1 inch thick
2 teaspoons seasoned salt
2 teaspoons garlic powder
1-1/2 tablespoons prepared mustard
1 teaspoon paprika
1/2 teaspoon black pepper
1/2 cup flour
1/2 cup vegetable oil
Cookware and Utensils:
1 large heavy or cast iron skillet
1 measuring spoons
Recipe Instructions:
As always the key to great cooking is to be prepared and to use quality ingredients.
Prepare pork chops 1-hour before cooking.
Rinse pork chops thoroughly under cold running water. Pat your pork chops dry with paper towels and set aside.
In a small mixing bowl combine together seasoned salt, garlic powder, prepared mustard, paprika and black pepper. Mix all of the ingredients together to form your seasoning mixture.
Rub about 3/4 teaspoon of seasoning on each pork chop. Next thoroughly coat each piece of meat with flour and set aside. Now that seasoning is applied, refrigerate pork chops for about 1 hour before cooking.
Heat vegetable oil in heavy skillet over medium heat. When the skillet is hot, add pork chops and brown on both sides for 10-12 minutes. Removed cooked pork chops from skillet and set on paper towels to drain grease.
This recipe provided courtesy of https://www.soulfoodandsoutherncooking.com/
What to serve with pork chips
Are you looking for a dinner menu idea?
Side dishes that pair perfectly with Southern-style pork chops include creamy mashed potatoes or macaroni and cheese, sautéed mushrooms, a fresh green salad with a light vinaigrette, classic Southern-style greens such as collard greens or turnip greens, sweet cornbread muffins, or simple steamed rice.
For maximum flavor, try adding herbs like thyme, garlic powder, onion powder, sage, and parsley to the meat before cooking.