Baked Macaroni And Cheese
Baked Macaroni and Cheese Recipe
A Soul Food and Southern Favorite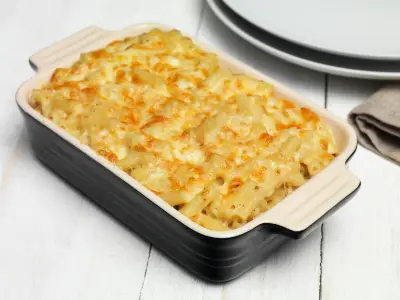 Baked Macaroni and Cheese
Macaroni and cheese is considered by many to be a popular American comfort food. There is some debate over the history of this cheesy dish.  However, the overall consensus is that this delicious dish was first cooked up in America in the 19th century.
Mac and cheese became a true American staple in the 1930's when a now industry leader in boxed dinners (no introduction needed) introduced mac and cheese as a fast and easy to cook meal.  According to recent reports, over 10 million boxed mac and cheese meals are sold each week.  With numbers like that, it's obvious this food is well liked.
Consider this, that's 10 million boxes of macaroni & cheese dinner's being sold every week.  With popularity like that mac and cheese is an excellent choice for a side dish when you cook your next soul food dinner.
Here is some food for thought.  It's common knowledge that homemade is better that boxed. The numbers show that mac and cheese is loved by all.  So why don't you have the best of both worlds?  

Step away from the quick and easy boxed macaroni dinner and cook up a side dish that is loved by everyone.  Here's the baked mac and cheese recipe for your enjoyment.
Soul Food Macaroni and Cheese Recipe
Recipe Ingredients:
1 box elbow macaroni (about 16 ounces)
1-1/2 pounds shredded cheddar cheese
1 cup whole milk
1 stick butter, unsalted and softened
a pinch of salt
pepper to taste
Cookware and Utensils:
1 large boiling pot
1 baking casserole
1 measuring cup
Recipe Instructions:
Soften your butter using your microwave. Microwave the butter on low for about 60 to 90 seconds. You only want to soften the butter, therefore check the butter every 10 to 15 seconds to ensure it doesn't melt.
Boil your elbow macaroni according to package instructions.
Place cooked and drained macaroni in your casserole dish. Add softened butter, milk, pinch of salt, pepper to taste and one pound of shredded cheddar cheese. Gently mix to blend the ingredients. Layer the top of your macaroni with the remaining cheese, about 1/2 pound.
Bake macaroni with cheese at 350 degrees for about 1 hour. The top layer will turn golden brown when the macaroni is ready. Do not allow your mac and cheese to dry out.
This recipe provided courtesy of https://www.soulfoodandsoutherncooking.com/
Macaroni and cheese is a classic comfort food, but there are a few tricks to making it extra cheesy. First, use high-quality cheeses - the more flavorful the better!
For a creamy texture, grate your cheese and mix it with some cream before adding to your dish. You can also add an extra layer of flavor by sprinkling some Parmesan cheese on top.
To take your mac and cheese to the next level, try adding some bacon bits or diced jalapeños for an added kick!
What to serve with macaroni and cheese
Macaroni and cheese is a classic comfort food that can be made even more delicious with the right accompaniment. While it can certainly stand on its own as a main dish, there are plenty of other dishes that pair perfectly with this cheesy pasta. If you're looking for an upscale side dish to serve alongside your mac and cheese, here's an idea:
Truffle Fries - Upgrade the classic french fry by adding truffle oil and parmesan cheese. These crispy fries will add a touch of elegance to your meal while still complementing the creamy, cheesy goodness of the mac and cheese.
To make these truffle fries, start by preheating your oven to 400°F. Cut potatoes into thin strips and toss them in a bowl with olive oil, salt, pepper, and truffle oil. Spread them out on a baking sheet lined with parchment paper and bake for 20-25 minutes, flipping halfway through. Once they're golden brown and crispy, sprinkle some grated parmesan cheese over the top before serving.
These fancy truffle fries are sure to impress your dinner guests while still being a perfect match for macaroni and cheese!
What type of cheese is best for preparing mac and cheese?
When it comes to making macaroni and cheese, there are several types of cheese that work well. Some popular choices include:
Cheddar - This is the most common type of cheese used in mac and cheese. Sharp cheddar adds a tangy flavor that pairs perfectly with the creamy sauce.
Gouda - This Dutch cheese has a rich, nutty flavor that adds depth to mac and cheese.
Fontina - This Italian cheese melts beautifully and has a mild, buttery taste that complements the pasta.
Parmesan - A hard, salty Italian cheese that can be grated over the top of mac and cheese for an extra burst of flavor.
American - While not technically a "cheese", American slices or blocks melt smoothly and give macaroni and cheese its signature creaminess.
Ultimately, the best type of cheese for your macaroni and cheese will depend on your personal tastes. You can experiment with different cheeses or even combine them for a unique twist on this classic comfort food!