Baked Macaroni and Cheese Recipe
A Soul Food and Southern Favorite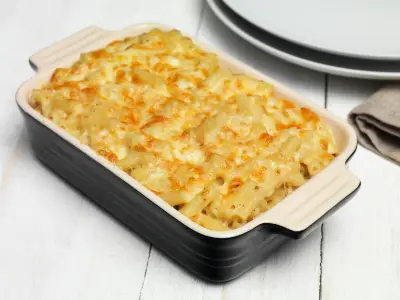 Baked Macaroni and Cheese
Macaroni and cheese is considered by many to be a popular American comfort food. There is some debate over the history of this cheesy dish.  However, the overall consensus is that this delicious dish was first cooked up in America in the 19th century.
Mac and cheese became a true American staple in the 1930's when a now industry leader in boxed dinners (no introduction needed) introduced mac and cheese as a fast and easy to cook meal.  According to recent reports, over 10 million boxed mac and cheese meals are sold each week.  With numbers like that, it's obvious this food is well liked.
Consider this, that's 10 million boxes of macaroni & cheese dinner's being sold every week.  With popularity like that mac and cheese is an excellent choice for a side dish when you cook your next soul food dinner.
Here is some food for thought.  It's common knowledge that homemade is better that boxed. The numbers show that mac and cheese is loved by all.  So why don't you have the best of both worlds?  

Step away from the quick and easy boxed macaroni dinner and cook up a side dish that is loved by everyone.  Here's the baked mac and cheese recipe for your enjoyment.
Soul Food Macaroni and Cheese Recipe
Recipe Ingredients:
1 box elbow macaroni (about 16 ounces)
1-1/2 pounds shredded cheddar cheese
1 cup whole milk
1 stick butter, unsalted and softened
a pinch of salt
pepper to taste
Cookware and Utensils:
1 large boiling pot
1 baking casserole
1 measuring cup
Recipe Instructions:
Soften your butter using your microwave. Microwave the butter on low for about 60 to 90 seconds. You only want to soften the butter, therefore check the butter every 10 to 15 seconds to ensure it doesn't melt.
Boil your elbow macaroni according to package instructions.
Place cooked and drained macaroni in your casserole dish. Add softened butter, milk, pinch of salt, pepper to taste and one pound of shredded cheddar cheese. Gently mix to blend the ingredients. Layer the top of your macaroni with the remaining cheese, about 1/2 pound.
Bake macaroni with cheese at 350 degrees for about 1 hour. The top layer will turn golden brown when the macaroni is ready. Do not allow your mac and cheese to dry out.
This recipe provided courtesy of https://www.soulfoodandsoutherncooking.com/
---