Smothered Chicken Recipe A Southern Specialty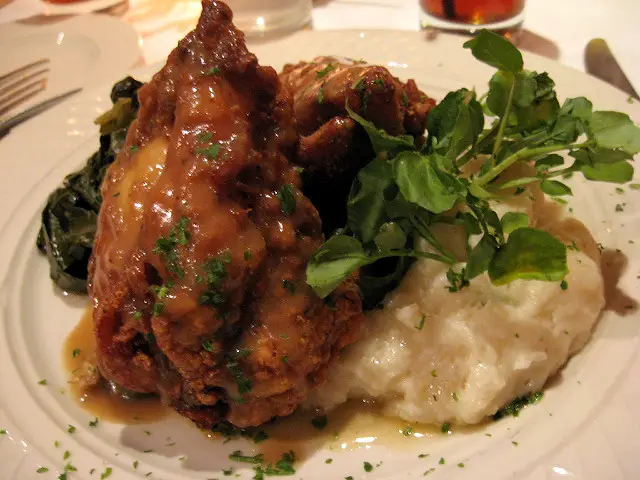 Smothered Chicken Recipe - Image Flickr/libsciterp
This is the one smothered chicken recipe I turn to for some good eats.

Are you looking for a real southern meal with fried chicken? If you're tired of the same old fried chicken you ate the last time you cooked, well it's time to spice things up a bit and try something differ.
You should cook up this smothered chicken recipe for a nostalgic taste of the southern past. Nowadays, because of fast foods, finding smothered chicken in your favorite restaurant is nearly impossible. It seems that most people are only interested in quickly prepared meals. No worries though, if you are looking for some real, authentic home cooking...you need to try out smothered chicken. 
Just the other day I had a strong craving for some smothered chicken.  I was forced to the kitchen into action, since there are no restaurants where I live that serve the dish. To tell you the truth I'm sure my own cooking tastes much better than many of the restaurants in my area.
Smothered chicken is best served with a variety of delicious Southern sides. Some of our favorites include Cornbread, Mac and Cheese, Black-eyed Peas, Collard Greens, Biscuits and Gravy, Sweet Potato Casserole, and Hoppin' John. Each of these sides packs its own unique flavor that will enhance the dish even more! So don't hesitate - come try our Smothered Chicken paired with any of these amazing Southern sides today!
All said, after eating the meal of smothered chicken I prepared, I can honestly say I was very satisfied and please with the results.  Enough about me. Are you ready to try out this recipe?
Smothered Chicken Recipe
Recipe Ingredients:
2 tablespoons vegetable oil
3 to 3-1/2 pounds broiler chicken (cut into 8 pieces)
Salt and freshly ground black pepper
1 clove minced garlic
1/2 medium onion, thinly sliced (about 3/4 cup)
3 green onions cut into 1-inch pieces
3/4 cup all purpose flour
1/3 cup soy sauce
2 to 3-1/2 cups hot chicken broth
Recipe Instructions:
The recipe for smothered chicken that follows requires some prepare work and cook time, but you'll thoroughly enjoy this chicken dinner.
Clean chicken by rinsing under cold running water. Pat chicken pieces dry with paper towels. Season your chicken by lightly sprinkling each piece with salt and pepper. Set aside.
In a large deep skillet heat vegetable oil over low heat until hot, about 4 to 5 minutes. Place chicken in hot vegetable oil and over medium low heat, fry chicken until golden brown turning frequently. Remove chicken from skillet.
Next add vegetables consisting of garlic, yellow and green onions to skillet, cook and stir until thoroughly browned. Remove skillet from heat.
In a medium bowl, combine flour, soy sauce and chicken broth. Using a wire whisk stir until flour mixture is smooth.
Return skillet with vegetables to stove and add flour mixture. Over medium heat, cook and stir with wire whisk until gravy begins to boil and thicken. If necessary add more broth if gravy is too thick.
Return browned chicken to skillet, reduce heat to low, cover skillet with lid and simmer for 35-40 minutes, stirring gravy and turning chicken until done.
This recipe provided courtesy of https://www.soulfoodandsoutherncooking.com/
What to Serve with Smothered Chicken
This Smothered Chicken is best served with a variety of side dishes that will enhance the flavors of this unique dish. Delicious Southern sides like Cornbread, Mac and Cheese, Black-eyed Peas, and Collard Greens are all great accompaniments for our Smothered Chicken. For a lighter option, try pairing it with a salad or roasted vegetables. No matter what you choose, you're guaranteed to have an amazing meal when you pair our Smothered Chicken with any of these sides!
Why Smothered Chicken is so Unique and Flavorful
Our Smothered Chicken recipe is sure to be a hit at any dinner table! Our delicious combination of spices and seasonings makes this dish truly unique. Our special blend of Southern herbs and spices make the chicken incredibly flavorful and tender, melting in your mouth with every bite.
Plus, our smothered sauce adds just the right amount of sweetness that will have you coming back for more. Don't miss out – try our amazing Smothered Chicken today!
At Soul food and Southern Cooking, we strive to bring you the best Southern cooking experience that you can find anywhere. With our secret recipes and tastes, you're guaranteed to have a one-of-a-kind culinary experience that'll leave your taste buds wanting more! 
As a serving suggestion, serve your smothered chicken over a bed of white rice with vegetable medley and corn bread.
Come join us for a real taste of the South –Smothered Chicken!