Our Favorite Black Recipes
Black people have a long and rich culinary tradition, with dishes that are truly unique. From classic Southern soul food recipes like fried chicken, collard greens, and mac 'n cheese to Caribbean favorites such as jerk chicken and Jamaican patties, the range of flavors and textures available in Black people recipes is unmatched.
You can find heartwarming stews such as gumbo or Hoppin' John a crowd pleasing side dish. If you want something with a bit more heat, try spicy jambalaya or Creole grits. For lighter fare, look no further than johnnycakes or cornbread muffins. Whatever you choose, these tasty dishes will bring home-cooked comfort to your kitchen table!
If you are searching for black recipes then soul food must be on your mind? Yes we all know about fried chicken but what other recipes are black people preparing?
Lets see!
Although African American like to eat everyday foods like everybody else, from time-to-time we do crave soul food. Below you will find seven of the most popular recipes for you to try.
Salmon Patty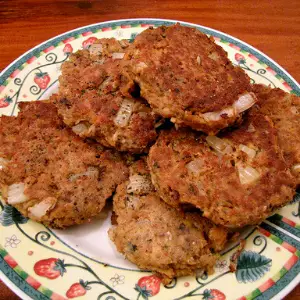 Salmon patties, aka salmon croquettes are delicious fish cakes. Using only two cans of salmon and a few other simple ingredients you can easy prepare yourself a decent and fulfilling meal when you are short of time.
Pigs Feet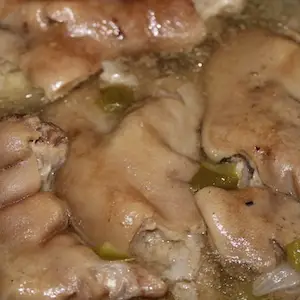 Old-fashioned pigs feet is a dish you can really mess up if you don't know what you are doing. Your pigs feet could turn out tough and rubbery instead of tender and falling off the bone. Try your hand a preparing this dish today.
Smothered Pork Chops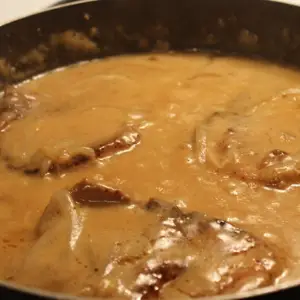 Smothered pork chops are by far one of my most favorite meals to prepare and eat. I fry up the pork chops, smother them in gravy, then I slow cook them until they are very tender. I serve the smothered chops with mashed potatoes or steamed rice.
Fried Chicken Gizzards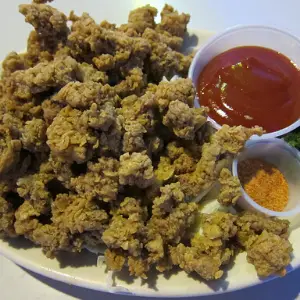 Fried chicken gizzards was a staple for me all throughout college. I didn't prepare them myself, instead I'd buy them from a local restaurant. I'd order me a 12 piece dinner with french fries, roll, drink and the meal would fill me up.
Black-eyed Peas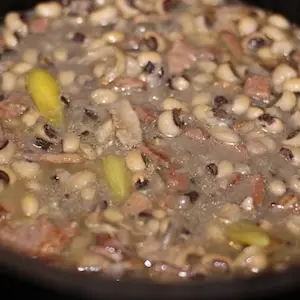 Black-eyed peas are said to bring your good luck. So you can find black-eye peas being cooked up on New Year's day in many African American homes. These tasty & nutritious beans should be cooked year round and not be reserved just for one day.
Sweet Potato Pie
Sweet potato pie, never to be confused with it's less sweet and not as tasty cousin, pumpkin pie. This dessert in inexpensive and very easy to prepare. Throw all the ingredients is a pie shell and bake until the pie is golden brown.
Check out our other black people recipes, if you didn't find what you were looking for here.