Traditional Pumpkin Pie Recipe
Homemade Pumpkin Pie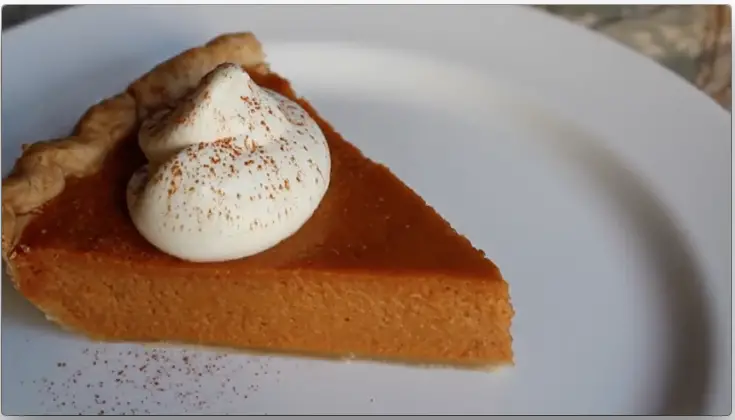 Stop for a moment and think for a brief minute.  Now that it's holiday season and you have a taste for a delicious dessert what's they first thing that comes to mind?  For me pumpkin pie, what about you.  
There is no other dessert as traditional as this pie when it comes to celebrating the Thanksgiving Holiday.  
And for most people the holiday just would not feel the same without preparing a delicious homemade pie dessert made from a simple ingredient like pumpkin.
So this year you can follow your family tradition by continuing to make this delicious pie recipes.  That way, your family and friends who come over for dinner will be pleased.

Pie Recipe
Recipe Ingredients:
1 large can pumpkin
4 medium eggs, beaten
1 cup brown sugar
1 cup granulated sugar
3 teaspoons ground cinnamon
2 teaspoons ginger
1 teaspoon vanilla extract
1 teaspoon salt
1/4 teaspoon ground cloves
1 cup heavy cream
1 cup evaporated milk
2 frozen, 8 or 9 inch unbaked pie shells
Recipe Instructions:
Preheat oven to 350 degree Fahrenheit.
In a medium mixing bowl, combine and stir together pumpkin, eggs, sugars, cinnamon, ginger, vanilla extract, salt and cloves. Mix ingredients well by hand or with electric mixer. Set pumpkin mixture aside.
In a small pot combine cream and milk, stir and heat until almost boiling. Add to pumpkin mixture and mix thoroughly.
Pour pumpkin mixture evenly into two frozen unbaked pie shells. Bake on lower oven racks at 350 degree for about 1 hour. Pies are done when wooden toothpick inserted into center of pies comes out clean.
This recipe provided courtesy of https://www.soulfoodandsoutherncooking.com/