Best Ever Creamed Corn recipe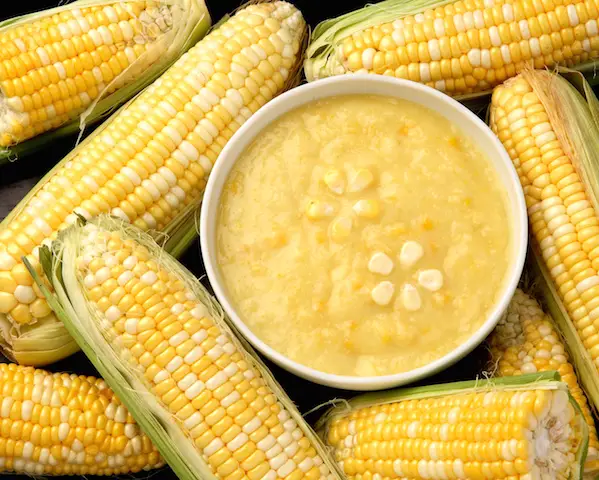 Creamed Corn
The creamed corn recipe that follows was submitted by Martha B. who also had this to say, "My husband and I had dinner at Gulliver's Restaurant in Southern California to celebrate his birthday. They served us their famous creamed corn, which I agreed was the best I'd ever had.
I said as much to the hostess on the way out of the restaurant, and she asked, "Do you want the recipe?" At which point, she presented to me a photocopy of the recipe! It's still the best creamed corn I've ever had."
Go ahead and give this recipe for creamed corn a try.  I tried the recipe to and must admit the creamed corn taste delicious. I like the sweet and mild spicy taste which gives off a very unique taste when added to corn.
I have tried the recipe with fresh and frozen corn and can say I really prefer using fresh corn in my recipe. This is now one of my favorite side dish recipes.
Gulliver's Creamed Corn Recipe
Recipe Ingredients:
2 packages (20 ounces) frozen kernel corn
8 ounces (1/2 pt) whipping cream
8 ounces(1/2 pt) Homogenized milk
1 teaspoon salt
1/4 teaspoon Accent
6 teaspoons sugar
pinch white or cayenne pepper
2 tablespoons melted butter
2 tablespoons flour
Recipe Instructions:
Combine all ingredients except last two in a pot and bring to a boil.
Simmer 5 minutes.
Blend butter with flour; add to the corn, mix well and remove from heat.
Varation: Put finished corn in heat-proof casserole, sprinkle with Parmesan cheese and place under a broiler until evenly browned.
This recipe provided courtesy of https://www.soulfoodandsoutherncooking.com/
This is one of those recipe you can use as a side dish along with fried chicken or grilled or smoked chicken or ribs.  I once served this corned with some fried catfish and hush puppies.  
Once you have tried the recipe drop me an email and tell we how you like this recipe.  Also let me know if you can think of another variation to make this dish even more unique.