Homemade Red Velvet Cake Recipe Baked From Scratch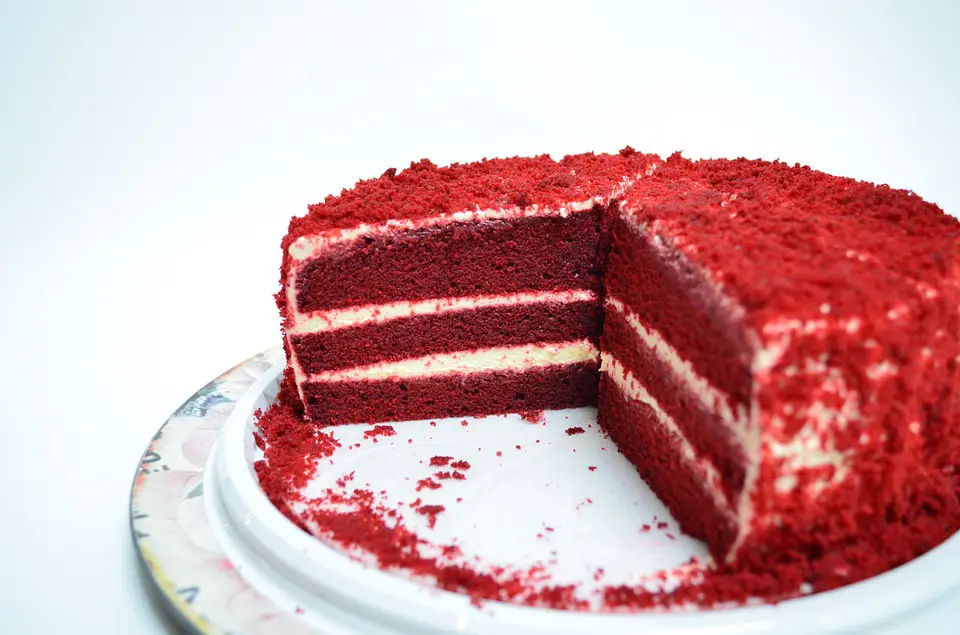 Red Velvet Cake
Red Velvet cake is a classic Southern favorite with its unique flavor, vibrant color, and sweet cream cheese frosting.
It starts with a simple buttered cake batter made of sugar, flour, cocoa powder, baking soda and vinegar. Then it gets a boost of color from a little bit of red food coloring.
To make the iconic cream cheese frosting, you'll need butter, cream cheese, confectioners sugar and vanilla extract.
With just the right balance of sweetness and tangy flavor, this indulgent treat is sure to be a hit at any gathering!
This Red Velvet Cake is completely made from scratch...yes the cake and icing to.  
Also, this dessert cake is perfect for holidays and special occasions such as birthdays, retirements, and promotion parties. I assure you that this cake recipe is as easy to prepare and bake as any store bought box cake and icing.

When I was growing up in Georgia this was my mom's favorite recipe for two reasons. She always had the cooking ingredients on hand and pecans were plentiful because there were pecan trees everywhere.
If you're ready for a rewarding challenge, put away your boxed cake mix and store bought icing and give this red velvet recipe a try. I expect after trying it this way you'll no longer want to prepare and eat a store bought cake again. Only time will tell.
Red Velvet Cake Recipe
Recipe Ingredients:
Cake:
2 cups pure fine granulated sugar
2 cups general purpose flour
1 teaspoon baking soda
1/2 teaspoon salt
1 cup vegetable oil
1 cup buttermilk
3 eggs
1-1/2 bottle red food coloring (1.5 fluid oz)
1 teaspoon vanilla extract
1 teaspoon white vinegar
Icing/Frosting:
1 box confectioners sugar (16 oz)
1 cup finely chopped pecans
1 stick margarine (8 tbsp or 1/2 cup)

1 large cream cheese (8 oz)

Cookware and Utensils:
2 stainless steel cake pans (8 or 9")
1 measuring cup
1 mixing bowl
1 stirring spoon
1 cooking bender
Recipe Instructions:
As always the key to great cooking is to be prepared and use quality ingredients.
How to Prepare Cake:
Preheat oven to 350 degrees Fahrenheit
Combine and stir sugar, flour, baking soda and salt into mixing bowl. Next add your wet ingredients (vegetable oil, buttermilk, eggs, red food coloring, vanilla extract, and white vinegar) one at a time, beating on low to medium speed, continuously beating mixture thoroughly after adding each additional ingredient.
Spray or grease both pans with a light coat of vegetable oil to stop sticking. Pour completed mixture evenly into your two single-layered cake pans. Bake for about 30 minutes at 350 degrees on your center oven rack.
Cake is done when wooden toothpick inserted into center of cake comes out clean. Let cake cool completely before adding your homemade Icing.
How to Prepare Icing:

While the cake is cooling, here is how to make your Icing.

Combine confectioners sugar and finely chopped pecans into a mixing bowl and stir with a spoon.
Next add your softened margarine and cream cheese one at a time into the mixing bowl containing the sugar and chopped pecans. Using a cooking blender, mix thoroughly after each ingredient is added.
Place icing into your refrigerator, since the icing should be applied to cake in a cold state.
Preparation Time = 50 minutes
Cooking Time = about 30 minutes
This recipe provided courtesy of https://www.soulfoodandsoutherncooking.com/
Enjoy your Red Velvet Cake.
I'll usually prepare this cake a day or two in advance. I just let it sit on display somewhere in the kitchen for everyone to see and to build up anticipation before cutting the cake. When everyone has had enough tempting l'll go ahead, cut the cake, and give everyone a slice.  I hope you will give this cake recipe a try.