A Great Recipe For Fried Chicken Gizzards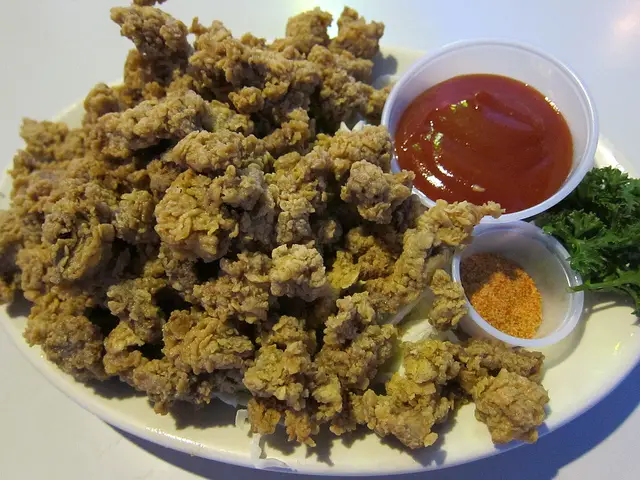 Fried Chicken Gizzards - Image Flickr/takaokun
So you want to cook some fried chicken gizzards? I can understand why...because fried gizzards are the best in my opinion. I'll show you how to cook chicken gizzards in a couple of easy steps, that everyone will love eating. You want have to make the mistake most people make when they decide to cook fried gizzards for the first time.
What mistake is this you ask? Most people will forget to boil the chicken gizzards before frying them and later wonder why the gizzards don't turn out as planned.
A personal story...while I attended college I lived off chicken gizzards. There was a Maryland Fried Chicken Restaurant in walking distance of my college. I used to buy the fried gizzard meal consisting of about 12 chicken gizzards, a bread roll and 1 side. This gizzard meal was so delicious, yummy, and filled me up.
Back then I didn't have to watch my weight so you know my favorite side dish was french fries. Enough about me, I invite your to try out the recipe and then let me know what your think.

Fried Chicken Gizzards
Recipe Ingredients:
1-1/2 pound chicken gizzards
1/2 cup all purpose flour
1-1/2 tablespoon seasoning salt
vegetable oil
Recipe Instructions:
First you want to prep gizzards for cooking. Remove gizzards from container and discard chicken hearts if they're present. Cut away excessive fat and gristle, then wash gizzards thoroughly under running cold water.
Next it's time for the most important step...parboiling the gizzards before frying them. Place gizzards in a pot of cold water, bring water to a rolling boil and continue to boil for about 20 minutes.
While the gizzards are boiling, prepare coating mixture for the gizzards. Combine flour and seasoning salt in a paper or plastic bag. Shake well and set seasoned flour mixture aside.
Once finished boiling, pour gizzards into a strainer or clean sink and allow to cool.
Preheat enough vegetable oil to cover gizzards in a medium hard bottom or cast iron skillet (with lid) over medium-high heat.
Thoroughly coat gizzards with seasoned flour mixture and place into hot vegetable oil. Don't overcrowd the skillet. Cook gizzards on both sides until brown.
Turn down the heat to medium, then cover skillet with lid and cook for an additional 10 minutes. Once done remove from skillet and allow to drain on paper towels.
Enjoy!
This recipe provided courtesy of https://www.soulfoodandsoutherncooking.com/
What to serve with fried chicken gizzards
Fried chicken gizzards are a classic Southern dish that can be enjoyed as a snack or part of a larger meal. If you're wondering what to serve with fried chicken gizzards, there are plenty of delicious options to choose from! Here are some ideas:
Coleslaw: A cool and crunchy coleslaw is the perfect complement to hot and crispy fried chicken gizzards.
Cornbread: A side of cornbread adds a touch of sweetness and texture that pairs well with the rich flavor of fried chicken gizzards.
Mashed potatoes: Creamy mashed potatoes provide a comforting base for the bold flavors of fried chicken gizzards.
Biscuits: Light, fluffy biscuits make a great accompaniment to fried chicken gizzards - especially if you want to make mini sliders!
Collard greens: The bitterness of collard greens can help balance out the richness of fried chicken gizzards and add some extra nutrients to your plate.
Macaroni and cheese: This classic comfort food is always a hit at any Southern-style meal, and it's no exception when it comes to serving with fried chicken gizzards.
No matter what you choose, be sure to have plenty of napkins on hand - things are bound to get messy when you're digging into a plate of hot and crispy fried chicken gizzards!
After trying this delicious fried chicken gizzard recipe, we're sure you'll agree that it is one of the tastiest dishes around. The simple ingredients and easy preparation make for a dish that can be enjoyed by anyone. Best of all, this recipe only takes about half an hour to prepare!
We hope you enjoy this delightful treat – Bon Appétit!