Everything You Ever Wanted To Know About Soul Food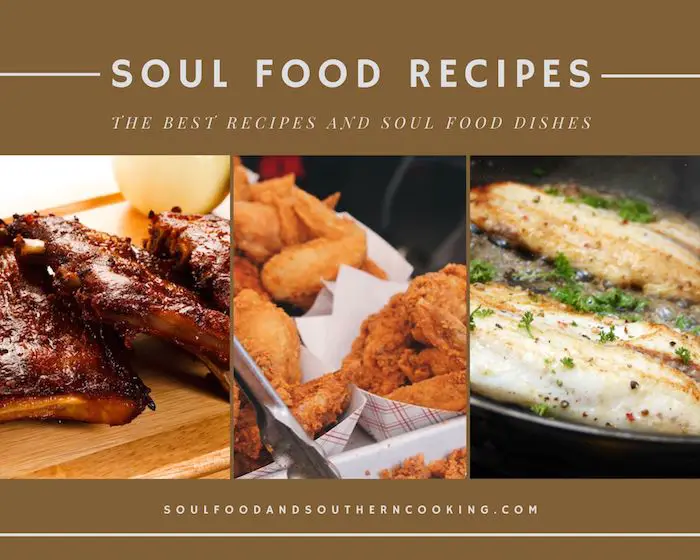 Soul Food
Soul food is a style of cuisine that originated with African American slaves and has become an intrinsic part of African American culture. It is most commonly associated with dishes from the Southern United States, though it can also be found in other parts of the country.
Soul food often involves eating foods from scratch made with fresh ingredients like whole grains, legumes, vegetables, meats, and fish. Dishes can range from simple fried chicken to more complicated dishes such as gumbo or jambalaya. Cooking techniques typically involve slow cooking and traditional methods like smoking or braising which add flavor and tenderness to the ingredients used.
There are numerous regional variations between states and even within different cities. This is due to the influence of different immigrants who have brought their own flavors to soul food recipes over time. No matter where you get your soul food fix, it's sure to include delicious flavors and plenty of heartwarming comfort!
Table of Contents
What is soul food?
What is the difference between soul food and southern cooking?
What is typically served during a soul food meal?
List of the most popular soul foods and dishes.
What are the different types of soul foods?
Why is soul food so good?
Why is soul food so bad?
Can soul food be healthy?
What food did slaves eats?
Which cities serve the best soul foods?
What soul food restaurants are near me?
Why should I eat at a soul food restaurant?
How can I learn to cook soul food?
How to make soul food mac and cheese.
How do you make soul food dressing?
How to cooking soul food collard greens?
How do you make soul food cabbage?
What is soul food?
There are many ways to define and express the meaning of soul food. Famous food author Adrian Miller captures the true essence of the term stating soul food "brilliantly captures the humanity and heroic effort of African-Americans to overcome centuries of oppression and create a cuisine that deliciously melds the foods and cooking techniques of West Africa, Western Europe, and the Americas." This is a most insightful definition of this form of down-home cooking cuisine that originated in the deep south. 
What is the difference between soul food and southern cooking?
Depending on where you live or grew up, some people use the terms "soul food" and "southern cooking? interchangeably when talking about good eating. Both types of cuisine use similar cooking techniques and ingredients. But there are some major differences between these two ways of cooking.
Soul food and Southern Cooking cuisines each have a unique flavor profile.  However, the easiest way to distinguish between the two forms of cooking is by how the foods are seasoned. Soul food dishes are more saltier, spicier, and use fattier ingredients when compared to Southern cooked foods. Soul Food desserts are also much sweeter. 
What is typically served during a soul food meal?
When it comes to preparing a delicious meal everyone has their own food preferences. One person may like this, while another likes that, and yet still there are dishes we can all agree on that are good to eat. That said, during a typical soul food meal you could expected to be served a meat entrée, side dish, bread, dessert, and beverage.
Some examples for each include:
Meat Entrée: chitterlings, fried chicken, smothered pork chops, oxtails, pigs feet 
Side Dish: black-eyed peas, cabbage, candied yams, collard greens, macaroni and cheese
Bread: corn bread, biscuits, hoe cakes, hush puppies, 
Dessert: banana pudding, homemade ice cream, peach cobbler, sweet potato pie
Beverage: lemonade, sweet tea, red-colored drink
List of the most popular soul foods and dishes
For a down-home, tasty, and unforgettable meal you should turn to a plate of soul food.
There are many popular soul foods and dishes on the web. You can find old fashioned recipes for just about everyone's tastes. If you can't decide what to cook or what you want to eat here are a few of the most popular dishes that can be used for some inspiration.
What are the different types of soul foods?
The tradition of cooking soul food has changed to keep up with modern times. Although the names for dishes have remained the same the style of cooking has changed and evolved over the years. The majority of foods are still cooked in the tradition way, that being fattier, sweetier, saltier, and spicier.
However, like I said the cooking techniques and focus of our food has been adapted to changing trends and our environment. You can now find plenty of cookbooks and restaurants that cater to and serve people from various backgrounds -- with a variety of dietary needs ranging from diabetic to vegan. These foods use more nutritious and less harmful food and ingredients. 
Why is soul food so good?
This a good question to ask. Soul food is good for many reasons. The most important being that the food is cooked from the heart and served up with a dish of love from the chef. Secondly, the food taste so good because of how it is prepared and what ingredients are used.
Many of the food we have grown to love and are addicted to are fried in lards and cooking oils -- very tasty indeed. Not to mention, we add an abundance of fats, salts, and spices to make these foods taste even better. With desserts the sweeter the better. Fats, salts, sweets, and spices -- all these things added together make soul food irresistible.
Why is soul food so bad for you?
Soul food is often full of unhealthy ingredients that can have negative effects on your health. Dishes like fried chicken, mac and cheese, and buttered biscuits may be delicious, but they are high in fat, calories, and sodium. Additionally, many traditional soul food recipes use processed meats such as bacon or smoked sausage which are high in saturated fats and cholesterol.
These types of foods can increase your risk of developing various health conditions such as heart disease, diabetes, and obesity. Additionally, they may worsen existing health problems such as high blood pressure or stroke risk. Therefore it is important to consume soul food dishes in moderation and try to make simple swaps for healthier ingredients when possible.
It is okay to indulge on occasion; just make sure you're aware of the risks associated with consuming too much soul food so you can enjoy the occasional treat without compromising your health.
Can soul food be healthy?
Soul food can absolutely be healthy. There are many different recipes that use simple, good-for-you ingredients like fresh vegetables, lean proteins and whole grains. For example, baked or grilled fish with a side of sautéed greens or roasted sweet potatoes is a healthy soul food meal.
In addition to using healthier ingredients, you can also make healthy swaps when preparing your favorite dishes. Swapping out oils for olive oil or butter for avocado can make a big difference in terms of nutrition content. Additionally, using reduced sodium stocks or bouillons instead of salt can help reduce the amount of sodium in your meals without sacrificing flavor.
Finally, reducing the portion size of these traditional soul food dishes is essential to maintaining a balanced diet as well as adding more fruits and vegetables to your plate alongside them. With some adjustments and clever substitutions, it's possible to enjoy tasty soul food recipes while still being mindful of your health.
What food did slaves eat?
Slaves in the United States were forced to eat whatever food was given to them. This often meant that they had very little control over what they ate and were often relegated to eating the scraps of their masters' meals. Typical dishes included things like black-eyed peas, cornbread, and pork chops.
They also relied heavily on vegetables and fruits that grew locally such as okra, collard greens, sweet potatoes, apples, and peaches. Oftentimes these ingredients were cooked in lard or other fats which helped add flavor to otherwise bland dishes. Slaves would also supplement their diets with game such as rabbit or squirrel if they could catch it.
Slaves created a unique cuisine from the limited ingredients available to them which later became known as soul food. Though it has its roots in difficult times, it is now celebrated as part of many African American cultures for its unique flavors and rich history.
Which cities serve the best soul foods?
You are probably wondering can I find a soul food restaurant near me. If this is the case, you'll likely want to know which city serves the best soul food? I can't give you a direct answer, I'd have to say it's debatable. I have had the pleasure of eating and enjoying delicious soul foods in cities all over the United States, and Europe too.

I cannot pick one restaurant as a favorite spot. All I can tell you is that you need to eat at as many restaurants as you can and see for yourself. Although I will not pick or say who is best here are a few of the soul food restaurants I know "can burn in the kitchen" and cook up some delicious foods.
What soul food restaurants are near me?
I have compiled the list below in case you are wondering what soul food recipes are near me? New soul food restaurants open all the time and unfortunately some of our favorite spots close down too. As such, this list is not all inclusive – send me an email if you'd like me to add your favorite restaurant to the list.

Atlanta, GA
810 M.L.K. Jr Dr SW
Atlanta, GA 30314
404-525-9212 

349 Edgewood Ave SE
Atlanta, GA 30312
404-577-0001 

881 Donald Lee Hollowell Pkwy NW
Atlanta, GA, 30318
404-685-1073

224 Ponce De Leon Ave NE
Atlanta, GA 30308
(404) 876-1800 

180 Northside Drive SW
Atlanta, GA 30313
404-525-2023

652 North Highland Avenue NW
Atlanta, GA 30306
404-875-0145

Twisted Soul Cookhouse & Pours

1133 Huff Rd NW #D
Atlanta, GA 30318
404-350-5500
---
Charlotte, NC
---
Charleston, SC
16 Blake St
Charleston, SC 29403
843-722-2256 

251 Meeting St
Charleston, SC 29401
843-722-7224 

1068 Morrison Dr
Charleston, SC 29403
843-577-9583

176 Line St
Charleston, SC 29403
843-937-0002 

3760 Ashley Phosphate Rd
North Charleston, SC 29418
843-552-0079
---
Detroit, MI
2900 E 8 Mile Rd
Detroit, MI 48234
313-366-5600 

8029 Agnes St.
Detroit, MI 48214
313-649-2759 

19631 Plymouth Rd
Detroit, MI 48228
313-643-8491

1431 Times Square
Detroit, MI 48226
313-926-0783 

18516 Schoolcraft Ave
Detroit, MI 48223
313-273-2228
---
New Orleans, LA
1500 Esplanade Ave
New Orleans, LA 70116
504-569-8997

9301 Lake Forest Blvd #107
New Orleans, LA 70127
504-304-2703

3332 Bienville St
New Orleans, LA 70119
504-827-5474

4058 Old Gentilly Rd
New Orleans, LA 70126
504-948-9800

2005 N Broad St
New Orleans, LA 70119
504-766-6404 

1025 N Broad St
New Orleans, LA 70119
504-821-2669

Willie Mae's Scotch House

2401 St. Ann Street
New Orleans, LA 70119
504-822-9503
---
Harlem, NY
328 Malcolm X Blvd
New York, NY 10027
212-996-0660
---
Philadelphia, PA
1320 W Olney Ave
Philadelphia, PA 19141
215-927-2224

6615 Martins Mill Rd
Philadelphia, PA 19111
267-731-6332 

5935 Ogontz Ave
Philadelphia, PA 19141
267-748-2270

1400 S Christopher Columbus Blvd
Philadelphia, PA 19147
215-462-2000
Why should I eat at a soul food restaurant?
There are many good reasons to eat a soul food restaurant. Restaurants are convenient when you are in a rush or don't have time to cook and want some good eats. Why work hard in the kitchen preparing your favorite dish, when you can go eat at a local eatery.
Nowadays there is nowhere near as many restaurants as years past.
Plenty of restaurants are closing down because we are not supporting them. These restaurants are staples of our community, feeding us good food, and providing a place for us to gather. As such it is important that you support as much as possible. Let's help keep our community restaurants in strong financial condition so that they can stay open.
How can I learn to cook soul food at home?
Cooking delicious, mouthwatering soul food can be somewhat difficult for some cooks. While for others, cooking food from the soul comes natural.  If you find it hard to cook soulfood then you're in luck. I have compiled a collection of all time favorite African American cooking recipes. Everything you need to create dishes that family and friends will love, can be found at this site.
This includes hundreds of recipes, all of which are simple and easy to follow. You can download your favorite traditional recipes TODAY and start cooking restaurant quality foods in the comforts of your own home.
In addition, you'll find dinner menu suggestions, recipes for Thanksgiving Holiday, Christmas Holiday and New Year's Day. Getting back to the recipes you came to learn how to cook, choose recipes from any one of the following categories:
Here are some more useful links to assist you in learning to cook with soul foods.
How to make soul food mac and cheese!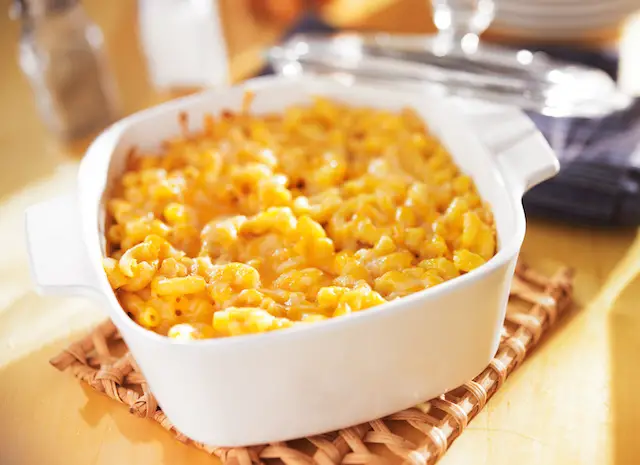 Soul Food Mac and Cheese
Everybody wants to know how to make soul food mac and cheese. This is probably the case, since macaroni and cheese is considered by many to be a staple food.
How do you make soul food dressing?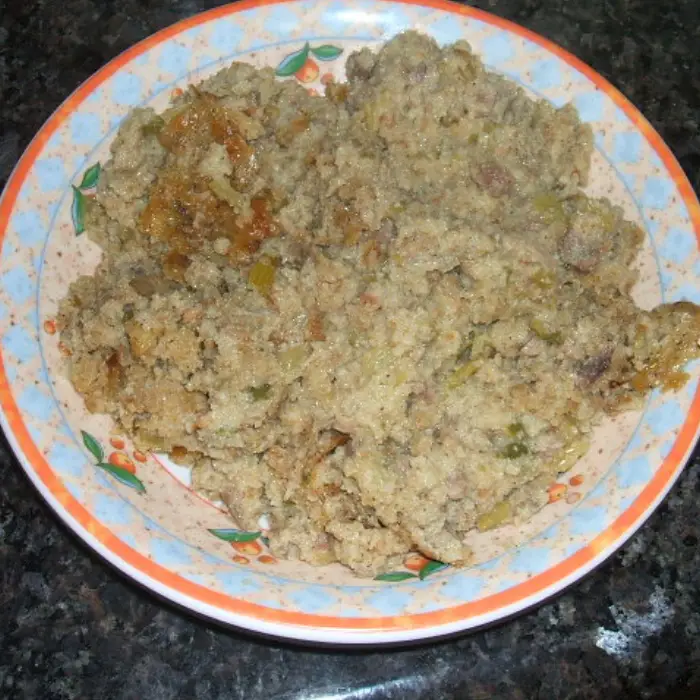 Soul Food Dressing
"How do you make soul food dressing?", is a question I get asked all the time. Click on the photo above if you are interested in learning how to make soul food dressing too.
How to cook soul food collard greens?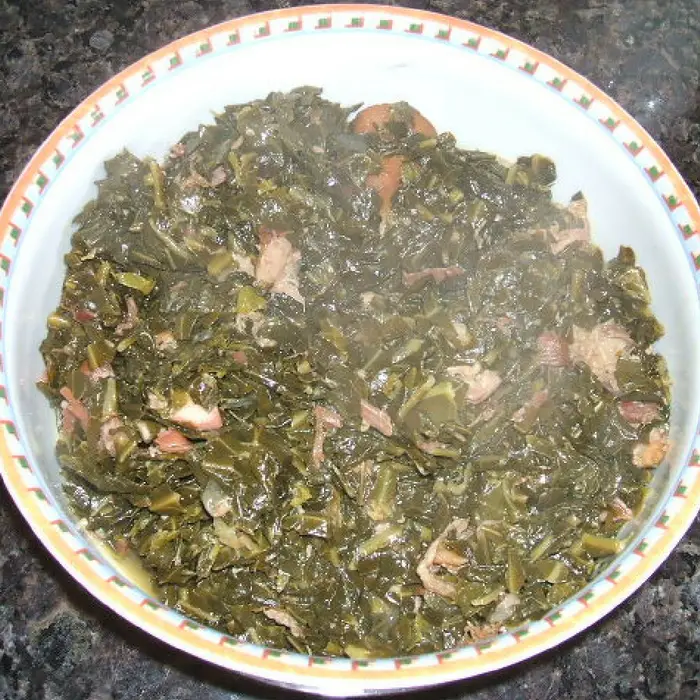 Soul Food Collard Greens
Collard greens are a staple food for many people in the black community. If you don't already know how, you are probably wondering how to make soul food collard greens. Just click on the photo of the bowl of collard greens if you're ready for some cooking lessons.
How do you make soul food cabbage?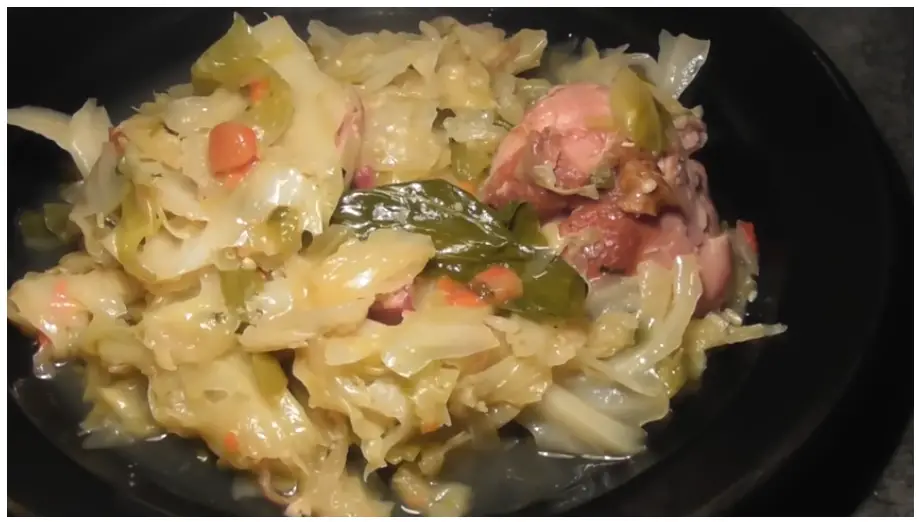 Soul Food Cabbage
Another frequently ask question we get is "how do you make soul food cabbage?". When preparing cabbage there are a lot of ways to mess things up. But if you'd like to learn how to make cabbage yourself just click on the photo above.