Smothered Steaks and Onions
Smothered Steaks and Onions
Yummy smothered steaks, submitted by...
By: Steve Schutz (Toronto, Ontario Canada)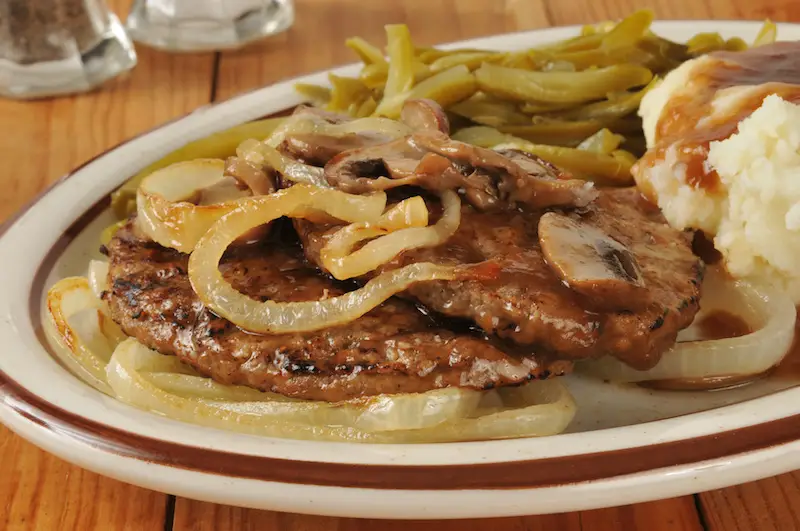 Smothered Steaks and Onions Dinner
Do you have a taste for some smothered steaks with onions? If so, we have the recipe you have been looking for ready for your to try. About the smothered steak recipe you see below.
I used this recipe from a Soul Food Cook Book written by Bob Jeffries for the first time 40 years ago. I have used it often and enjoy it immensely. I am submitting the recipe exactly as it appeared in its original format.

Smothered Steaks with Onions
Recipe Ingredients:

2 pounds beef roundsteak--cut in 4 or 6 serving pieces
1 teaspoon salt
1 teaspoon coarse ground black pepper
1/2 teaspoon garlic salt
1/4 to 1/2 cup flour
Vegetable oil
1 large sweet red onion--sliced
1 cup water
2 to 3 dashes of Tabasco Sauce
1 teaspoon Worcestershire sauce

Cooking Directions:

1. Preheat oven to 300F. Sprinkle each piece of meat with salt, pepper, and garlic salt; dredge lighlty with flour. Using a cleaver or the flat side of a heavy knife, pound in seasoning and flour.

2. Fill a heavy frying pan with vegetable oil to a depth of about 1 inch. Heat to almost smoking point. Add meat and brown each piece quickly on both sides.

3. Transfer meat to a shallow baking dish. Add onion slices and 1/2 the cup of water to the frying pan. Reduce to very low, cover pan, and cook for about 10 minutes.

4. Add Tabasco sauce, Worcestershire sauce, and remaining water, stir to blend and pour over meat in baking dish.

5. Cover dish and bake for 1 hour, turning meat occasionally. Serve with freshly cooked, very hot white rice. Makes 4 to 6 servings. 
Read What Others Said About This Recipe
Too Much Oil (by: Anonymous) - The flavored seemed like it would have been better if it wasn't drowning in oil...wish I would have read the comments first.
Reply (by: Anonymous) -  Will this much flour be enough. I think adding a little more flour would not hurt. In fact it would be great if we could add a little more to it. Well I will try it a little bit in my way and I will let you know.

Stovetop Method (by: Eleanor Moyza) - Smothered steak is DELICIOUS! Mama Davison cooked this on the stovetop...not the oven and the family loved it! Her eldest son was a cook and he would occasionally add a can of vegetable soup to the regular steak and it was great!

My recipe comments (by: Sherene) - I was expecting this recipe to come out delicious. What happened was there was way too much oil in the oven pan and the flavor was ruined by all the oil. My advice is to use a small amount of oil.

Great recipe for any cheap cut of steak (by: Anonymous) -  I've been making this with my Mom since I was little. You only need a little oil enough to brown the steaks ( sear ). I always deglaze the pan with a little red wine and beef stock. Just don't forget to use a meat mallet to tenderize your steaks. 

This is how to make delicious smothered steak (by: Nikki S.) - I have been making these for 3 years now and they are great, seasoning and everything is perfect!!!

Great Smothered Steak Recipe (by: Janice) -  Steve, thanks for submitting this recipes. My husband is a steak lover and now this recipe is his favorite meal. I am sure I will be cooking smothered steaks for many years to come.