Grilled Shrimp Recipe With Lemon Marinade
Cooking shrimp on the grill really doesn't get any simpler than the grilled shrimp recipe that follows.  Yes this recipe is quick and easy, but don't be deceived.  Prepare this recipe and you'll experience some great tasting seafood that will satisfy your appetite and cravings for shrimp. There is something mysterious about shrimp that people love.  
So with this dish I always get rave reviews when I prepare my grilled shrimp with lemon marinade. This grilled shrimp dish calls for 2 pounds of Tiger or Jumbo shrimp as the main ingredient. Other ingredients include a simple lemon juice marinade made of fresh lemon juice combined with olive oil, green onions, fresh parsley, garlic, soy sauce, and sesame oil.
Try this recipe if you''re looking for something simple to cook that will look like you spent hours preparing.  Keep those guess thinking that you worked hard in the kitchen to prepare this.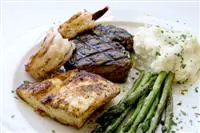 Quick and Easy Grilled Shrimp Recipe
Recipe Ingredients:
Grilled Shrimp Lemon Marinade
1/2 cup

lemon juice

(about 3 medium lemons

1/2 cup

olive oil

1/4 cup

fresh

parsley

1/4 cup

green onions

3 cloves

garlic

3 tablespoons

soy sauce

2 tablespoons

sesame oil
Recipe Instructions:
Start of by juicing three fresh medium lemons that are at room temperature. This can be accomplished by roll each whole lemon with the palm of your hands on the kitchen counter top to break up the pulp and produce more juice. Cut each lemon in half and squeezed out the juice. If you have a juicer use it, if not just squeeze your juice into a bowl. Strain the lemon juice through a fine strainer to remove seeds.
Pour the lemon juice into a bowl, then add in the remaining grilled shrimp marinade ingredients. Mix ingredients well and then add Tiger or Jumbo shrimp. Cover bowl with lid or plastic wrap and allow ingredients to marinade for 3 to 4 hours, turning mixture at least twice.
Prepare grill for direct cooking. Position oiled grill rack 4 to 6 inches above the coals. Remove shrimp from marinade, being sure to reserve a little bit of marinade for basting.
Place shrimp on grill rack and grill shrimps for 3 to 4 minutes on each side. Turn shrimp frequently, basting them 3 to 4 times with reserved marinade. Total cooking time should not exceed eight minutes. The shrimp are done when they turn pink.
Serves 4 to 6.
Useful information
To check the shrimp for doneness, taste one. Overcooking toughens shrimp and robs them of flavor.
This recipe is for a charcoal grill. However, you can also use a gas grill, but will have to adjust the grilling times.
You have three options to keep your shrimp from falling through the grill rack. Before grilling you can: 1) thread your shrimp through a skewer, 2) place them in a grill basket 3) or put them onto aluminum foil.
This recipe is courtesy of https://www.soulfoodandsoutherncooking.com/