Easy Barbecued Baked Beans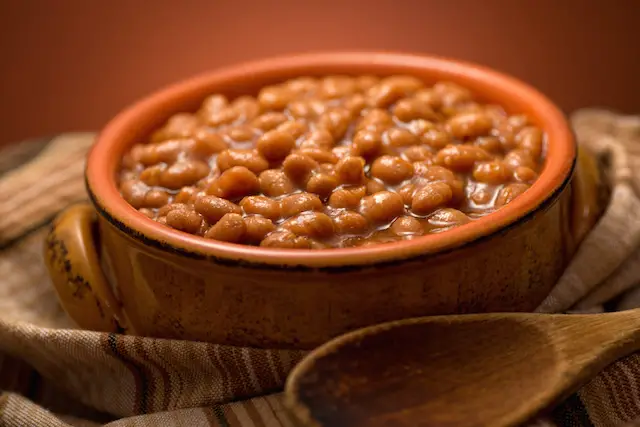 Barbecued Baked Beans
Get ready for some of the best barbecued baked beans you'll ever taste.
Today, we'd like to share with you an easy to prepare and simple baked beans recipe, that you must try out.  Everybody knows, a bar-b-q just isn't a bar-b-q without some homemade baked beans.
That said, this is one of my go to recipes whenever I barbecue or grill outside on a hot summers day.  

Are you ready for some delicious homemade barbecue baked beans that are cooked from scratch?  
If you answered "Yes" then you've come to the right place.  
The barbecued baked beans recipe that follows uses the simplest of ingredients to produce the nostalgic tastes that you've grown to love.
Baked Barbecue Beans
Recipe Ingredients:
2 lbs navy beans
8 slices hickory bacon, cut crosswise into thin strips
2 cups chopped onion
2 large garlic cloves, peeled and minced
1-1/2 cups ketchup
2 cups dark brown sugar, packed
2 teaspoons mustard powder
2 tablespoons red chili powder, ground
Recipe Instructions:
Pick through navy beans to remove any foreign objects. Place beans into large pot, cover with water and soak overnight. When ready to cook pour off water, replace with fresh water. Cook beans over medium-high heat until tender. Remove pot from heat, drain water from beans and sit pot aside.
Preheat oven to 325 degrees farhenheit.
While oven is preheating, prepare bacon strips by frying in a skillet over medium heat. Cook and stir bacon about 3 minutes until lightly browned. Add in onion and garlic, continuing to cook and stir until onions are transparent. Pour bacon and onion mixture along with any grease that forms into a large mixing bowl.
In large mixing bowl, add to bacon and onion mixture the remaining ingredients consisting of ketchup, brown sugar, mustard powder and red chili powder. Now pour in cooked navy beans. Combine and mix all ingredients thoroughly.
Pour baked beans mixture into a large 4 quart baking dish. Bake your homemade baked beans uncovered for 3 hours until done.
This recipe provided courtesy of https://www.soulfoodandsoutherncooking.com/
Your family and friends are going to love this easy baked beans recipe. I'd really like to know what you think. Therefore, try out the baked beans recipe above and leave your review below.
Barbecued baked beans are a staple of any backyard barbecue.
Not only are they delicious and easy to make, but they're also sure to be a crowd pleaser. The smoky flavor of barbecued baked beans comes from adding your favorite BBQ sauce along with some onions and spices. You can even mix in some pulled pork or bacon for an extra special treat!
Barbecue baked beans pair perfectly with burgers, hot dogs, steaks and even fish, so you'll never tire of them no matter what's on the menu.
They also keep well after cooking so you can make them ahead of time and just reheat when you're ready to eat - which means more time for socializing with your guests!