Pinto Beans and Rice Recipe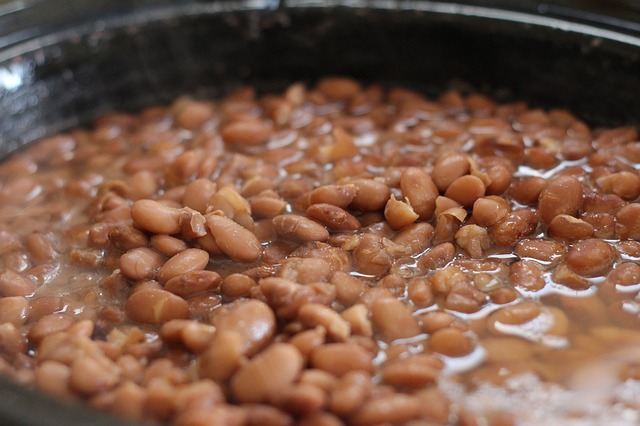 Pinto Beans
Pinto beans are well known as key ingredients for popular Mexican dishes including burritos, chili, dips, tostados, and soups. However these versatile beans have many applications. 
You can find numerous appetizers, soups, salads, entree, and side dishes that include beans such as pinto.  Pintos are a great replacement for red meats. 

A half cup of cooked pintos will provide about 120 calories and 10 grams of protein, without the saturated fat. 
Like most beans, the pinto contain complex carbohydrates that are not easily digestible by some. 
If you don't have problems eating other beans, these beans should also not be problematic.
Furthermore, these beans can be found on the dinner table of many southern families.
Here are some of the nutritional benefits from eating this bean:
These beans Low in fat
These beans are an excellent source of protein
These beans are a good source of several minerals
These beans will fill you up without a lot of calories
These beans contain soluble fiber which is said to lower cholesterol
Eat a hearty bowl of beans and rice, if you're looking for a food that is comparable to meat and dairy products without high calories and saturated fats.

In order to make that perfect dish you have to soak your beans before cooking. There are two methods of soaking: quick soaking and overnight soaking. I prefer the overnight method.
For overnight soaking just cover beans with 3 inches of cold water and place in the refrigerator
Quick method soaking requires you to put your beans in a large pot covered with at least 3 inches of water. Bring water to a boil, cover beans and let them cook for 2 minutes. Then let beans stand for 1-4 hours with lid on
Pinto Bean Recipe
Recipe Ingredients:
1 pound dry pinto beans
chopped onion
fresh garlic
seasoning salt to taste
Recipe Instructions:
You can pick up a bag of dry beans at your local grocery store. Start with a small bag of beans, about 1 pound. This should produce about 5-6 cups of cooked beans.
Sorting and rinsing your beans is very simple. Sort through your beans removing any defective beans or small stones that may be present. Place the beans in a colander and rinse several times.
Soak beans using the quick soak or overnight soak method as discribed above. After the beans have soaked overnight or for 1-4 hours discard the water. Replace discarded water with fresh water.
Place beans in pot and cover with two inches of water. Bring beans to boil, replace lid and reduce heat to simmer. Simmer for 4 hours, checking beans frequently to ensure beans have enough water. Add water if necessary.
It's time to add seasoning after 2 hours of simmering. I like to season my pinto beans by adding a little chopped onion, fresh garlic, and seasoning salt to taste. It's a good idea to add seasoning based on your personal taste. When beans are tender they are done.
This recipe provided courtesy of https://www.soulfoodandsoutherncooking.com/