Chocolate Cheesecake Pie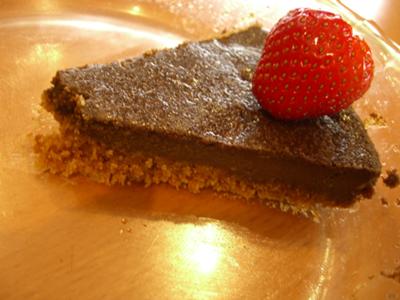 Chocolate Cheesecake Pie
Chocolate cheesecake pie is a deliciously sweet dessert for chocolate and cheese cake lovers. Thank you, thank you, thank you goes out to Phoebe Tang of Mississauga, Ontario, Canada. Phoebe who shared this wonderful recipe said that "she invented this wonderful recipe during the Easter holiday, while she was trying to find a way to use up a family sized bottle of chocolate syrup." 
For a delicious and creamy dessert this is the recipe you will want to try. You can dress this dessert anyway you like with a variety of toppings including syrups, strawberries, whipped cream, and chopped nuts.
Now my wife is not a fan of cheese cake (will not eat it), however she tried this recipe and was really impressed. I was very surprised that she liked the dessert. This is a recipe which combines both chocolate and cheesecake and bakes wonderfully in a pie pan.
Chocolate Cheesecake Pie Recipe

Recipe Ingredients:

Crust:

70g biscuit crumbs

40g butter, melted

Batter:

70g cream cheese, softened

30g butter, softened

1 tbsp sugar

35g sour cream/ plain yogurt

1 extra large egg white

25g milk

10g corn starch

75g chocolate syrup

70g chocolate chips
Recipe Instructions:

1. Butter a 9 inch pie pan. In a small bowl, toss biscuit crumbs with butter. Press mixture in the buttered pan, refrigerate it.

2. Meanwhile, in a large bowl, beat together cream cheese, butter and sugar. Beat in remaining ingredients one by one, mix well after each addition.
3. Pour batter right into the pan, which should cover the biscuit crust, sprinkles chocolate chips on top. bake it in the oven at 350F for 30mins.
Preparation: About 30 mins
Cooking time: 30 mins
Total: 1 hour

Notes
- I used a 9 inch pie pan, but if you don't have one, a pie pan or tart pan that is 7 inch to 9 inch is fine too.
- When you toss the biscuit crumbs with butter, you can do it directly in the pan you have.
- Make sure you press the biscuit crumbs+butter mixture really hard on the pan
- Since the size of different pans and different ovens would affect the baking time, it is necessary to check to see if the pie done. To do so, insert a toothpick in, if it comes out clean, the pie is nicely done; if not, it may take a few more minutes.
- I topped the pie with strawberries, but it is not required to do so. The pie is good by itself, but if you wanted to have something to go with it, ice-cream/ whipped cream/ sprinkles/ fruits, actually anything goes well with it. :)