Best Ever Homemade Chocolate Cake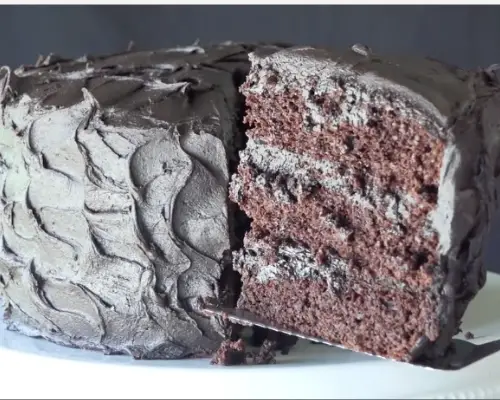 Amazing Chocolate Cake
Who else wants to learn how to make the world's best homemade chocolate cake?  
Chances are you've never made a chocolate cake like this before. Don't worry if you have never made a homemade cake before. It's not as difficult as you might think. Especially if our follow our recipe and simple instructions. We've even added some video instruction to show you how its done.
We believe cooking cakes from scratch is the way to go.

When you prepare and bake cakes at home you can control which ingredients go into your cakes. You don't have that luxury when you buy store bought cakes. You'd be very surprised and possibly freaked out to learn about some of the harmful things they put in these case to increase shelf life.

No worries about that though. 
Today's recipe and video instruction for how to make homemade chocolate cake comes by way of our friend Rachel from "The Stay at Home Chef". We recommend you watch the video first if you're baking challenged. 
Matilda's Amazing Homemade Chocolate Cake
This recipes is courtesy of Rachel from the Stay at Home Chef
Matilda's Most Amazing Chocolate Cake

Prep Time: 10 minutes
Ready In: 45 minutes
Yield: 3 9-inch rounds 
Ingredients:
butter and flour for coating and dusting the cake pan 
3 cups all-purpose flour 
3 cups granulated sugar 
1½ cups unsweetened cocoa powder 
1 tablespoon baking soda 
1½ teaspoons baking powder 
1½ teaspoons salt 
4 large eggs 
1½ cups buttermilk 
1½ cups warm water 
½ cup vegetable oil 
2 teaspoons vanilla extract 
Instructions: 
Preheat oven to 350 degrees. 
Butter three 9-inch cake rounds. Dust with flour and tap out the excess. (see cooking lesson below) 
Mix together flour, sugar, cocoa, baking soda, baking powder, and salt in a stand mixer using a low speed until combined. 
Add eggs, buttermilk, warm water, oil, and vanilla. Beat on a medium speed until smooth. This should take just a couple of minutes. 
Divide batter among the three pans. I found that it took just over 3 cups of the batter to divide it evenly. 
Bake for 30-35 minutes until the cake meets the toothpick test (stick a toothpick in and it comes out clean). 
Cool on wire racks for 15 minutes and then turn out the cakes onto the racks and allow to cool completely. 
Frost cakes with your favorite frosting and enjoy! (See our chocolate cream cheese buttercream frosting recipe below)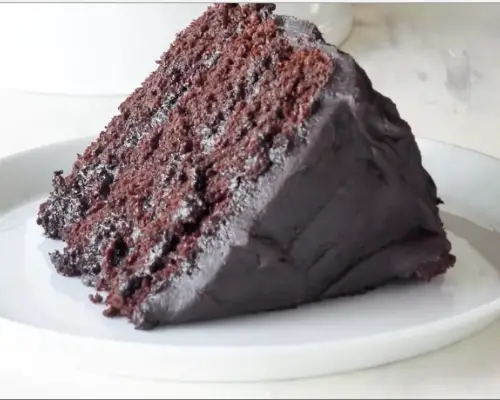 Chocolate Cream Cheese Buttercream Frosting 
Prep Time: 10 minutes 
Yield: enough frosting for a 3 tiered cake 
Ingredients: 
1½ cups butter, softened
8 oz cream cheese, softened
1½ cups unsweetened cocoa powder
3 teaspoons vanilla extract
7-8 cups powdered sugar
about ¼ cup milk (as needed) 
Instructions:
In a large bowl, beat together butter and cream cheese until fluffy. Use a hand mixer or stand mixer for best results.
Add in cocoa powder and vanilla extract. Beat until combined. Beat in powdered sugar, 1 cup at a time. Add milk as necessary to make a spreadable consistency. 
The frosting should be very thick and will thicken even more if refrigerated.