Soul Food and Southern Cooking's Thanksgiving Dinner Menu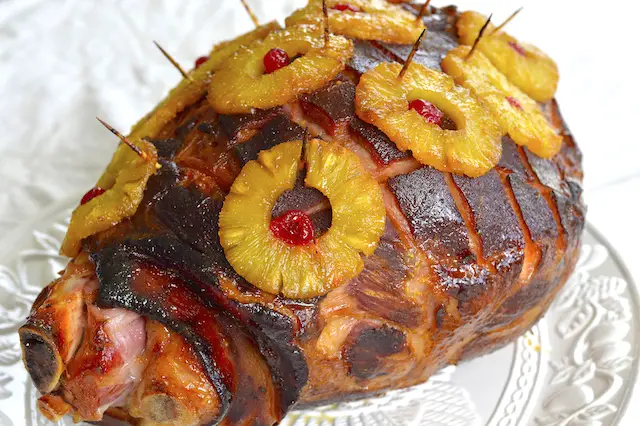 Honey Baked Ham
What are you serving for Thanksgiving dinner?
Since I always get asked the exact same question, I decided to share my Thanksgiving dinner menu with you.  
Like most Thanksgiving Holidays, this year I'm going to stick with the traditional tried and true thanksgiving recipes.
Nothing fancy for me this year.
I've tried fancy cooking in years past but I don't think I'm up to putting in that much work and effort this year.  
So for this thanksgiving, I will stick with a traditional Thanksgiving dinner menu consist of honey baked ham, candied yams, potato salad, corn bread dressing, giblet gravy, and sweet potato pie.
Please enjoy the Thanksgiving Dinner Recipes below.
Honey Baked Ham
1 - 8 to 10 pound smoked ham
whole cloves

Glaze for Baked Ham

1/2 cup honey
1/2 cup orange juice
1 cup packed light brown sugar

Cooking Directions
Preheat oven according to package cooking directions. Place ham fat side up on the rack of a shallow roasting pan. Insert meat thermometer through fat side into center of thickest part of the ham, but don't let it touch the bone.
Bake ham according to package directions. About 1/2 hour before ham is done prepare glaze by combining ingredients and mixing well. Next remove ham from oven and pour off drippings. Peel away any rind that is left on ham and score ham with a sharp knife.
For presentation purposes, while scoring the ham make decorative diamond shaped cuts. Insert a clove into each diamond. Spread ham generously with glaze and return to oven. After applying glaze, bake until desired internal temperature is reached.
Remove ham from oven and allow to stand for about 20 minutes before slicing. If desired, remaining glaze can be poured over sliced ham.
Candied Yams or Sweet Potato Recipe
8 small yams or sweet potatoes
2 cups water
2 cups fine granulated sugar
4 tablespoons butter
1 teaspoon lemon juice
1/2 teaspoon ground nutmeg
1/4 teaspoon cinnamon

Peel outer skin from yams or sweet potatoes and slice into 1/2 to 3/4 inch thick circles. Rinse in cold water, allow to drain and then set aside.
In a medium pot, bring water and sugar to a rolling boil. Then add butter, lemon juice, nutmeg, cinnamon and sliced yams or sweet potatoes. Return to boil, cover pot and reduce heat to simmer.
Cook yams or sweet potatoes for 35 to 45 minutes until tender. Gentle stir throughout cooking.
Potato Salad
1 pound red potato
1 hard boiled egg, finely chopped
1 large celery rib, finely chopped
1/2 cup mayonnaise or Miracle Whip
1/2 small onion, finely chopped
1/8 teaspoon yellow mustard

Start of by rinsing potatoes thoroughly under running water. While rinsing, gently scrub potatoes to remove dirt.
Place potatoes into a large pot and cover with at least two inches of cold water. Bring water to rolling boil and cook potatoes until tender. Dont allow the water to boil out. Once potatoes are done remove from heat, pour out water and allow to cool before peeling. Go ahead and clean your large pot because you will use it later to mix up your potato salad.
Place eggs into a small pot, add cold water and bring to boil over medium-high heat. Cook eggs until done. Remove eggs from heat, add cold water and allow to cool before chopping.
Now that the potatoes have cooled, peel them and mash them up one at a time into your large pot. Add celery, eggs, onion, mayonnaise and mustard. Mix all of the ingredients together thoroughly. Start with the exact measurements and adjust to your desired taste, if necessary. If you must go ahead and add salt and pepper to taste.
Spoon the combined mixture into a suitable size bowl with lid. Cover and refrigerate. Serve potato salad cold.
Sweet Potato Pie
3 - Frozen Unbaked 8" Or 9" Single Crust Pie Shells
4 - Pounds Uncooked And Unpeeled Sweet Potatoes
1/2 - Cup (1 Stick) Butter
1/2 - Cup Pure Fine Granulated Sugar
1/2 - Cup (Packed) Light Brown Sugar
3 - Large Eggs
2 - Cups Whole Milk
1 - Tablespoon Vanilla Extract
1/2 - Teaspoon Salt
1/4 - Teaspoon Nutmeg

Wash sweet potatoes and boil potatoes until they are tender. Once potatoes are tender drain and allow them to cool before peeling and blending. Once cool, blend your sweet potatoes in a mixing bowl with a blender to remove strings.
While you are cooking the sweet potatoes go ahead and place your butter on the kitchen countertop and allow to soften.
After the potatoes are ready, go ahead and preheat your oven to 350.
Next cream the softened butter with both sugars. Mix in the blended sweet potatoes and continue to mix while adding the eggs one at a time. Finally, add your milk, vanilla extract, nutmeg and salt and mix thoroughly.
Pour mixture evenly into your three frozen unbaked pie shells. Bake for 1 hour and 30 minutes at 350 degrees on your center oven rake.
Enjoy Your Thanksgiving Dinner!
If you decide to try out this thanksgiving dinner menu I'm sure you'll be pleased with the results. Enjoy your Thanksgiving meal, I know I will!
We have plenty more Thanksgiving Recipes as well as Holiday Recipes on this website.
Here are some soul food thanksgiving recipes just like Big Mama and Auntie use to make.
Our Favorite Thanksgiving Recipes