Stuffed Cornish Hen Recipe
Stuffed Cornish Hen recipe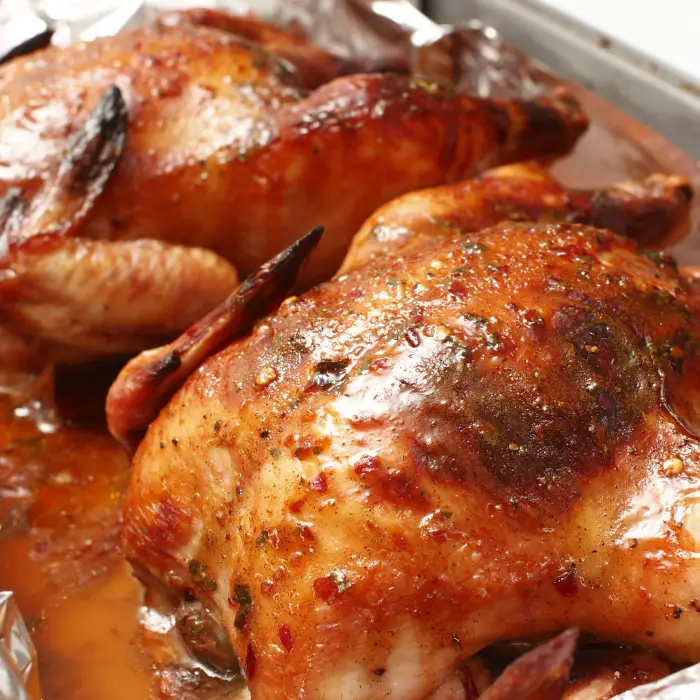 Stuffed Cornish Hen Recipe
This stuffed cornish hen recipe is a family favorite.
Not a fan of serving Turkey for Thanksgiving? If so, no problem just try this stuffed Cornish hen recipe if you're looking to serve something different.
One year I was determined not to take the traditional route and serve turkey for Thanksgiving. Seeing how I had already decided to serve glazed ham for Christmas dinner I needed an alternative. A friend of mine suggested I serve stuffed Cornish hen, which worked out real well in the end. Here is some advice for picking out your Cornish game hen up at your local market.
I like cooking with fresh meat, so my first choice is a fresh Cornish hen. Fresh game hens are not always available. Some grocery stores offer fresh Cornish game hens that are ready to cook. If fresh hens are not available, don't be put off by the fact that only frozen hens are at you local store.
Frozen Cornish hens work just fine to.  Just remember to allow sufficient time to thaw your hens in the refrigerator before cooking.  Lastly, stuff the game hens with stuffing just before baking to lesson your chances of food salmonella, just like chicken.
Stuffed Cornish Hen Recipe
Recipe Ingredients:
Cornish Hens
4 cornish hens (1 to 1-1/2 pounds each)
1/3 cup apricot nectar
2 teaspoons soy sauce
Fruited Stuffing
1-1/2 cup herb flavored stuffing croutons
1/2 cup canned apricot halves drained cut in tiny pieces
1/2 cup chopped pecans finely chopped
1/2 cup seedless green grapes cut in fourths
1/4 cup melted butter or margarine
2 tablespoons apricot nectar
1 tablespoon chopped parsley flakes
1/2 teaspoon seasoning salt
Recipe Instructions:
Prepare hens for cooking. If frozen allow plenty of time for your game hens to thaw. Once meat has thawed, rinse under running cold water and pat dry using kitchen or paper towels. Set hens aside and prepare stuffing.
In a mixing bowl, combine the fruit stuffing ingredients together and mix well. Next fill each bird with 1/2 cup of stuffing mixture. Tie hen legs together and place bird breast side up on a roasting rack in a shallow roasting pan.
In a measuring cup, blend together apricot nectar and soy sauce. Brush hens generously and poor the remaining blended juice into the roasting pan.
Roast hens on center oven rack at 350 degrees Fahrenheit for about 1-1/2 hours, until golden brown. When done, thigh juices should run clear when pierced. Baste hens with juice from bottom of roasting pan every 10 minutes.
This recipe provided courtesy of https://www.soulfoodandsoutherncooking.com/
When it comes to special occasions, nothing quite compares to a delicious cornish hen dinner. Whether you're looking for a show-stopping main course or an entree that's just as enjoyable served cold, these stuffed Cornish Hen recipes are sure to fill your kitchen with mouth-watering aromas. From cranberry-stuffed Cornish hens cooked in a tangy balsamic sauce to herb and garlic stuffed hens brimming with flavor – each recipe captures the best of what this bird has to offer.
This classic dish is so easy to make and can be combined with almost any side dish for unforgettable results. Try serving up roasted potatoes alongside creamy mashed sweet potatoes for the ultimate comfort meal! These recipes are also perfect for feeding a crowd – all you need is an oven and some time in the kitchen and you'll have succulent Cornish hens ready in no time.
No matter what occasion you're celebrating, create an unforgettable experience with these unique stuffed cornish hen recipes. Make every gathering special by bringing out dishes that not only satisfy hunger but also provide lasting memories of good food, great company and plenty of joy. Enjoy!