Homemade Sweet Potato Casserole
Homemade Sweet Potato Casserole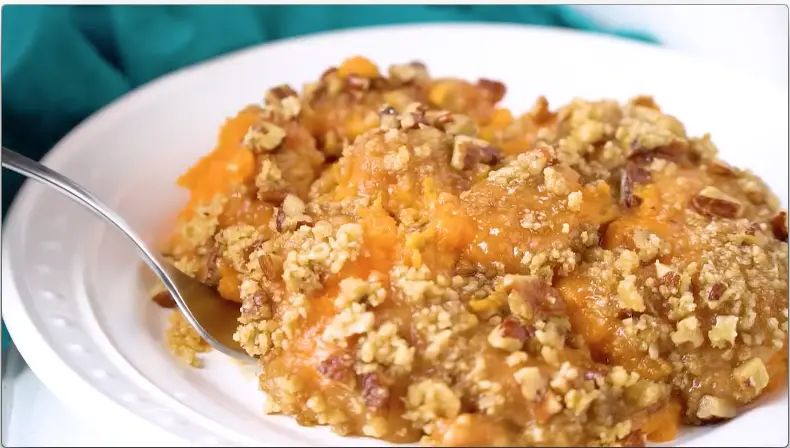 Sweet Potato Casserole
Sweet potato casserole is a soulful side dish that can bring warmth and cheer to any dinner table. Our recipe, which you can find on this cooking website, combines fluffy mashed sweet potatoes with a crumble topping made of buttery brown sugar and crunchy pecans for the perfect balance of sweetness and texture.
This easy-to-make dish takes only minutes of prep time before baking in an oven preheated to 350°F for 30 minutes or until golden brown on top. Whether it's part of your Thanksgiving feast or part of your weekly rotation, this sweet potato casserole will win over even the most finicky eaters! Enjoy a delightful taste of home with each spoonful – it's sure to be everyone's favorite side dish.
This sweet potato casserole recipe was submitted by Gail Absher Lemon of Michigan.
Gail stated, "When we visited kin from down (NC) home, seems like sweet potatoes was everyone's favorite. I live in the North now and still do a lot of Southern cooking. My husband is from Kentucky. I tried making a sweet potato dish one day and this is what I came up with. My family and a lot of kin from the south sure liked it.
Seems like I have to increase the amounts every year. If there is left overs it goes home with the first one who calls for it." 
Sweet Potato Casserole Recipe

Ingredients:
3 cups mashed sweet potatoes
1 cup sugar
1 teaspoon vanilla

Topping:
1/3 cup melted butter
1 cup packed light brown sugar
1/3 cup plus 2 tablespoons flour
3/4 cup chopped pecans
1/4 cup whole pecans
Baking Procedure:
Combine first mixture in a baking dish and bake for 15 minutes at 350 degrees. Mix topping ingredients and slowly stir into the first ingredients. Place whole pecans on top in desired design.

Bake for 15 minutes at 350 degrees. Serve hot. 
Hope you enjoy this classic and traditional casserole dish. During preparation, for this recipe I usually boil my sweet potatoes and let them cool a bit before mashing. I know other people who prefer to bake the potatoes first rather than boiling. It's up to you to decide whether to boil or bake the sweet potatoes first.