Creamy Chicken Noodles and Bacon Casserole
Creamy Chicken Noodles and Bacon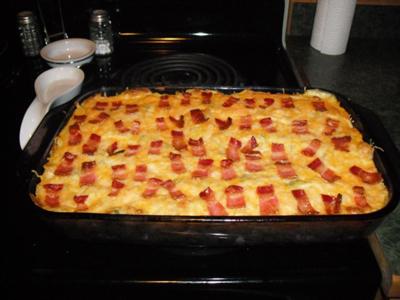 Creamy Chicken Noodles and Bacon
Creamy chicken noodles and bacon is another visitor submitted recipe.
This awesome recipe was share with us by Lindsay from Spanish Fork, Utah.  Along with this fabulous recipe Lindsay also stated "Because of the rising prices of practically everything all around us, one day I challenged myself to make up a scrumptious recipe using items I already had on-hand in my fridge and pantry. I wanted to see if I could come up with something delicious without having to trot out to the store to buy any other ingredients. I'm really happy with the results and as it turns out, I craved the leftovers! In fact, I can't wait to make it again!"
This casserole recipe is quick and easy to prepare, so you can understand why this has become one of my favorite recipes to prepare when I need to get a meal on the table as quickly as possible. Give the recipe a try and see for yourself.

Creamy Chicken Noodles and Bacon Casserole

Recipe Ingredients:

1 bag no yolk noodles
1 lb chicken, shredded
1 can chicken broth, low sodium
5 strips bacon (or turkey bacon)
2 cans condensed chicken soup, 98% fat free
1/2 cup sour cream, fat free
3 cups broccoli pieces
1 clove garlic, minced
1 teaspoon onion powder
1 teaspoon salt
1 teaspoon pepper
2 cups cheddar cheese, grated and low-fat
Recipe Instruction:

1. Preheat oven to 400 degrees.
2. Cook noodles in one pot and boil chicken in another. Boil chicken in half water and half chicken broth.
3. While noodles and chicken cook, place bacon on baking sheet with grooves and bake for 12 to 15 minutes or until mostly crispy but not too crisp.
4. Mix condensed soup, sour cream, broccoli, garlic, and seasonings. Set aside.

By now, the noodles and chicken should be finished. (About 15 minutes should have passed by now.)

5. Shred chicken.
6. Run noodles under lukewarm water to bring their temperature down a bit and then combine with chicken and soup mixture.
7. Place mixture in 9 x 13 pan then sprinkle cheese on top.
8. Cut cooked bacon into pieces and drop over cheese.
9. Bake for 25 to 30 minutes, or until cheese starts to bubble.

This casserole recipe makes 6 large servings or 8 medium servings.
I know this creamy chicken noodles and bacon recipe sounds super fattening, but since I used low-fat or fat-free ingredients, the fat count wasn't as high as one might think when they taste it. Delish!
Comments for Creamy Chicken Noodles and Bacon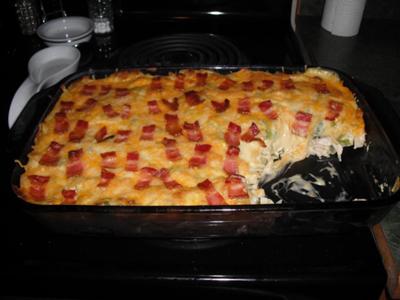 May 18, 2015
Tastiest Recipes by: Anonymous
These are some of the tastiest sounding recipes I have seen online. Please keep posting more.

Apr 11, 2011
Great idea! by: Malia
I feel like I'm always scrounging around at about 4pm, trying to figure out what to make for dinner. I need great ideas like this! Thanks Lindsay!

Mar 26, 2011
A Winning Entry! by: Grandma and Grandpa Ault
This sounds and looks to be a winner North, South, East or West... We will request it on our next visit... We do get out of Logan, occasionally... Good job Lindsay... Love to you; G.and G.

Mar 25, 2011
The way to a house full of men's hearts! by: Brenda
I'm always looking for recipes that will keep the men in my house happy when they are all here on the weekends. Thanks for the great suggestion!

Mar 24, 2011
From the Cook...by: Lindsay
If you try this recipe, let me know what you think! Thanks for checking it out! :-)

Mar 23, 2011
Bacon recipe by: N. Parker
Anytime you find a recipe with bacon you know it's going to be a winner! I can already tell my children will love this one, can't wait to try it!

Mar 23, 2011
Looks Great by: John C
I am going to encourage my wife to make this recipe. It looks awesome.

Mar 22, 2011
YUM by: Anonymous
Looks yummy can't wait to try it!! Lannis

Mar 22, 2011
Recipe Looks Excellent by: Ashley
Looks very delicious, I agree that everything is better with bacon!

Mar 22, 2011
Too tasty! by: Kristine Widfeldt
Holy cow, that looks tasty... and not nearly as "deadly" as you'd guess. I think I have all of these ingredients at home, too--gotta try it. You go, southern girl!

Mar 22, 2011
So delicious!by: Michelle
This recipe is my definition of comfort food. It's hard to go wrong with these ingredients. My family loved it!

Mar 22, 2011
Sounds delish! by: Stacy
This recipe sounds absolutely delish! Will definitely try it. Thanks, Lindsay.

Mar 22, 2011
YUM, YUM! by: Sokunnary
Thanks for sharing Lindsay! What a great idea! Using what we have in our pantry. Can't wait to try. It looks delicious!!!!!

Mar 22, 2011
Ingenious! by: Steph
I love the idea of coming up with a dish using only things you have on hand. Looks good and I cannot wait to try it, with the turkey bacon!!