Creamy Chicken Noodles and Bacon
by Lindsay
(Spanish Fork, Utah, USA)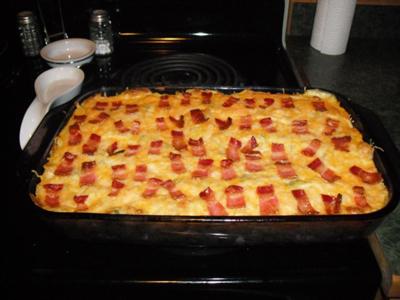 Everything is better with bacon!
Because of the rising prices of practically everything all around us, one day I challenged myself to make up a scrumptious recipe using items I already had on-hand in my fridge and pantry. I wanted to see if I could come up with something delicious without having to trot out to the store to buy any other ingredients. I'm really happy with the results and as it turns out, I craved the leftovers! In fact, I can't wait to make it again!


Recipe Ingredients:




1 bag no yolk noodles


1 lb chicken, shredded


1 can chicken broth, low sodium


5 strips bacon (or turkey bacon)


2 cans condensed chicken soup, 98% fat free


1/2 cup sour cream, fat free


3 cups broccoli pieces


1 clove garlic, minced


1 teaspoon onion powder


1 teaspoon salt


1 teaspoon pepper


2 cups cheddar cheese, grated and low-fat


Recipe Instruction:
1. Preheat oven to 400 degrees.
2. Cook noodles in one pot and boil chicken in another. Boil chicken in half water and half chicken broth.
3. While noodles and chicken cook, place bacon on baking sheet with grooves and bake for 12 to 15 minutes or until mostly crispy but not too crisp.
4. Mix condensed soup, sour cream, broccoli, garlic, and seasonings. Set aside.
By now, the noodles and chicken should be finished. (About 15 minutes should have passed by now.)
5. Shred chicken.
6. Run noodles under lukewarm water to bring their temperature down a bit and then combine with chicken and soup mixture.
7. Place mixture in 9 x 13 pan then sprinkle cheese on top.
8. Cut cooked bacon into pieces and drop over cheese.
9. Bake for 25 to 30 minutes, or until cheese starts to bubble.
This makes 6 large servings or 8 medium servings.
The recipe sounds super fattening, but since I used low-fat or fat-free ingredients, the fat count wasn't as high as one might think when they taste it. Delish!