Blackened Red Snapper Recipe
Blackened Red Snapper Recipe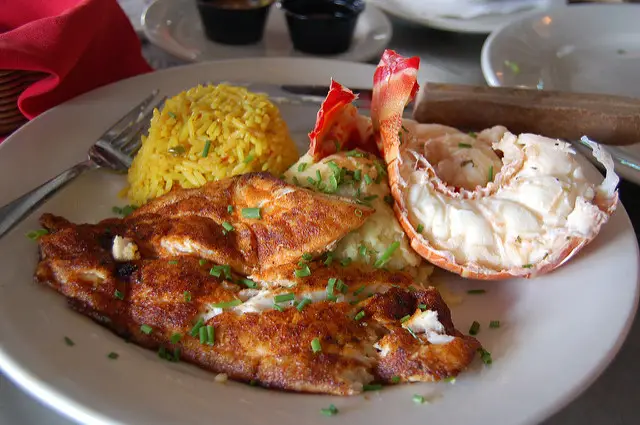 Blackened Red Snapper Recipe - Image via Flickr/Carl Lender
Here is a simple blackened red snapper recipe that's quick, easy, and you can whip up in your kitchen in little to no time.  If you're never cooked blackened fish or chicken before, I must warn you that this type of cooking can create a lot of smoke in your kitchen.  Despite all the smoke that's produced when you cook blackened recipes, it's well worth the time and effort that you'll spend clearing the smoke from your kitchen.  Red snapper is one of my favorites when it comes to blackening fish.  I have tried this recipe many times and have always like the results. Give the recipe and try and see for yourself. 
Blackened snapper is a delicious mild delicate flavored fish that can be served with a variety of side dishes depending on your individual taste and preference. You can blackened either the whole fish or just the red snapper fillets. Personally I prefer fillets for ease off cooking.
Whatever you decide just be sure to get the freshest fish you can find.  That way you dish will be flakey and flavorful, just like it should be.
Blackened Red Snapper Recipe
Recipe Ingredients:
4 red snapper fillets (about 6 ounces each)
2 tablespoons butter
Cajun Seasoning Mix (Makes about 1/2 cup)
2 tablespoons salt
1 tablespoons paprika
1-1/2 teaspoons garlic powder
1 teaspoon onion powder
1 teaspoon cayenne pepper
1/2 teaspoon black pepper
1/2 teaspoon dried thyme leaves
1/2 teaspoon dried oregano leaves
1/2 teaspoon ground white pepper
Recipe Instructions:
Rinse red snapper fillets with fresh water and pat dry using a paper or kitchen towel.
In a small bowl, prepare Cajun seasoning by combining and mixing together salt, paprika, garlic powder, onion powder, cayenne pepper, black pepper, thyme, oregano and ground white pepper.
Heat large skillet over medium heat until very hot. Next add butter and swirl skillet to coat entire bottom. When butter no longer bubbles, add filets to skillet and cook for 6 to 8 minutes. Turn fish halfway through cooking. Your blackened red snapper fillet is done when it easily flakes with a fork.
Serve with a side item of choice. I usually serve my fish with freshly boiled pasta and Alfredo sauce. However you can pair this delicious fish with whatever foods your little heart desires.
This recipe provided courtesy of https://www.soulfoodandsoutherncooking.com/